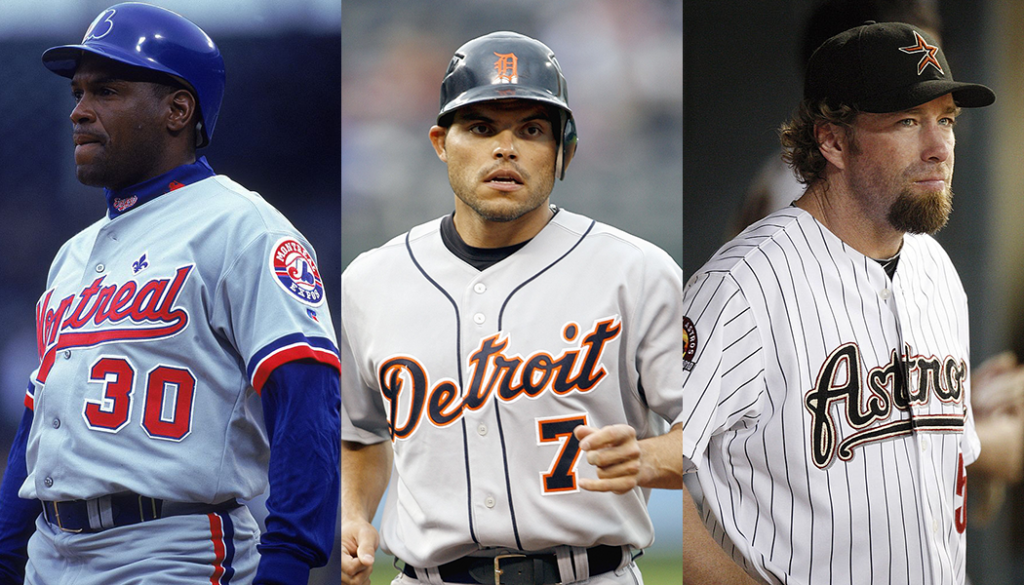 Congratulations to Tim Raines, Jeff Bagwell, and Ivan Rodriguez for being inducted to the Hall of Fame!
I wish I could say that I knew more about Tim Raines. I remember as a kid debating if I should have his baseball cards in my books (reserved for stars whose cards were worth money) or just keep him in the boxes with the rest of the commons. I think his cards were usually a tick above a common, but they were never valuable. As a kid, that is what determines if a player is good or not. Looking at his stats though, you can see that he was a great player. 808 SBs, which puts him at 5th all-time. He had the misfortune of playing during the same time as Ricky Henderson (as well as Vince Coleman), so his numbers were probably lost. To be a great base stealer, you first have to get on-base. Tim Raines had a career .294 AVG with a .385 OBP. I would say that counts.
In my opinion, Ivan "Pudge" Rodriguez is easily one of the top three greatest catchers of all time (at least that I have been alive to see play). Forget the fact that he could hit (311 HRs, .296 AVG). I remember him having a cannon for an arm. There was a game against the Pirates at the end of his career (he was with the Nationals) and his caught stealing percentage was still over 50% (Ryan Doumit's was like 13%). Bob Walk and Greg Brown were talking about how guys like Pudge were like an ancient relic. You know, catchers who could throw guys out at a high rate or who could stop guys from running just on fear. In 1999 he threw out 41 guys. After that, teams cut down on the running against him. To put in perspective, Doumit had 90 stolen base attempts against him in 2010. He caught 11. I know, it's not fair to compare the two players, but it is crazy how much a great arm can change a game.
Jeff Bagwell was always HOF caliber in my opinion. I always thought he was the best of the Astros big three (Biggio and Berkman). Every time he was up against the Pirates, I just assumed he would crank a home run. 449 career HRs. A .297 AVG and .408 OBP. Oh and did I mention he had 202 stolen bases? He was in the 30/30 club twice ('97 & '99). In fact, in 1997 he hit 43 HRs and stole 31 bases. I don't think most people consider him to be a guy who almost made it to the 40/40 Club. It was always hard to hate those Astros players and while many people will say that Biggio was their favorite, I was always partial to Bagwell. I am happy that he made the HOF.
It looks like next year Trevor Hoffman and Vlad Guerrero should make it in. Bonds and Clemens are slowly gaining ground. Not really sure how I feel about that one. I thought for sure Billy Wagner would receive more votes, but it is hard to give him and Hoffman a vote. I was also shocked that Freddie Sanchez received no votes. And in the "wow, he has been retired for five years" category, J.D. Drew received no votes. I remember the hype of Drew, he was going to be the next big superstar. And now he is just a mention at the bottom of a page with Melvin Mora (wait, he retired five years ago? I think I drafted him in fantasy baseball last year).
Anyways, congratulations to Raines, Bagwell, and Rodriguez!