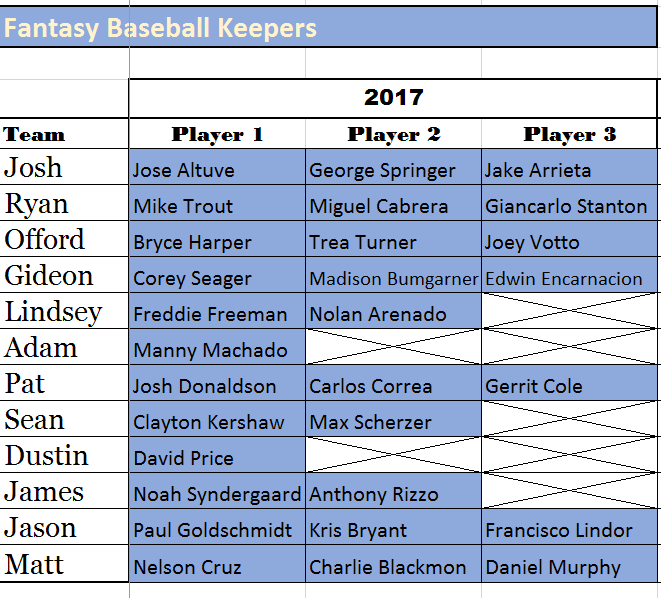 The deadline to declare keepers has come and gone! Surprisingly, this year went off without a hitch. Almost everyone selected their keepers and I only had to remind one person. That is a huge improvement over previous years where I had to text everyone multiple times. I guess making this a money league caused people to follow the instructions more closely. Weird. I figured people would want to delay as much as possible (in case of an injury or something). Glad to be wrong.
I would like to point out that I had a bit of a dilemma. Who should I keep? I was definitely keeping Jose Altuve, but I could not decide on my other two. Then it hit me: why not figure out who everyone else will keep and then see what players are leftover and if any of them are better than my possible keepers. I do not have access to any of the keepers until after the deadline, so I have to pick mine before I can see any of the others.
I looked at each person's team from last year and tried to guess who they would keep. I actually did okay. There are 11 teams, which means 33 possible keepers (obviously mine do not count). I got 19/33. I also correctly predicted all three of Ryan's, which should get me some points, as well as figuring out that Adam2 and Lindsey would not keep three. After I had my mock keeper list, I then did a draft. I plugged in each keeper to the first three rounds and from where I sat with Lindsey drafting ahead of me as well as Adam2 (I thought he would keep 2 and Lindsey 1, they flipped). It turned out that my best option after that would most likely be Jake Arrieta and George Springer: two players I already possessed. So, I decided to just keep them.
Funny thing though. I made a mistake. More people kept fewer than three than I expected. Sean, Dustin, and James also gave up keepers. Looking at it now, had I just kept Altuve, I could possibly have ended up with Chris Sale, Rougned Odor, Corey Kluber, or Jonathan Villar. They are all around Arrieta in rankings, but a good bit higher than Springer. Oh well. I think George Springer is going to have a huge season.
Am I the only one who put this much thought into their keepers?
One of the cool things we decided for this league is that you can only keep a player for three years straight. I made this spreadsheet to keep track. The blue highlight means first year, next year they will be highlighted green, then in 2019 red. Definitely should make it interesting. I was thinking about situations that could occur in 2019. Will people make trades in 2019 to dump some of their final year keepers, especially if they can get someone that they can keep for three years? Would you do that if it could hurt your team? Would Ryan be crazy to mid-season 2019 trade Mike Trout, especially if Trout is having a monster year? I am excited to see how things play out over the years.
I am sure you are wondering (I am positive no one is actually wondering) which players I guessed wrong…
Offord: Chris Sale over Joey Votto
Gideon: Buster Posey over Edwin Encarnacion (figured a catcher of Posey's caliber is impossible to find)
Lindsey: I did not think she would keep Freeman (also, I did not realize he hit so many home runs)
Adam2: I guessed he would also keep Villar
Pat: Cueto over Cole
Sean: Jon Lester, giving Sean three stud starters, allowing him to focus on drafting everywhere else
Dustin: Kluber & Betts
James: I figured a Mets fan would want DeGrom as well
Jason: Odor over Lindor
Matt: He was a tough one to figure out, I guessed Cruz, but I thought Abreau and Aaron Sanchez
The draft is in 21 days, which means still plenty of time to research!