Anyone living in central Pennsylvania has heard about the story of the three week old child who was abused by her parents. I am not going to go over the details since it is pretty horrific. Here is a pretty good article about the case. This story hits very close to home. I went to school with the father, albeit he was a few years younger (I believe he graduated with my brother). I hope these two are punished to the full extent of the law.
However, some people have decided that maybe the law will be too lenient and the punishments should be a bit more harsh. Here are a few of the Facebook comments that seem a bit terrifying.

One of the more common punishments was sterilization/tubal ligation/castration/vasectomy, or any other method of preventing a person from reproducing. I get that people are angry, but you have to wonder if they consider the ramifications of a punishment like that? What precedent does that set? Does that apply to anyone found guilty of abusing a child? What if years later they are exonerated? Again, I am not saying these two are innocent (it seems pretty open & shut, since they admitted to being the only ones to care for her at the time). Unfortunately, we do need to sometimes not allow our emotions to rule us and think about a bigger picture.


Both of these comments are angry that a lawyer would defend them. This is something you hear any time there is a high profile criminal case "how could a lawyer even defend that monster?" Well for one thing, it is their job. If you work for the public defenders office, you do not have a choice. Or if there is no public defender available, a judge can assign the case to a criminal lawyer in the area (the infamous Hillary Clinton case where she defended a child rapist is a good example). This is something that is in the Constitution. Funny how when it comes to guns, everyone can quote the Constitution, but ask them about the 6th Amendment and they stare at you with a blank expression.
"In all criminal prosecutions, the accused shall enjoy the right to a speedy and public trial, by an impartial jury of the State and district wherein the crime shall have been committed, which district shall have been previously ascertained by law, and to be informed of the nature and cause of the accusation; to be confronted with the witnesses against him; to have compulsory process for obtaining witnesses in his favor, and to have the Assistance of Counsel for his defence."
Another comment was railing against how the defense attorney was trying to have the conspiracy charges thrown out. People seemed to think that was utterly ridiculous. Well, a lawyer has to do the best job possible for their client. If not, during an appeal, if it can be shown that the lawyer did not do everything in his/her power to help the client, that can be cause for a retrial (I think, hopefully Jason will weigh in on the topic for us). Also, if it is found that the lawyer basically threw the case so the person would lose, the lawyer would be disbarred.
Again, people do not take the big picture into consideration. Imagine if you are falsely accused of murdering someone. You get a lawyer who does not believe you and he basically dismisses certain pieces of evidence that could help prove your innocence. If there were no rules against something like that, you could end up in jail. Hell, you could have district attorneys or victims families paying off defense attorneys to throw the case. Does that sound like a good idea?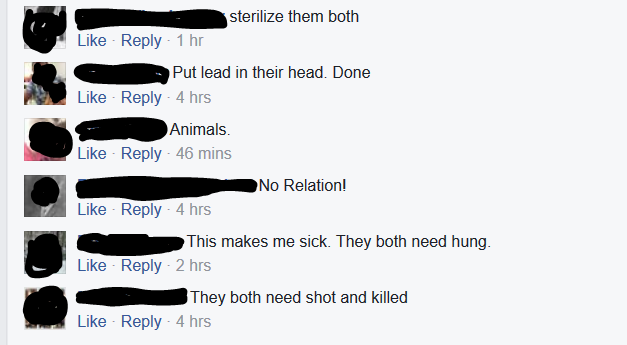 Here we have the "kill them" crowd. I assume that they would at least wait until the trial is over (there were many other comments saying they shouldn't even have a trial, just public execution). I guess this depends on where you stand on the death penalty. I honestly do not know where I stand. I used to think I was for it, but after hearing enough stories about people being falsely convicted, I am no longer so sure. This is not me saying that I think these two could be innocent (I hate that I have to keep reiterating this point, but I know someone will read this and go "AHHHH, JOSH THINKS THEY ARE INNOCENT!"), instead thinking about the bigger picture.

If you read the comments, no one says anything about them being innocent. No one ever mentions them being innocent until proven guilty. No one seems to be in denial. I think the initial story did not mention the cause of the torn rectum, whereas this article does say that the father told police he may have inserted a finger into her rectum to help clean out the diarrhea. Yes, it is horrible. But why does this person think it has anything to do with being liberal? If no one says what? Even in a case like this, someone has to turn it into liberal vs. conservative. Insanity.
And finally, we come to the worst of the worst…
This guy deleted the comment (or maybe Gant Daily removed it). Explain to me how this would work? Would they bring in a convicted rapist and murderer? Does that guy have his sentence reduced or do they add more time on for this murder? Would they want to have a prison guard do these acts? Is this guy volunteering? If so…seems like he might have some severe mental problems. He just casually tosses rape out there like it is the easiest thing in the world to do. Where would you set her on fire? In the prison? That would smell awful. I cannot imagine a bunch of guards wanting to smell that for a few days. You know the scarier part? Ten other people liked this comment!
This is a horrible crime. I cannot stress enough how much I hope the justice system punishes them harshly. I cannot imagine this going to trial though, they will almost certainly shoot for a plea deal. And no, I have no clue what an appropriate punishment would be, but I can tell you that murder/rape/torture/sterilization are not the answer.