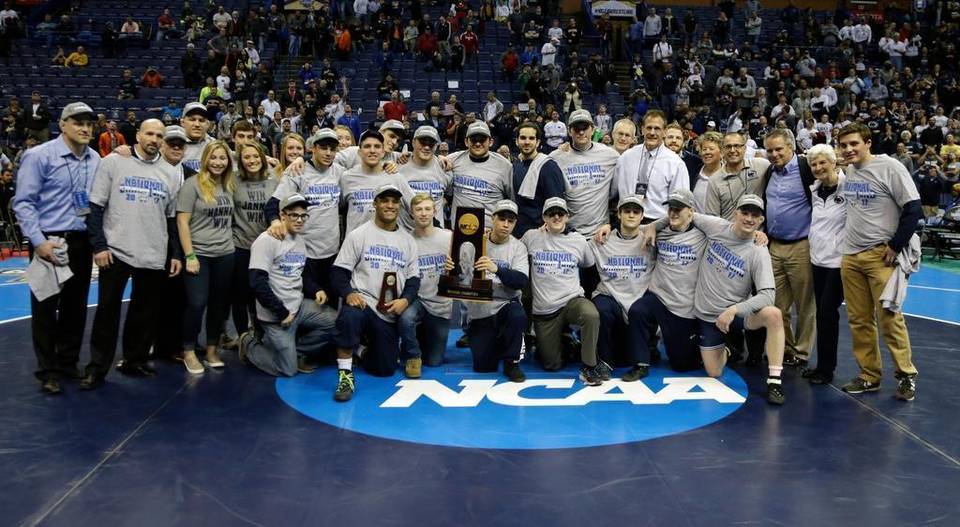 It is a great time to be a Penn State Nittany Lion. The wrestling team just won it's sixth national title in seven years. They went a perfect 5-0 in the finals, which ties the record for most champions in a season. They were so dominant that they had the team championship wrapped up before the finals even began. It does not look like this level of excellence will diminish anytime soon, since they will have most of the team back next year.
And while this was happening, Penn State Men's Hockey was winning the Big Ten Championship.
It is crazy to think that there was no Division I hockey at the school until 2012. It was a club sport (that definitely dominated) and when they finally built the arena and stepped up to the big leagues, people said it would take years to build a winning program. Each year they have gotten a little better and it finally culminated last night by beating Wisconsin in double overtime. Incredible!
And yet that leads me to ask a question: where is the men's basketball program? I get that Penn State will never be an elite program, but can we at least get back to the level they were at in the early 2000s? Actually, why can't they be an elite program? I find the reasons to be a bit dubious. One thing I have always heard is that Penn State cannot recruit city kids to come to this middle of nowhere school in central Pennsylvania. This is something you hear on the sports radio shows in the area. People call in and say that stuff and they get excited about Patrick Chambers being from Philadelphia and having those city connections.
Are the only good basketball players from cities? I think we all can tell what kind of code they are saying "black kids don't want to leave Philly or Pittsburgh to come to State College." That makes no freakin' sense to me! It is such a dumb excuse. First of all, we get "city" kids for football. Secondly, North Dakota made the NCAA tournament. I know this is going to make folks uncomfortable, but we are going to talk about race for a second. Sorry Penn State fans, but if you want to use race as an excuse as to why the basketball team sucks, then we should probably discuss it.
The population of North Dakota is roughly 750,000. According to the last census, 1.2% are black. That means there are around 9,000 black people in the entire state. And yet, the North Dakota basketball team has black people. They recruit from other areas. I know, it seems crazy. They are able to convince kids to come to North Dakota. Hell, they convinced a kid from Hagerstown Maryland to come to North Dakota. The state of North Dakota cannot convince anyone to come there, despite having a plethora of great paying jobs, and yet the university is able to pull in kids from Maryland? I do not buy this shitty racist excuse that "oh, black kids do not want to come to the school to play basketball." I am sorry, it is complete bullshit.
Now I know, you are probably saying "but Josh, North Dakota plays in the Big Sky Conference, which is nowhere near the level of Big Ten." I get that and yes, I realize that North Dakota lost to Iowa. I am not saying that North Dakota would win the Big Ten, but I am not sure Penn State would win the Big Sky, or any of the other small conferences. I could understand if it was just shitty circumstances…you know, they dominate non-conference opponents and then get beat up in the Big Ten. But that is not the case. They lost to Albany.
I honestly do not know what the answer is to the problem. I do not think Patrick Chambers is the answer. How is it that schools like Butler, Middle Tennessee State, Wichita State can be good, but Penn State with it's nearly limitless budget cannot even muster a winning record? It is frustrating. And as a fan and an alumni, it is getting a little ridiculous.