I am not messing around this season. Destroying my opponents is my only goal. I must grind their bones into dust, salt the earth with their ashes. I will rain fire down upon them. Sorry, I read way too many fantasy novels. But yeah, I will definitely take another 11-1 victory. Matt is off to a bit of a slow start, but if you look at his actual results, they were not bad. One good pitching performance could have made this a little closer (maybe). My relief pitching is absolutely dominant right now (although things could change with Britton on the DL), mainly led by Greg Holland & Adam Ottavino. Those two have been fantastic (and I worked for the Spikes when Ottavino pitched there, so that is cool).
Fantasy Stud
This one comes down to two players:  Yoenis Cespedes & Jose Altuve. I guess it depends on which stats you value more:  average or power. Altuve (7/0/2/4/.529/.667) and Cespedes (5/5/9/0/.308/.387). Altuve's four stolen bases probably helped him into scoring position, which helped him score seven times. Also, you cannot steal if you do not get on base, which Altuve did, 67% of the time this week. Crazy! Although, I did not need his stolen bases to beat Matt. Elvis Andrus had two this week. So Altuve's were just extra. His OBP definitely helped drive me past Matt though, so that definitely comes into the equation. On the other hand, Cespedes had five home runs and nine runs batted in. If I do not have him, Matt wins RBIs. Yoenis also had a three HR game this week, which is always cool to see. Both players were integral to my victory this week, but I have to think that Cespedes gets the edge for Fantasy Stud. If his average or OBP had been lower than the team average, then I would go Altuve, but since he contributed to both rate stats as well, he gets the nod. Congrats Yoenis!
Fantasy Dud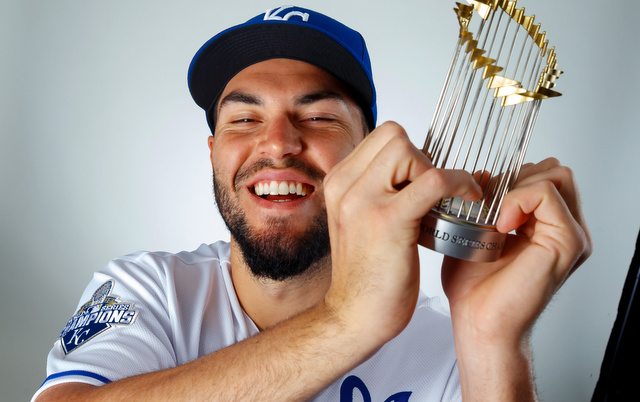 My boy Eric Hosmer has not been lighting the world on fire to start the season. This week he hit .190 with a .292 OBP, that is just awful. At least he knocked in three, but seriously man, you need to step up the production. I have faith in you.
League Results
Sean 7 Offord 5
James 6 Ryan 5
Jason 12 Pat 0
Gideon 6 Lindsey 5
Dustin 6 Adam2 4
This week I face off with the defending champion (Offord in case anyone forgot). He is currently in 7th place and should be looking for a bounce back. We also have Matt/Adam2, Sean/Ryan, James/Pat, and Lindsey/Dustin. The most interesting matchup though is Jason & Gideon. Jason is in 2nd place while Gideon is in 4th.
No music today because Lindsey sucks (and can barely remember to set her lineup…like she has some other pressing issues to attend to…oh, yeah, Payton…shit, I better go feed her.)