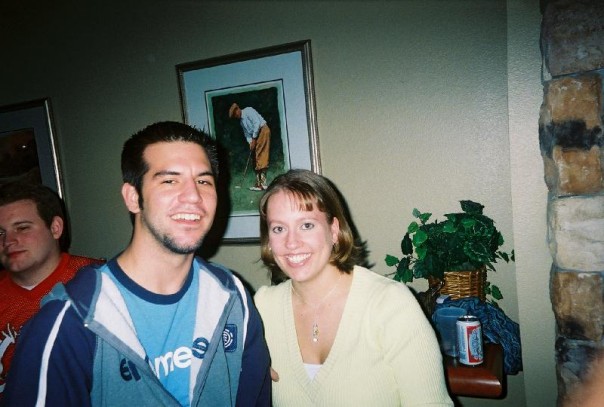 I generally try not to talk about work on here. I do not mention where I work because some of my statements and views could reflect poorly on the company and that is something I would not want. So therefore, I never mention it. However, today I feel like talking about work. To start though, I will not mention the company by name, but I think most of you know where I work. I mean, like four people read this.
The other day Lindsey and I went to Pittsburgh for the General Manager Service Awards. I have been with the company for fifteen years. That seems so crazy to me. I am 36 years old and 41.67% of my life has been spent with one place. My district manager asked me a few questions the other day and one of them was about how I got the job. I am not sure if I ever shared that with the people here, so maybe that would be a cool story.
I used to work at a little bar in Black Moshannon. The owner of the bar ended up selling the place and I was out of a job. My friend Casey worked for the Company and she said she could get me a job there. I waited until the end of the semester and went up to talk to the GM. He said that he needed a server that could work third shift on weekends and would not mind working late during the week. I said that it did not matter to me. I then told him that it would probably only be for the summer because I was trying to get out of food service and wanted a job at Best Buy or Circuit City. He said "okay, I have a bunch of students returning in the fall, so it should not be that big of a deal." And thus, I started my job.
One of the things I quickly realized there, was that I was very good at serving. Also, I met some wonderful people, such as Gideon, Jason, and Travis. Over the next few months, those folks became good friends. As summer wound down, I realized that it would be stupid to leave and try to find another job. The GM worked around my school schedule, I made great money…why mess with a good thing? As time went on, I met even more people such as Allison, James, Ryan, Offord, Tami, Jim (both of them), Jeremy, Bonnie, Heather, Steve, Dave, and probably hundreds more that I am definitely failing to mention. I built friendships with those people. We partied together, some of us lived together. We played softball, we watched the Steelers, we played Risk!
At one point, I actually got my brother a job there. He was a cook. It is funny because I got him the job while I was away in Jordan. When I came back, he was this good cook (I actually worried that he would suck and people would be mean to him). We lost some people for the summer and I asked our GM to train me in the kitchen as well. I thought it would be fun to cook with Adam and Gideon. I worked there for five years.
After graduation, I needed to make more money, or at least have a more stable income. So I spoke to my GM about going into management. He told me that after he got a few others promoted, he would work on me. I decided to bypass him and just apply for a job on the website. I got a call the next day. I went down to Pittsburgh for my interview on the day of a blizzard. I left at 6:00 a.m. even though my interview was at 11:00. I made it there by 9:30, so I went to a restaurant nearby for breakfast. I was eating and drinking some coffee when my phone rings. The person interviewing me says "hey Josh, we are closing the office today due to the blizzard, would it be okay if we rescheduled?" I said "well, I am already here." She told me to come over and we could do my interview ASAP. It ended up being very fast and I left feeling confused as to whether or not it went well. I got a call the next day asking if I could do a second interview the next weekend. I told the person that I was working both days and she says "that should not be a problem, the person will be in State College, she can do the interview at your restaurant." So, I had my second interview on a Sunday afternoon, while on my break, in the dining room, while wearing a hoodie. At one point during the interview, I noticed that the server who was supposed to be watching one of my tables, had never taken them more coffee…so I said "sorry, I will be right back" and refilled my tables drinks. I am pretty sure that made me look great.
I figured at any moment I would get a call and they would offer me a job. My district manager comes in one day and tells us that he is leaving the company. He pulls me aside and says that he approved my promotion into management, so they should be calling any day. A few days later, our new district manager comes in and he tells me that he put that on hold until he got to know me. He wanted me to do some work as a cover manager first. So I did that for like two months and was starting to get frustrated. Especially since my lease was coming up and I had told the company that I was willing to move to Pittsburgh. I had no idea how much longer this would last. Plus, at this point I did not have a car, so whenever they did finally offer me the job, I would need to get one.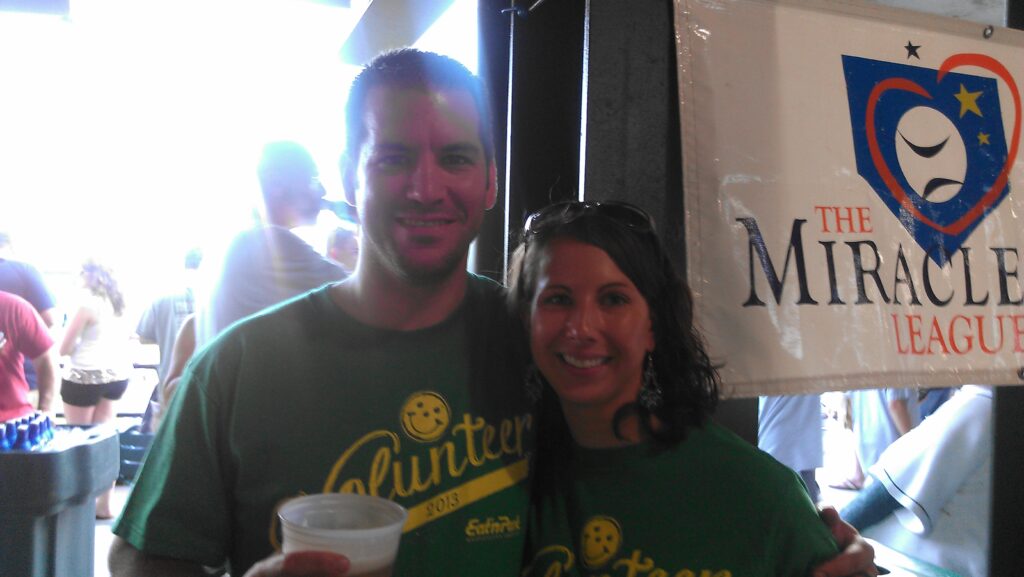 I decided to start applying to other restaurants. I made it known to my GM that I was doing this and within a few days I received a phone call from the company offering me a job. They said I would train in Pittsburgh at Robinson. I found an apartment in Crafton and moved my stuff down there. I was told my start date would be in June and I did not hear from anyone from Robinson, so I went up there to speak with the GM. She asked me if my name was Jamie. She said that her only trainee was a Jamie. I called the office and they said there was a mix up and that I would be training at Banksville, which was still pretty close to my apartment.
Once my training period was over, I went to the Cranberry location. I was there for almost two years. I met so many fantastic people, who I still have contact with and even though I do not see them, think of them as friends. I was there for some incredible moments, such as working during my first remodel, the Goosebumps DVD (which was filmed in Cranberry and featured one of our famous products), and Super Bowl XLIIII.
As much as I loved living in Pittsburgh, after a few years, I was ready to come home. I moved back and started working at Altoona. Again, I met so many great people there, but also had some of my greatest successes as an assistant manager. During my time there we had three general managers. The second GM was on leave of absence twice I believe. The other manager could not handle the pressure, so during that time, it was up to me to run things. This was the point where I started doing the restaurant schedule, and other tasks that were well outside of my duties. It all culminated with Black Friday. We set records for having the busiest breakfast of all time.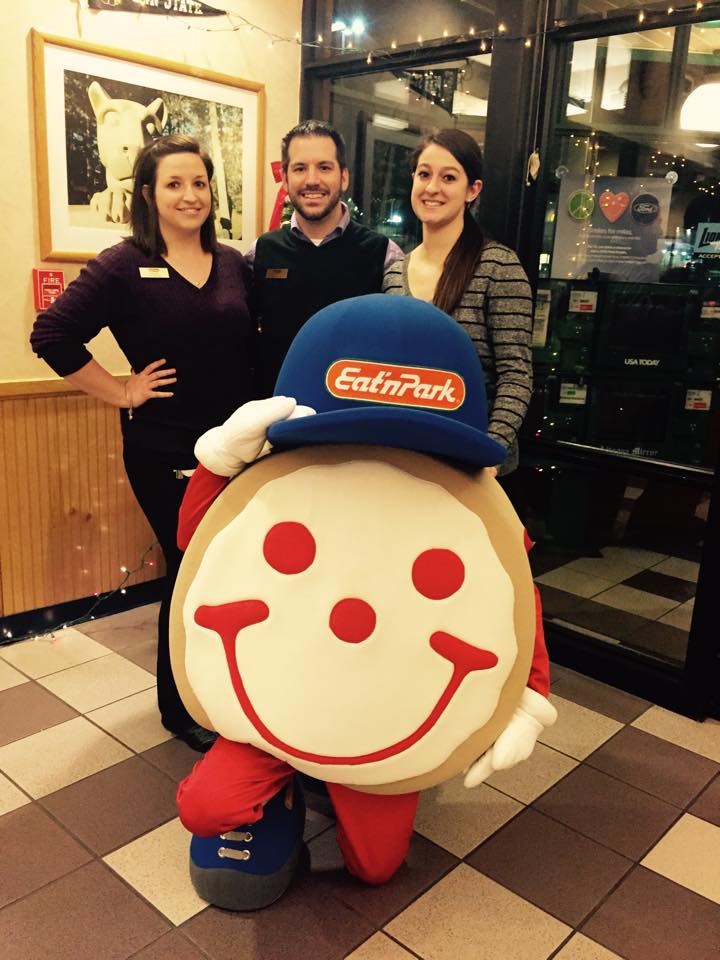 All of those cool things were definitely surpassed by one moment though. It was this day in May of 2010, we got a new assistant manager, fresh out of training from Indiana. This was the day I met Lindsey. When I met her, my thought was "ugh, she is attractive, so my GM will probably ignore any stupid stuff she does." So I decided I was going to be hard on her (hahaha, phrasing!). I had a manager who was that way with me when I came to Cranberry and it was probably the best thing for me. I figured this would be a way to help her grow. But, after a few weeks, I realized something: our GM was already fulfilling that role. Actually he was just being mean to her. Why? Lindsey was the first trainee that came from Indiana, which is where our GM worked before Altoona. He was bitter about leaving there, so he would be mean to her and point any mistake she made in order to prove that he was a better trainer. I decided to take her under my wing and give her advice/help. Naturally one thing led to another…
Once we told our district manager about our relationship, he moved Lindsey to Westmont. This was the reason why we got an apartment so quickly after starting to date. I guess that worked out quite well for us. It was also during this time when I got promoted to manager. I think I worked in Altoona for another two years and then I was transferred to Indiana.  I was only there for a few months though. My district manager had an opportunity for me.
I can remember that conversation like it was yesterday. It was sometime in October. Lindsey and I had looked for houses, but the ones in our price range were pretty crappy. So we needed to save money. Lindsey's uncle bought his neighbor's house, which we were going to live in rent-free for a year or two. Anyways, my DM sat me down at Indiana and said that the GM at State College quit. If I wanted it, the job could be mine. I was a little hesitant and he did something weird. Instead of pumping me up and saying how great I would be, he talked about opportunity. He said that I could stay in this area and the opportunity to move up may not come for awhile. If something did come in this area, he had other people that would be above me. It sounds a little mean, but it really worked. A few months before that I had an interview elsewhere because of my perceived lack of opportunity. Kudos to my DM for knowing what to say to me.
I started at State College as the general manager on December 26th, 2012. It was crazy going back to the place where it all started. And almost three years later, I had to do one of the hardest things imaginable, close the restaurant. In between there I met wonderful people (Hannah, Christine, Sean, Josh, and all the rest), had some great successes (THON, move-in weekends), and truly learned what it means to be the general manager.
Once the restaurant was closed, I took over at Westmont and have been there since October 12th, 2015. It is crazy that in fifteen years I have went from someone who considered this a temporary job, to now being the general manager. Who knows where the next fifteen years will take me? It is a great company to work for and I cannot imagine leaving.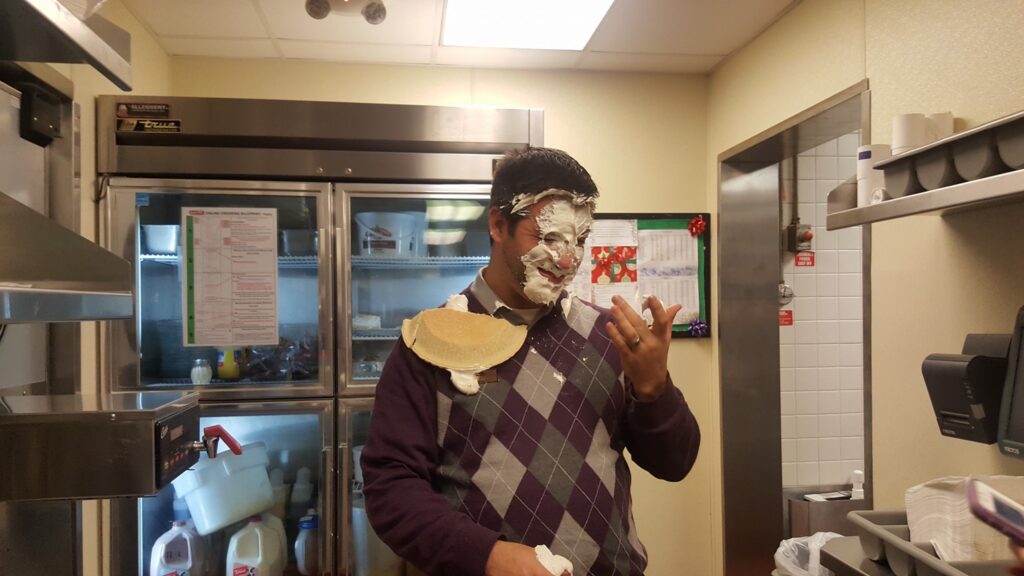 Here are some fun facts about my job…
-I have never called off for being sick. I almost had to last Monday, I had a horrible fever. Fortunately, I was able to text my boss and tell him that I would go in and do inventory and then leave. He did not argue since he knew I must be very sick.
-Driving to and from State College as a general manager would have racked up approximately 100,000 miles on a car. I also saw the end of the Yaris and the Subaru during that time.
-No one understands my schedule. I only work fives days per week. I get one weekend off per period (a period is 28 days). As a GM, I never work third shift (my restaurant is open/close, so it does not matter). I do my own schedule and I try to schedule myself off similar to Lindsey, but it does not always work (so please do not ask me how we both got off the same day). I do my schedule for a period and I have to turn it in two weeks before the next period. If you want to plan a weekend event, I generally need six weeks notice.
-I have no clue how many cookies I have made. I would bet that if you laid them side-by-side, it would easily go more than a mile.
-I dressed up as the mascot once. I was awesome.
-I do not eat cookies all day long. In fact, I can probably count the number of cookies I have eaten on one hand. Now slices of bacon…that is a different story. And a number that is too high to calculate.
-I have been through three remodels, which for anyone that understands, is so much fun!
-I do eat for free, which is another perk of the job. I cannot tell you how much that probably saves us per year on groceries.
-My favorite meal…hmm, that is a tough one. Probably chicken alfredo, but maybe a quesadilla. It also varies with new specials. My old reliable is the chicken alfredo.
-When I was a server, my GM challenged me to try and suggestive sale a beverage. I told him that it was stupid because everyone comes in knowing what they want to drink. He said "look, just try it for a week, if you do not see a difference, then I am wrong." Soooo, I decided to try it and naturally I tried to be as big of a smartass as possible. My opening line to tables would be "hey folks, can I start you off with a refreshing iced tea, tasty Pepsi, or perhaps one of our delicious lattes!" The lamer I tried to be, the more people laughed and would say "you know what, I will have a tasty Pepsi." My beverage sales increased and from that point on, I did it all the time.
Well I hope you enjoyed this little trip down memory lane with me.