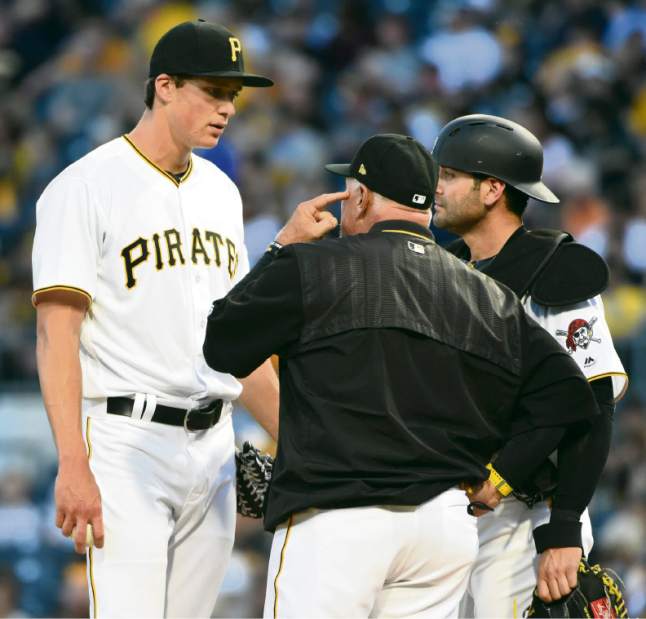 I need to preface this post by saying that I want Tyler Glasnow to succeed in the majors. Obviously it is very early in the season and we should not look too much into his first start of the year. I hope that he bounces back next start and we see that dominance he showed in the minor leagues.
When Tyler burst onto the scene a few years ago, I was hearing about him because I followed Pirates Prospects just about every day. This young kid was throwing pretty hard at that downward plane the Pirates love. He racked up the strikeouts while dominating at Bradenton. The next year, I read about one of his starts at West Virginia. The person writing about it said that Glasnow was striking out tons of hitters, who were swinging at just about everything. And then WHYGAVS wrote something similar about seeing him pitch. His command was not crisp, but he kept getting swings and misses.
The higher up he went, the more I read that he had command issues. Last year was when we heard about those games where he would strike out a bunch of guys, but also walk a ton too. It seemed obvious to me that he has great stuff, but if guys are not swinging at it, he does not have the control to put it exactly where he wants. Lesser hitters swing at bad pitches, whereas the better hitters will wait.
As he continued to dominate the minors and rise in the prospect rankings, this meant his name was being mentioned more and more in possible trades. I think years ago his name was mentioned in the David Price trade. Or maybe he and Gregory Polanco were floated out there for the Giancarlo Stanton deal. However, each trade deadline would come and fans would say that certain players were untouchable. Those players would include Jameson Taillon, Josh Bell, and Tyler Glasnow. I think I mentioned that the Pirates should try to offer Glasnow and Bell to the White Sox for Chris Sale (some point early last year). Hell, I even wrote on here that they should use Glasnow in a trade with the Braves for Teheran. And people said I was crazy.
I have ranted on here and on Facebook that we need to stop thinking that prospects will always just make the jump. Who knows if trading for Sale, Price, Stanton, or anyone else would have made the Pirates good enough to win it all those years. Obviously, we can never really know. Also, I am definitely not saying that we should be constantly trading our best prospects for any rental player. However, in those circumstances the players would still have multiple years of control left.
So much of the Pirates success hinges on Tyler Glasnow. There is probably no chance of extending Gerrit Cole. They have Taillon for a few years and he looks like he is going to be very good. Not dominant ace, but definitely a very good number two. Chad Kuhl is a solid three. If you do not have a legit ace, then you need another two. And it seemed that Glasnow could be that pitcher (or if he hit his full potential, then he could be an ace). And yet, if he never figures it out and is just a fifth starter (at best), then what was the point of cutting Jeff Locke? I know this sounds harsh, but when so much of your team's future hangs on the development of one or two players, there can be no room for error.
Neal Huntington needs Glasnow to be somewhat successful. This would justify his drafting strategy over the years . However, if he had traded Glasnow for someone that helped the Pirates win in the moment, that would also prove him right in his method.
I realize this post has turned into me just airing my frustrations with the front office. Do not get me wrong, I still believe NH & Co. have done a fantastic job turning this franchise around. I may disagree with some of the moves, but for the most part, I am with them on just about everything.
It has obviously only been one start this year for Tyler Glasnow. It is not too late for him to figure things out. I do not believe there is anything left for him to really learn in the minor leagues. Everything that the Pirates announcers said during that game is true. He will dominate AAA hitters and that will do nothing for his development. However, if the Pirates are trying to contend for a wild card this year (I am guessing the Cubs have already penciled themselves in as the division winner), then they cannot afford to trot out a guy every fifth game (yes I realize fifth starters pitch a little less than that), who cannot locate the strike zone and is a project.