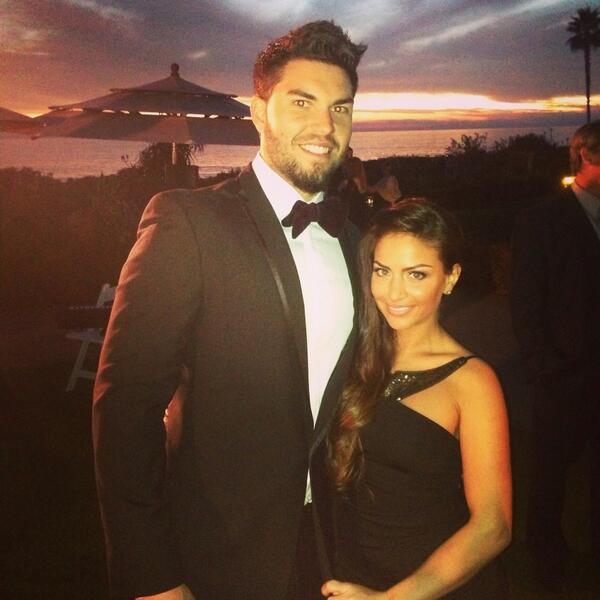 That was a bit of a nail-biter! I think the lead changed six times between Friday and Sunday. It was close all week long. Kudos to Pat for putting up a great fight. As you can see there were a few categories I won by only one or two. I feel like my hitting improved a bit from the previous few weeks, well maybe not in the power department, but everywhere else.
Fantasy Stud
Eric Hosmer absolutely destroyed this week. He hit .435 with a .500 OBP. Two home runs, seven RBIs, four runs scored. Hosmer is definitely on fire. He had a rough patch there where people were blaming his lack of production on playing in the WBC, but I think these past two weeks have helped wake him up (maybe the last four weeks). Also, why does it look like Hosmer is about to go to the prom?
Fantasy Dud
Matt Moore…a 24.30 ERA with a 3.30 WHIP. He had that one great start and since then it has not been pretty. I decided to drop him and pick up someone else. I am sure Offord will pick him up and watch him win 20 games.
Before I talk about the league results, I need to mention the DL position. Does anyone think we should add a fourth DL position? My thinking is that with the 10-day DL, teams are willing to put guys on the DL quicker and for more minor injuries than they were before. Sometimes pitchers would just get skipped in the rotation for a blister on a finger, but now they just put them on the DL. Something to think about and consider, I value the rest of the league's opinion.
League Results
Matt 7 Jason 4
Gideon 9 Sean 1
Lindsey 8 Offord 3
Dustin 6 James 5
Adam2 9 Ryan 3
Gideon extends his lead to 8.5 games. Fortunately, the person trailing him is now me. I am in second place and leading my division. Jason is 1.5 behind me, then it goes Offord, Dustin, Adam2, Ryan, Lindsey, James, Sean, Matt, and Pat. In case you are wondering if things are still close: Pat is only 12.5 games out of a playoff spot, with a few months left to play. Plenty of time to change things.
This week I take on Jason. Lindsey tries to continue her winning ways with Sean. The other matchups are Gideon/Matt, Offord/Dustin, James/Adam2, and Ryan/Pat.
We celebrate Lindsey's victory with a bunch of teenagers doing a pretty solid cover.