The past few weeks have been pretty much the same for me. Each matchup has been close, with me finally pulling ahead over the weekend for a meager victory. Until this week. My team was pretty dominant against poor Dustin. So much of my strong week has to do with how hot the Astros have been (that is what happens when you have six players from one team). I am still a little weak in the pitching department (needs wins), but it does not seem there is much out there by way of trade.
Fantasy Stud
I am going to have to give this one to George Springer. He had a monster line this week-11 R, 5 HR, 9 RBI, .500 AVG, and a .531 OBP. That is about as good of a week as a player can have and yet this week was a tough decision. Elvis Andrus also had an insane week: 7 R, 1 HR, 10 RBI, 4 SB, .520 AVG, and a .571 OBP. I mean, how do you decide who was better? I suppose Andrus since his stolen bases helped win the category and you never expect that kind of production from a shortstop. But…Springer. Damn, this is the production people envisioned a few years ago when he was a top prospect. Oh and what about the other 'Stros? Altuve was downright human compared to Springer (8/1/4/1/.481/.563); Beltran practically sucked (6/2/7/0/.391/.462), and those bums Keuchel and Harris gave up no runs and struck out ten. What a bunch of losers!
Fantasy Dud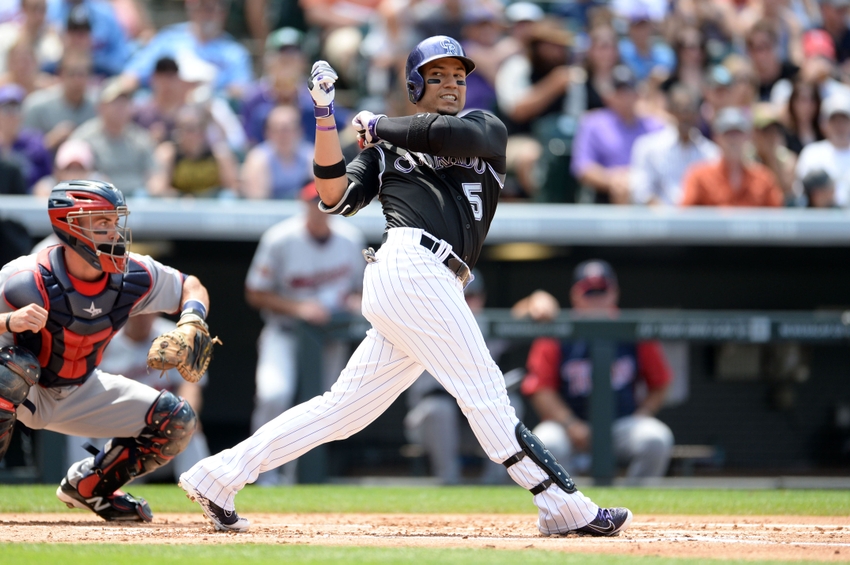 Carlos Gonzalez…come on man. A .143 AVG with nothing to show for it? Oh yeah, he scored six times, but probably because he hit into a bunch of fielder's choice (fielder's choices?). I am definitely regretting drafting CarGo.
League Results
Sean 10 Matt 2
Offord 6 James 5
Ryan 9 Jason 2
Lindsey 6 Pat 5
Adam2 7 Gideon 5
We have some movers and shakers in the standings this week! First off, I am now in first place. Sorry Gideon, enjoy second place for a week or two until I get crushed by someone. Remember week five? Sean was in 10th place and I urged him and the others at the bottom to not despair or give up. And look now: Sean is in third place. Offord's in fourth and would you look at that, Ryan is sneaking his way up the standings. After that we have Adam2, Jason, Lindsey, James, Dustin, Matt, and Pat.
This week I take on the hottest team. Sean is 28-5 since losing to Lindsey. The rest of the matches go Lindsey/James, Jason/Adam2, Gideon/Dustin, Offord/Pat, and Ryan/Matt.
I have always liked Metallica's cover of Skynyrd's "Tuesdays Gone", probably due to the fact that this was done without much practice (if I remember reading an interview about it). I think Lars and James actually thought it was terrible, but had fun doing it.