I woke up Sunday morning to Lindsey and Payton waking me up to give me my first Father's Day gift. Naturally, it was ties and an awesome Star Wars shirt. But honestly, do the gifts really matter? Well yeah, they do. I really needed a new Pirates tie. And I do not even own a Penguins tie. And the shirt? Well it's cute and awesome. I saw it and tagged Lindsey on Facebook as a hint. I have like zero t-shirts anymore…I wonder where they all went (see: Croyle, Lindsey).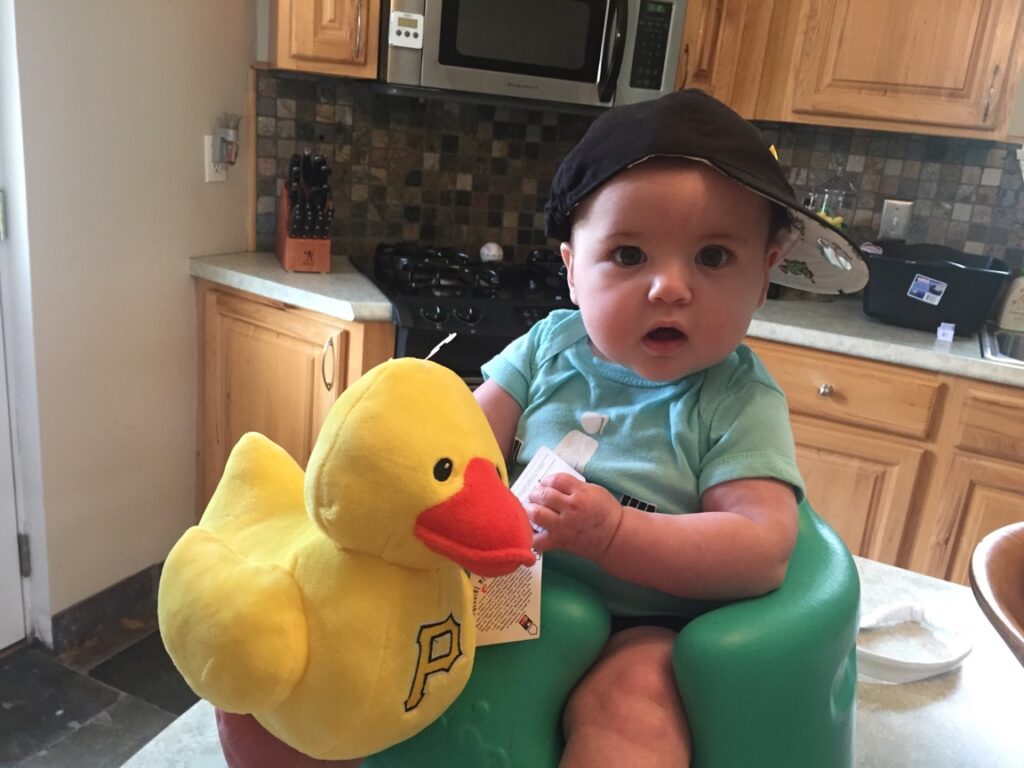 However, the true gift is Payton. Obviously. I know it sounds lame, but she brings me more joy and happiness than just about anything on Earth. It is funny, people love to ask "what is it like being a father?" And I have no real way to describe it. Other than amazing. I mean, I look at Payton and when she smiles at me (or throws up on me), I just feel pure joy. I used to laugh at people (sorry to anyone) who said stuff like that, but I now realize how honest they were. I seriously come home from work some days and just spend hours playing with Payton, and she can barely do anything yet. Imagine when we can have tea parties and play with dolls (or have a Nerf war, whatever she wants to do). I can sit and watch her try to roll over for most of the night. Every time she looks up at me and smiles, I just feel my heart melt a little bit more. Yes, I have a heart. It was mostly frozen over, but between Lindsey, Samson, and now Payton…that thing is ablaze.
So Payton, if you are reading this (which means you are old enough to access the internet and read–good for you, we are very proud of you!), do not think for one second that this means you can skimp on a present this year! I need a new drill…or whatever fancy futuristic thing I keep saying I need. Or probably a new Pirates tie. Hopefully one that has World Series Champs 2022 on it.
Okay, quick funny story about the Pirates hat and duck. So Lindsey sends me this picture of Payton. I asked where the hat and duck came from. She responds that someone sent it, but they did not include their name or anything. This has happened before (more than once). So I posted on Facebook a thank you to whomever bought it and figured someone would comment that they sent it.
Nothing ever came. Know why? Lindsey bought it. She bought it from the Pittsburgh store in Ebensburg with my ties. She then realized as she sent me the picture of Payton being cute that I would figure out that she went to that store, so she lied and said someone sent it. When I came home, I looked for the package that it was sent in and could not find it (that raised my suspicions since Lindsey never throws stuff away). I mentioned about posting it on Facebook and Lindsey did not stop me, so I figured that she must be telling the truth (she is terrible at lying, or so I thought…). She got me. I will not fall for that one again.
Anyways, it was a great first Father's Day. I loved my gifts and cannot wait for like a hundred more (yeah, I plan on living a really really long time).