I was actually winning 9-3 heading into the weekend, but Gideon made a valiant comeback and almost evened things up. Both of our teams played pretty well. For once my pitching was actually very good, but his was just a bit better. Kind of frustrating. I hope we meet again in the finals.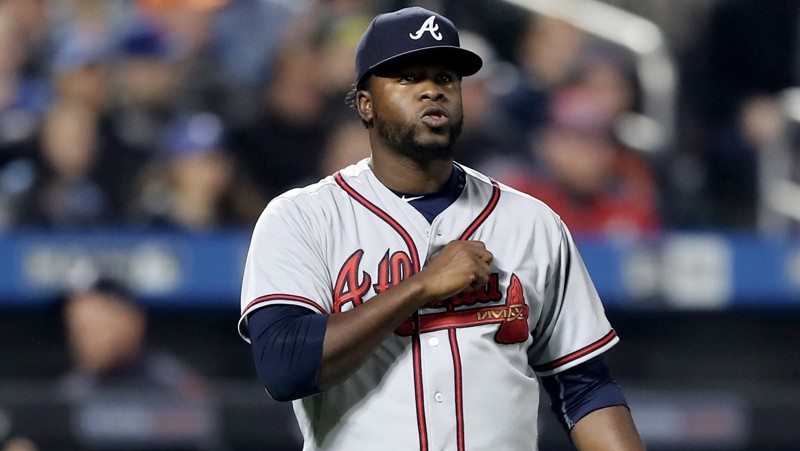 Fantasy Stud
You may notice that I had seven saves. Three of those were from Arodys Vizcaino. Yep, a Braves reliever had three saves, which means the Braves won at least three games last week. This was probably the first week this season where almost all of my relief pitching put up 0's in the runs department (Greg Holland being the exception, but since he has been so great this season, we will give him a pass).
Fantasy Dud
Again no one had a bad week, which definitely helps when you are going up against the best team in the league. Heck, Dylan Bundy had a great start and I had to drop him once Wainwright came off the DL (although, could that have been a mistake?). I looked at it as Bundy has been pretty mediocre most of the season, should one start really be the reason to keep him? We shall see.
League Results
Matt 6 James 3
Sean 7 Dustin 3
Offord 7 Jason 3
Pat 7 Adam2 4
Lindsey 6 Ryan 4
After questioning Ryan's decision to trade for Darvish (I was curious if he thought he was still in playoff contention or if he was trying to add a starting pitcher to keep), he responded that he was able to pay more attention now and would most likely end up in fourth place in the regular season. Well my lovely wife had something to say about that. She was actually dominating him most of the week, but then the lead slipped a bit over the weekend. Still, trying to surpass Offord, who is 9.5 games ahead of him is going to be a long, uphill climb, especially when you lose to the next to worst team in the league! Here are the standings as of today:
This week I take on Dustin, which for some reason is always a rough match for me. Lindsey takes on Pat in the Battle of Last Place (just keep it close Lindsey, you can stay out of the basement!). Gideon looks to rebound against Adam2, who definitely needs a win to keep ahead of Ryan. Speaking of Ryan…he and Jason face off, basically tied (per winning percentage, Ryan must have the tiebreaker). Jason has the opportunity to take Ryan out of playoff contention with a huge win. Sean also needs a win to stay comfortably ahead of Adam2. Unfortunately for Sean, Matt seems to be playing spoiler lately. He has won 3 of his last 4. Finally we have the big #3 versus #4 (James v Offord). Personally, I am hoping for a 6-6 tie and a blowout win for me. I would like to have a little breathing room from those two.
Since Lindsey won, we get a song! This week it is Lynyrd Skynyrd's "The Ballad of Curtis Loew." One of my favorite Skynyrd songs.