Ugh. Not what I wanted to happen! This was my chance to catch up to Gideon, since he lost this week. Instead, my team plays like crap and I get destroyed by Dustin. Awesome job team! I honestly thought I was going to at least catch Dustin in a couple categories on Sunday and maybe make it very close…but alas, it was not meant to be.
Fantasy Stud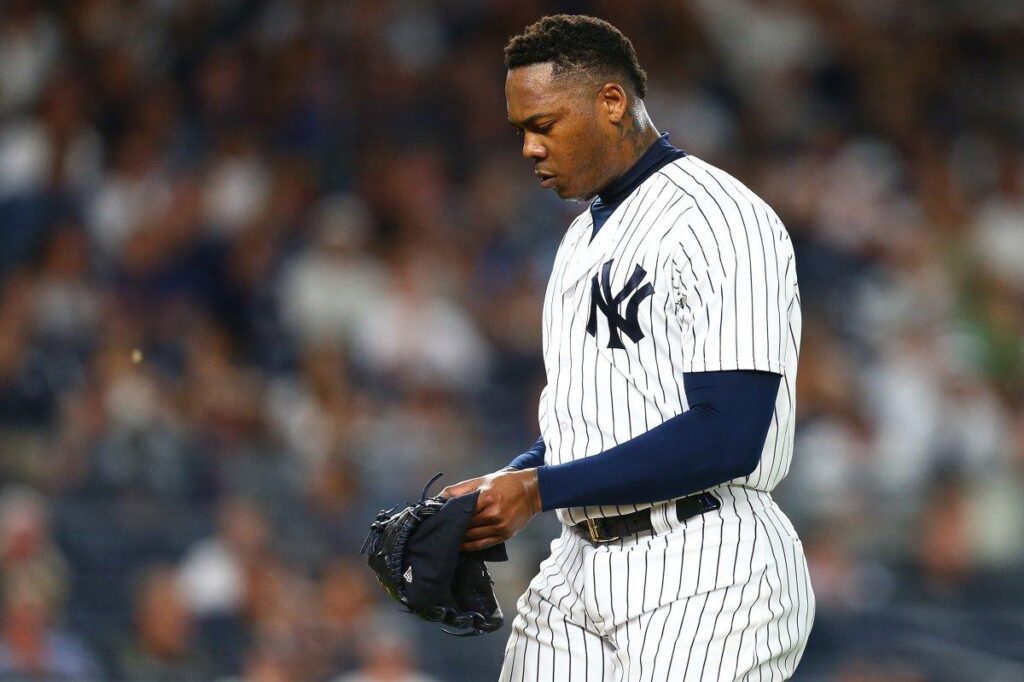 Hey Jake Arrieta, nice of you to join us this season! Two wins this week, eleven strikeouts, and a 2.19 ERA. I was expecting a little more of that when I traded for you (ughhhhh, still the worst trade, even if Kris Bryant is having a down year compared to last season).
Fantasy Dud
Speaking of shitty trades. Remember when I traded for Aroldis Chapman? I gave up Chris Archer (he has two wins and 71 Ks for my wife since she got him). Chapman has been terrible for me. 4.24 ERA, 1.47 WHIP. Yeah, he has eight saves and three wins (I discount wins from a closer since that usually means they blew a save and the team bailed them out), but I traded for him because I wanted those rate stats to help bring down some of those higher starting pitcher lines. That definitely backfired.
League Results
Sean 7 Matt 5
Offord 7 James 3
Ryan 7 Jason 3
Pat 7 Lindsey 4
Adam2 7 Gideon 3
Well as you can see, the standings did not change much. Sean jumped to 4th place with James falling to fifth. Lindsey is not only two games ahead of Pat for that coveted last place finish. Do not worry though, she has an easy match this week…ME. Especially if my team decides to suck again. We also have Gideon/Matt, Sean/Adam2, Offord/Dustin, James/Jason, and Ryan/Pat. I am 5.5 games behind Gideon and the exact same ahead of Offord. In case anyone was wondering, Ryan is 8.5 out of 4th place.