Congrats to Sean for besting me in the final week of the season. Unfortunately for him, it was not enough though. All in all, this was a fairly close match. My team started off slow and mounted a nice comeback, but just fell a bit short. I feel fairly confident going into the playoffs. My team is hitting well, I had a rough week with starting pitching, but my relief pitching was decent. Hoping that with a week off, everything can come together.
I am going to skip the fantasy stud/dud this week. Instead I want to mention how my insane prediction from last week almost came true. I joked about the unlikely scenario of how Lindsey could make the playoffs. Okay, maybe joked is the wrong word. I sat here and figured out the exact score it would take for her to at least tie with Jason & Adam2. However, the whole thing relied on her beating James, 12-0. Imagine my surprise when most of the week, she was winning 12-0 or something close to it. She ended up winning 11-1. And early in the week, Jason was winning, but it was close (I thought there could be a chance for the crazy 3-0-9 score….which would still have resulted in Lindsey not making the playoffs). However, Jason ended up winning handily, 9-3. Just like that though, Lindsey went from 9th place last week to 7th place and just 5.5 out of that final playoff spot. Pretty crazy. Also, think of this: James was beat by House Croyle 21-2 in the final two weeks. He was in fifth place the week he faced me and finishes the regular season in 8th. That sucks! Well for him.
Here is how things shook out: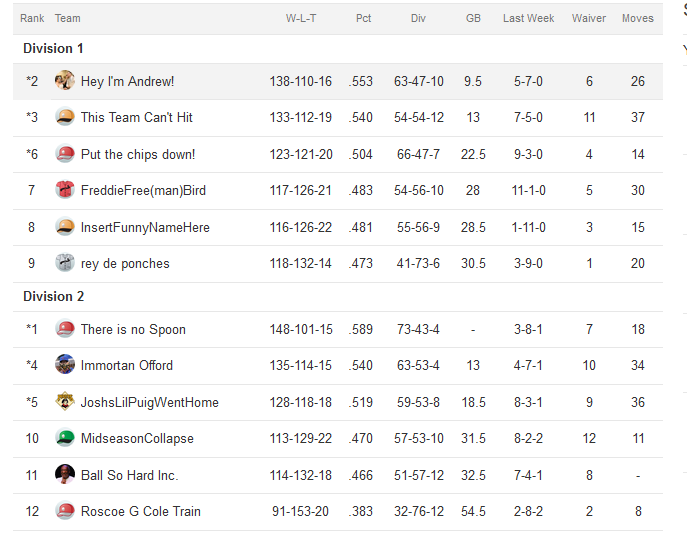 Gideon and I have byes this week. Sean takes on Jason, while Offord and Ryan battle for the chance to play against me. I am seriously pulling for Offord here. Nothing personal Ryan, I just hate playing you in the playoffs.
Down in the consolation bracket, Matt and Dustin square off this week, the winner gets James, while Adam2 and Pat duke out for the chance to lose to Lindsey.
Since I did not look at the midseason rankings to see how good each team was, I decided to do it now. Especially since the playoffs usually throw the final numbers off (especially the last week or so).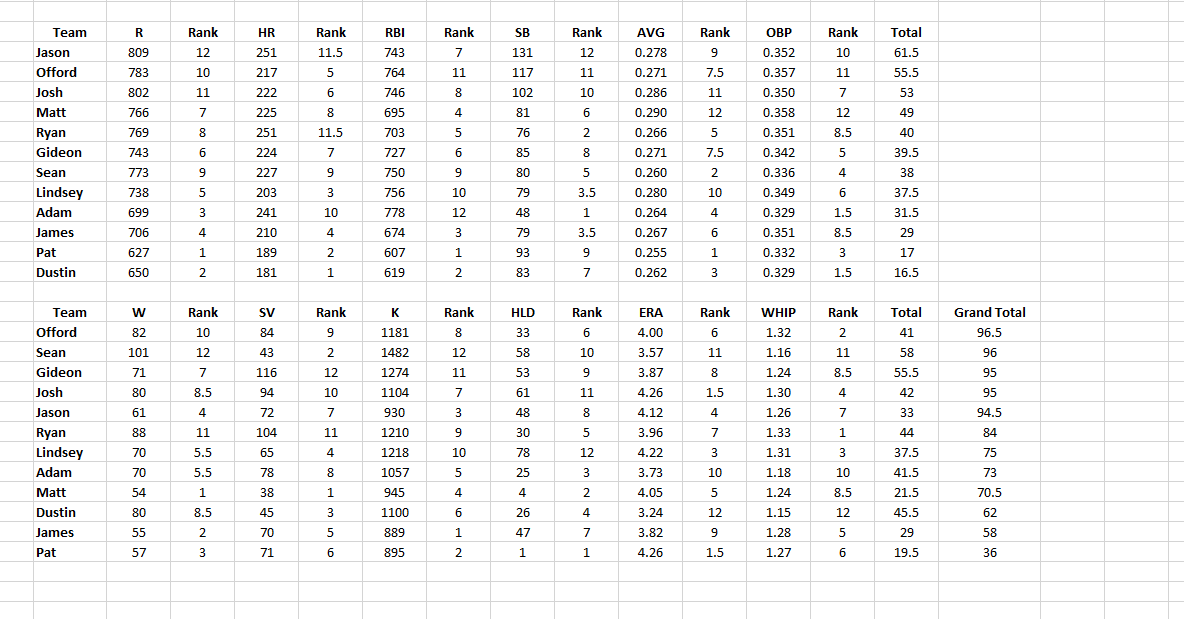 Look how close the top five teams were…I think the season definitely felt that way, despite what the records show.
One thing that strikes me about my team is how different this year is than previous seasons. I have never been one to lead in categories like runs, average, and stolen bases. Usually focus more on power and sacrifice some of the average. And my team is usually more dominant in pitching. Granted, fifth in pitching is not terrible, but I am usually one of the top teams. Having such a terrible ERA obviously hurt me.
When you look at the actual records though, some things stand out. Stolen bases, I had 102. I was the third best team. And yet I had one of the worst records in that category. I was 7-12-3…that is a bunch of weeks of racking up a ton, when it does not matter, and getting none when it does. Very frustrating. There are two very dominating performances, Sean pointed this out the other week to me when he almost shutout my wife. He told me that she was the first person to beat him in strikeouts all season. I mean, he did rack up almost 1500, so it is easy to see why he was so dominant. However, to go 19-1-2 in one category is absolutely crazy. And Lindsey almost matched him. She was 17-2-3 in holds. One of those losses came to Sean (the other to Gideon).
It will be interesting to see how these numbers change after the playoffs.
Good luck to everyone!