This season is definitely a bit more real. We finally decided to make this a money league. $25 per team. I won it last year, but it seems like now that there is money on the line, everyone is a bit more serious…since almost everyone showed up for the draft. Instead of writing about the entire draft, I will just recap my team. Everyone else can start their own blog.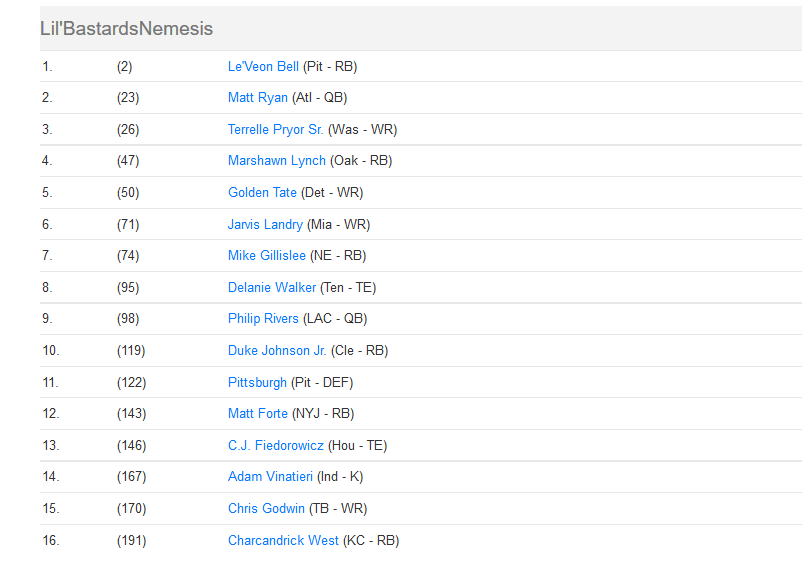 I had the second pick behind Gideon, who was late to the draft and took David Johnson (he said he would have done things differently had he been there). It was a tough decision for me, since Antonio Brown was ranked third and he did so well for me last season. I decided though to go with Bell. I struggled with RBs the last few seasons and hopefully this rectifies that problem. After that, I had another decision…take a WR or remind myself that this is a QB-centric league. I wanted to take Tom Brady, but he went a pick before me. So I took Matt Ryan. I seriously hope he puts up numbers similar to last season.
Once I got to my third pick, the elite receivers were all gone. I decided on Pryor because I figured that he was amazing at Cleveland. You know, the place that has gone through 392 QBs in the past three seasons. I figured he would do very well with Cousins. Same goes with Lynch, he has a pretty good O-Line in Oakland, if he is healthy, he should put up some good numbers. Tate and Landry should be very solid performers.
My WRs are weak, compared to a bunch of other teams. However, IF Pryor and Landry outperform expectations, then I could look like a genius. The rest of the picks are pretty much just filler. I did my best to pick up good bye week replacements. This year I looked for a kicker who made a bunch of the longer FGs instead of one who played for a team that scores lots of TDs. I mean, if we are going to keep kickers, then it makes sense to take one who could get you a bunch of points if he makes two 50 yard kicks in a game.
You may be wondering about my final two picks. Well Godwin is my PSU pick. And I think it could be a good one. I think he could be that breakout receiver that people are scrambling to pick up. And this guy will have him already. And Charcandrick West…well I just like his name. I mean, c'mon, how many final picks actually are kept all season (that are not kickers)? I was going to take Colin Kaepernick just to protest all the people who freak out over him.
What did Yahoo have to say about my team?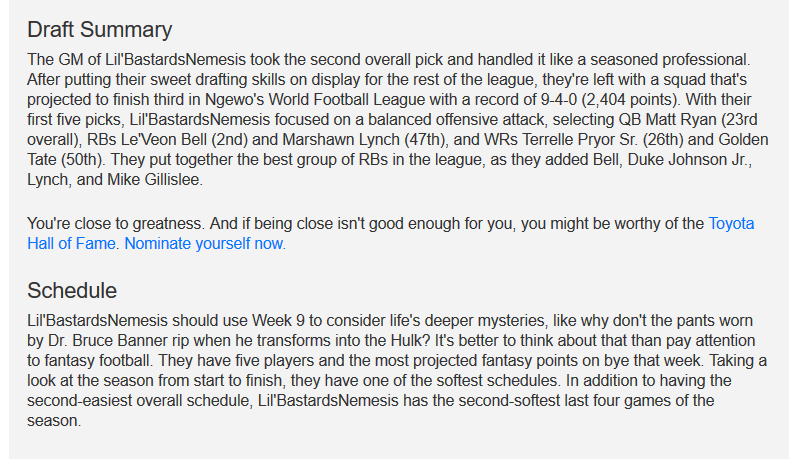 The Hulk joke made me laugh. I actually did notice my Week 9 problem while I was drafting, but figured "eh, that can be a problem to solve after I defeat Dustin and before I face off against Offord. I try not to get too caught up in bye weeks. I mean, yeah, I do not want all of my bench guys to have bye weeks the same time as the starter at their position, but I am not going to pass over a great player because he has the same bye week as someone else.
Here are the rest of the draft grades (according to Yahoo) and the team names…
Powder Puffs-Gideon-A (Paid)
Josh is a Gurley Man-Ryan-B+
LeVs Chronic Problem-Offord-B (Paid)
classylikeFoxNews-Jason-B
Lil'BastardsNemesis-Me-B (Paid)
Golden Tater Tots-Jessica-B
Cream of the Crop-BatmanJason-B-
Daddy Day Care-Dustin-B-
50 Shades of Jay-Jarrod-C+
WranglerJeanShorts-Seth-C (Paid)
Lindsey's Team-Lindsey-C (Paid)
Milk of the Poppy-Adam-C
The payout structure is:
1st-$230
2nd-$125
3rd-$35
Best Regular Season Record-$10
Good luck to everyone! May there be plenty of trash talking in the Facebook group and fun had by all.