I did not do a post for this last week because…well I was busy. And because, do any of you really care? There would not have been too much to write about and it would have just been me bragging about how I won last year. Did anyone really want to read that? I mean, yeah, I did win it all last year (Pick 'Em & Fantasy Football), but that was then and this is now. The past does not matter, only the present. But I guess that means I am presently the champion. HAHAHA, suck it everyone else!
As you can see I am not off to a great start this week. I thought the Bengals would probably score, but wow, that was a game of bad looking offensive lines. I hate the first few weeks of the season though (for picking purposes). It takes a few weeks to really figure out team identity and for some of them to be less sloppy.
Underdog Special: Cleveland. Why did I take them? Well…I do not think the Browns are as terrible as people are hoping/expecting. I mean, they will not be winning a bunch of games or competing for the playoffs, but they will not be 1-15. And I think they will stay competitive in many games (as in they will cover). Is Baltimore any good? No clue, but I could see this ending up a one score game.
None of us were too great since five are tied for first by going 6-8. Yes, I realize that the tie-breakers decide the ranks, so technically the order goes: Gideon, me, Lindsey, Ryan, Jason, Sean, Mom, Rob, and Adam.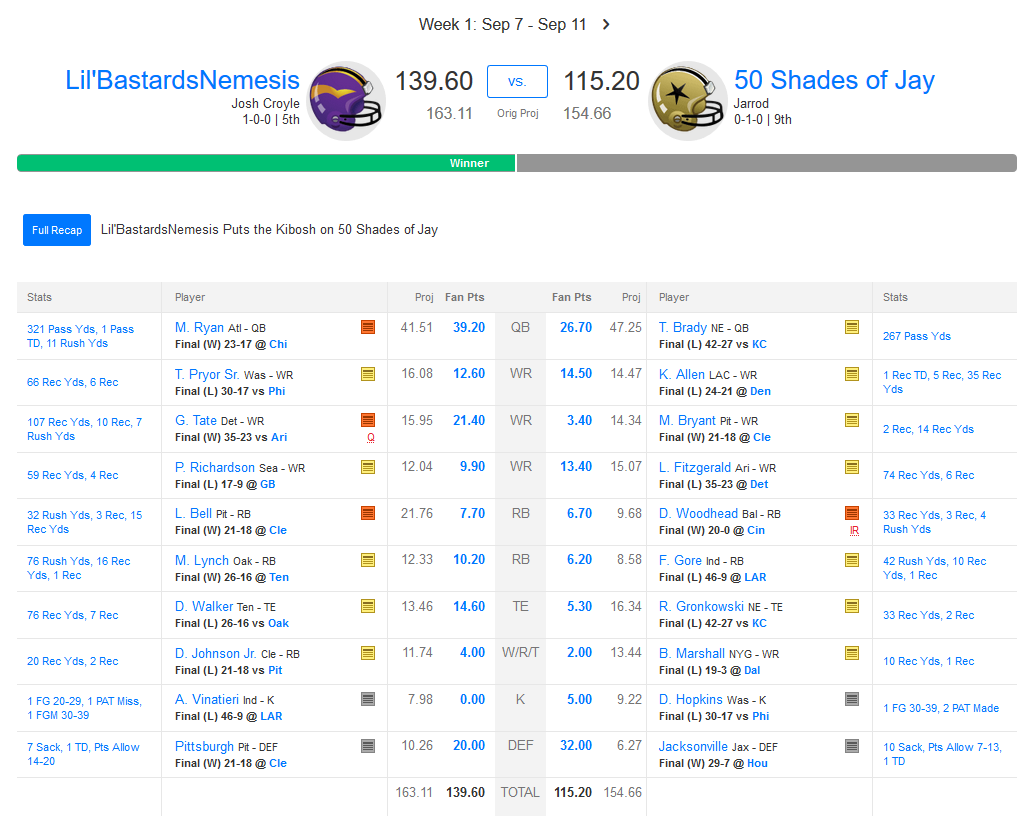 Good way to start off the year as reigning champion! It was an easy victory over Jarrod, although a little troubling in the kicker department (should I drop Vinatieri?). Also, will I end up regretting drafting Bell over Antonio Brown? Also, I definitely should have started Mike Gillislee over Duke Johnson. Oh well, no harm done there.
Standings
Seth (1-0)
Offord (1-0)
Ryan (1-0)
Gideon (1-0)
Josh (1-0)
Jason (1-0)
Jessica (0-1)
BatmanJason (0-1)
Jarrod (0-1)
Lindsey (0-1)
Dustin (0-1)
Adam (0-1)
Seth came out this season meaning business by absolutely destroying my brother. It is kind of funny looking at the scores, there were no close matches. Jason vs. BatmanJason was the closest and it was decided by eight points. Not sure that means anything, just an observation.
This week I take on Jason. Lindsey faces Dustin. We also have Seth/Jarrod, BatmanJason/Jessica (I always love a battle between couples), Ryan/Offord (I should have saved that comment for these two), and Adam/Gideon (remember the little choreographed dance you two had in the kitchen to "A Whole New World"?).
Quick reminder, if you have not paid by the end of the third week, then I will lock out your team.