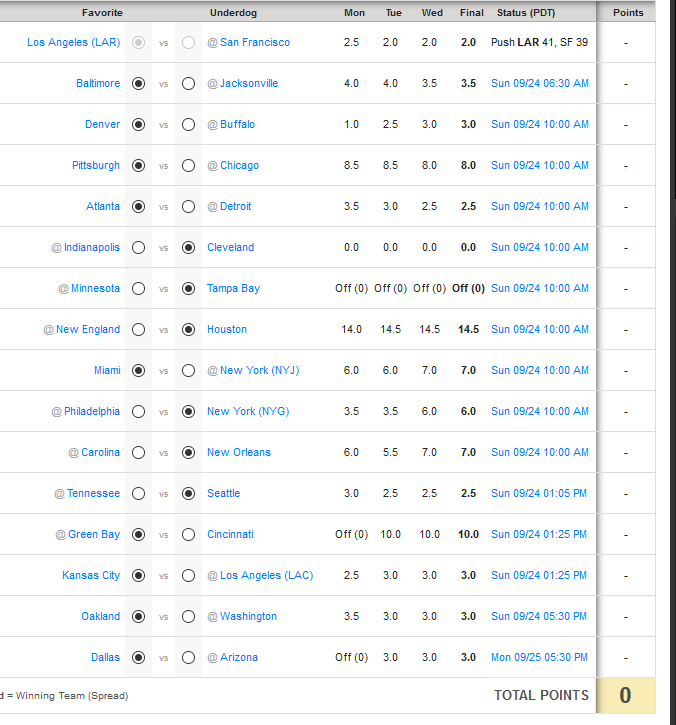 I did a wee bit better this week…I got seven right. Not good enough for the lead or anything, that honor goes to Sean who picked 11 correctly. I also was way off with my UNDERDOG pick of Cleveland. Yikes. Maybe the Ravens are actually good…although, I am not going to take that bet quite yet.
Underdog Special:  New Orleans. Come on, the Panthers could only muster 9 points against Buffalo (and that was good enough, the Bills really suck). The Saints need to win or their season is over (and it may be time to rebuild). I would trust in Brees despite being on the road to keep it close to not lose by seven.
So after the second week, it looks like the standings are: Sean, Rob, Mom, Lindsey, Ryan, Me, Gideon, Jason, and Adam (I am guessing he forgot to do his picks…or he actually missed every game).
Why did this even end up being close? I mean, I knew I won Sunday night since Jason had zero players left and I was ahead with Golden Tate left to play on Monday. I was leading 131.30 to 131.10. Tate was projected for 14.83 and he only manages 6.50? Damn, that sucks! Talk about an entire team of underachievers. Yeah, I am looking at you Bell. Maybe showing up to camp would have been helpful for my fantasy team.
Standings
Ryan (2-0)
Josh (2-0)
Gideon (2-0)
Seth (1-1)
Offord (1-1)
BatmanJason (1-1)
Jarrod (1-1)
Lindsey (1-1)
Jason (1-1)
Dustin (0-2)
Jessica (0-2)
Adam (0-2)
Instead of a bunch of not so close matches, this week was much more even. Except for BatmanJason, who absolutely crushed his wife, probably earning him a spot on the couch for the week. Yikes. Gideon somehow put up the second lowest point total and still managed to win. Talk about good luck. Lindsey was able to stay ahead of Dustin, while Jarrod bounced back with a nice week against Seth. Ryan dished out some punishment to Offord (probably a little revenge for fantasy baseball).
I take on Jessica this week, who already has a commanding lead after the Thursday night game. Gurley and Garcon managed to rack up 59.10 points. That will be tough to overcome. The most intriguing match is between Ryan and BatmanJason. We also have Seth and Gideon, which could help push Seth back into the top three with a big win (Gideon may need to score more than 110 points). Lindsey takes on Offord. Adam vs. Dustin. And last, but not least we have Jarrod and Jason.
I am waiting on money from two people…this is the final warning.