Looks like everyone took a knee last week! HAHAHA…wait, that was not funny. Sorry, I will try to not make topical jokes. I was trying to imply that no one did a good job picking. Adam won with seven. Sean, Rob, and myself pick six right. Definitely not a stellar performance from the entire group. That is what happens when teams focus on pre-game stuff as opposed to…you know, actually playing football. Not saying the issue is not important, that is neither here nor there, but you can honestly see how some teams played like crap and you have to think this stuff weighed heavily on them (I hope that when people read this fifty years from now, they are totally confused about what I am talking about…yes, I assume my readership will have increased to at least ten by 2067).
I am guessing some of you folks with gambling addictions owe me a cut of your money. I definitely called that New Orleans game. Please send 10% of any winnings my way.
Underdog Special: Indianapolis. Seriously, take the Colts against Seattle. Right now the Seahawks offensive line is pretty bad, if the Colts can get at Wilson, maybe the game stays close. I do not see Seattle losing, but it may be something like 14-10.
Sean is still the leader with 23 points. Then we have Rob (20), myself (19), Lindsey (19), Mom (19), Gideon (17), Ryan (16), Jason (15), and Adam (11).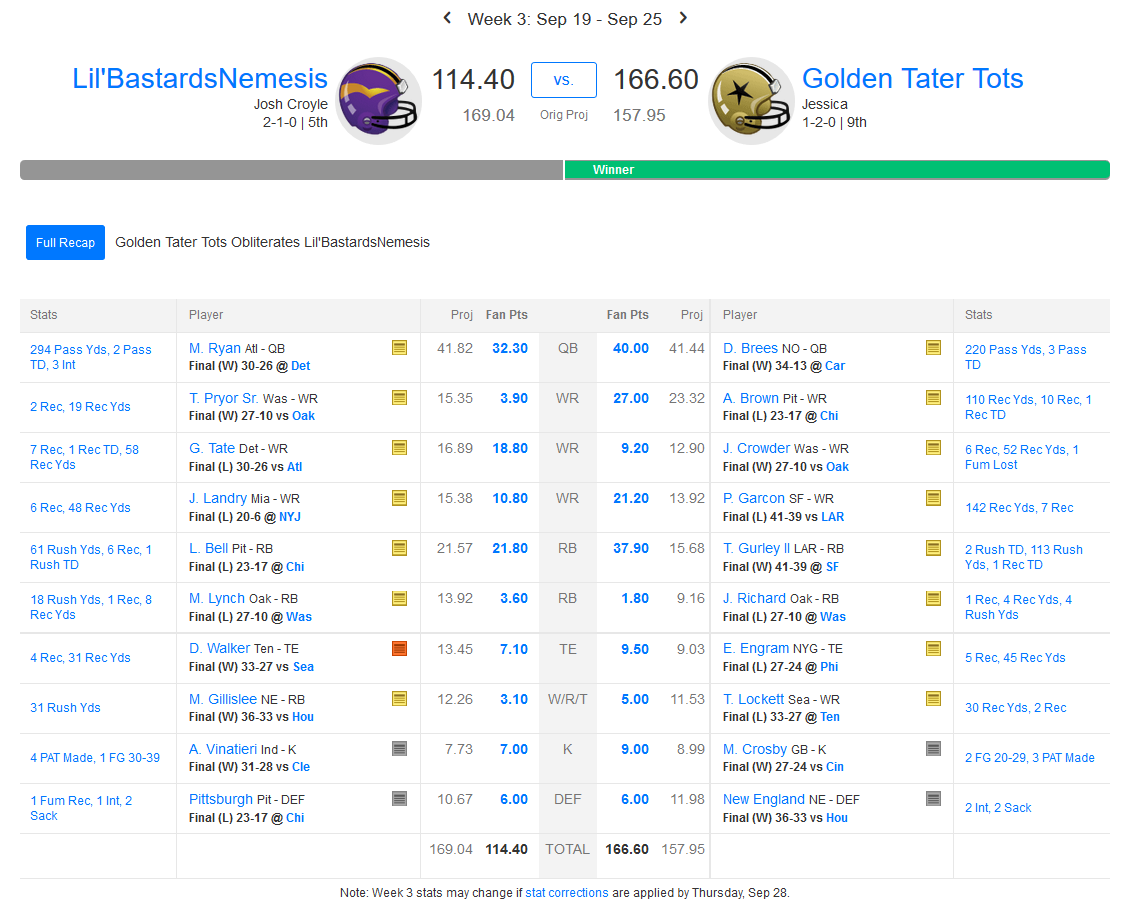 Just when I thought things were going well for me…damn. I knew I was in trouble when Gurley/Garcon combined for almost 60 on Thursday. It is not like I can even say that I had a bunch of guys on my bench that could have helped me win. Nope, my team just flat out sucked.
Standings
Ryan (3-0)
Seth (2-1)
Offord (2-1)
Jarrod (2-1)
Josh (2-1)
Gideon (2-1)
BatmanJason (1-2)
Jason (1-2)
Jessica (1-2)
Lindsey (1-2)
Adam (1-2)
Dustin (0-3)
Adam picked up his first win and did it in destructive fashion. He outscored Dustin by 91.20 points. Here is how bad Dustin's team was last week: Gideon scored 100.60 points and he still would have beaten Dustin handily. That is a bad week my friend. It looks like Offord's team is back to scoring tons of points like last season. He destroyed Lindsey.
Ryan is the only undefeated team and it looks like he will probably stay that way after this week, since he plays me. I need some help in the receiver department. Or I need Pryor & Cousins to develop some chemistry. Lindsey takes on BatmanJason, while Jessica looks to continue her winning ways against Jarrod (although, he had a huge week too, so this one could be pretty good). The closest projected match comes between Dustin & Gideon (both right around 153, which is weird since they both scored so low last week). Adam has a huge challenge with Offord (who has the entire Packers team minus Rodgers), since they are playing the Bears (good teams can beat da Bears!). The most interesting matchup is between Seth & Jason. Seth has had some huge weeks, but Jason's team was not bad last week, just was unfortunately playing Jarrod.
Finally, I have the money from everyone…for the most part. I did not want to have to lock someone's team. That would just suck.