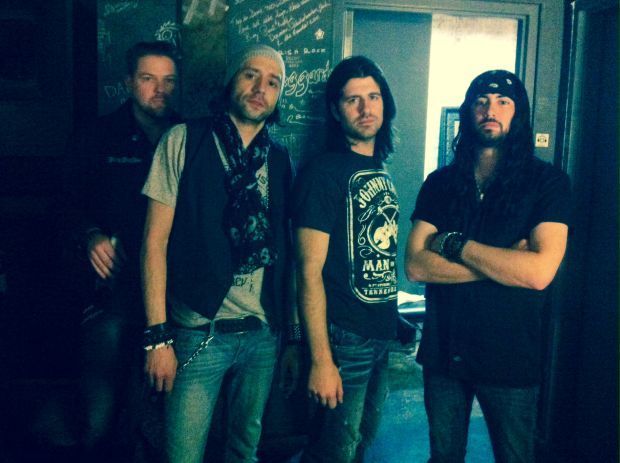 This is Jammin' With Josh. Each week I take a look at one of the bands that I love. Or perhaps it will be a band that I just discovered and think you should check out. Or maybe it will just be a way for me to post music videos. Honestly, no one will ever know.
Do you remember the band, Tantric? No?
You definitely remember their hit from 2001, "Breakdown." It made it to the top of the Modern Rock charts that year.
I really liked the song and because I was an avid reader of Rolling Stone, I knew a bit about the band's formation. So this week, instead of looking at a band I love, we shall look at Tantric. And their weird history.
When that song came out, it quickly became very popular. You heard it everywhere. There is a funny thing about how the band formed. You see, they were already a fairly popular band called Days of the New. Let me guess, you do not remember Days of the New? Allow me to jog your memory.
And I know what you are going to say and the answer is no. This is not an Alice in Chains song. I am sure many of you downloaded this back in the day and it was labeled as Alice in Chains (or maybe "Touch, Peel and Stand").
How did that happen back in the day? For those of you that are too young to remember downloading music from Napster or Limewire/Kazaa, you would have to search for music. You could search by song name, band, whatever. And there would always be mislabeled songs. It was soooo annoying! If you ripped a CD on to your computer, you could set the program to name the songs with Band Name-Song Title (or any combination you would want). I guess some people might not do that, figuring they would know who it was, but then they would share it with others and that person would listen to this song and be like "hey, I think this is Alice in Chains!" Very frustrating.
Anyways, the formation of Tantric…so they were all in Days of the New. Then the lead singer of Days decides that they are just not cutting it and gets rid of the rest of the band and decides to go in a new direction. The rest of the band met up with another guy and formed Tantric. "Breakdown" became a huge hit, the new & improved Days of the New released "Enemy" which was good, but never really became that big of a hit.
That always struck me as somewhat funny.
Anyways, Tantric performed at Rolling Rock Town Fair 2.0, which I was fortunate enough to attend with my friend Dan. I really wish I could say "oh man, Tantric really blew the doors off the place" but it was outside, so no doors. Also, I remember them singing "Breakdown", "Mourning", and "Astounded" They were pretty unremarkable. By that I mean that the songs sounded identical to their album version. I hate going to a concert and the song being exactly the same. I would bet that it was even 3 minutes and 10 seconds long, just like on the CD. That is lame.
You know what else is kind of funny? Tantric is still around (or at least they were putting out albums as late as 2015. The band tours, but none of the members are the same (it seems like a revolving door of different musicians), with just the lead singer being the only original member. Weird. Seriously though, I would have bet some serious money back when "Breakdown" came out that this band would be releasing tons of hits over the years.