Only six right again. Definitely not having a stellar start to the season. Need a few big weeks here to not fall too far behind. Sean was the leader again, nailing 11 of his picks. Interesting that every other week he scores 11, and the other weeks he scores 6. It looks like this week should be….oh shut up Josh, that is not a trend, way too small of a sample size…idiot. Adam was second best with 10, it looks like he is staging a comeback after forgetting his picks back in week two.
Any of that money you won from listening to me about the Saints, you probably lost big time if you took my advice and bet on the Colts covering against the Seahawks. Yikes, 46-18…pretty obvious that I have no clue what I am talking about.
Underdog Special: If I had written this in time, I would have urged you to take the Buccaneers. There are a ton of really close spreads, so none of them seem too crazy to take. I would say take the Jaguars (I know, I took the Steelers). The Steelers have a way of playing down to opponents and allowing the game to stay close. They could either win by 24, 7, or lose by 3. I would not be shocked by any of those results.
The standings go: Sean (a commanding lead of +8), Rob, Mom, Gideon, Lindsey, Ryan, Josh, Jason, and Adam. Third through seventh are extremely close and last nights game actually changed the standings (Ryan and I moved up, wooooo!).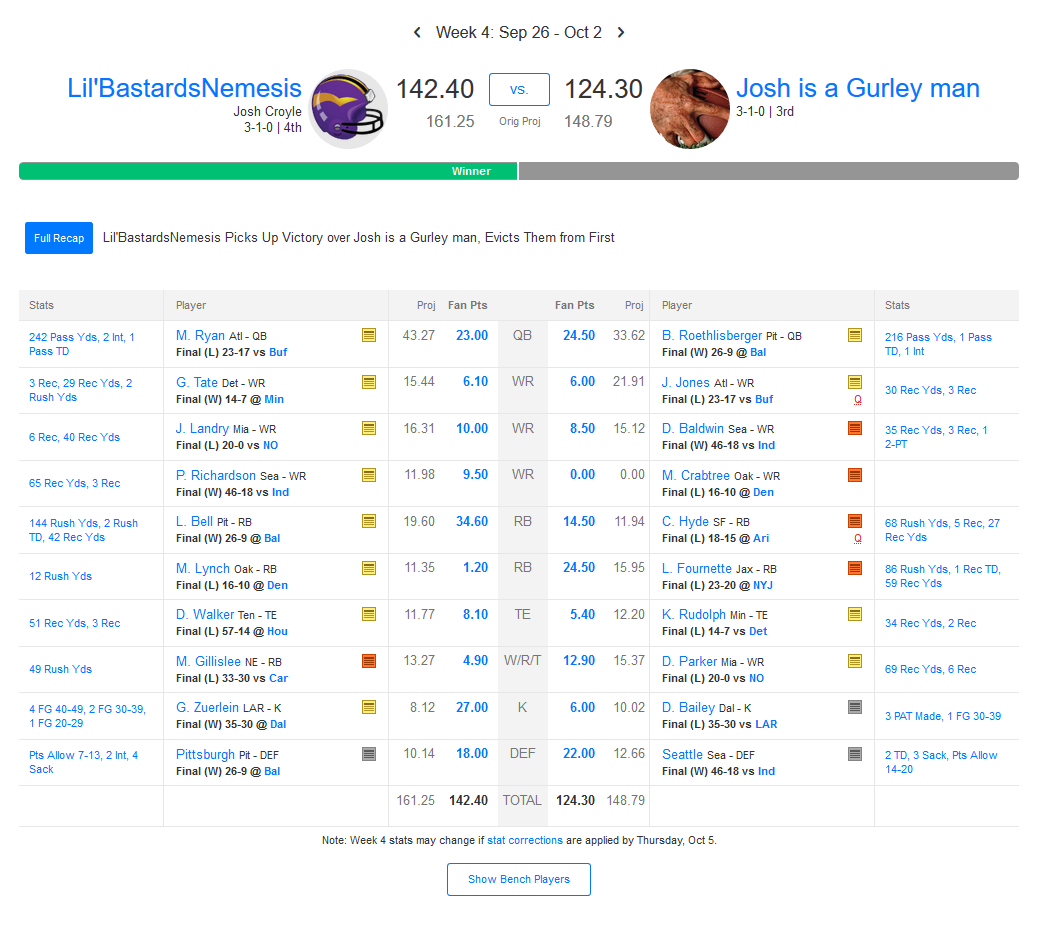 Before Ryan has a chance to give his excuse of "well I did not check before the game to see that Crabtree was out, that is what cost me!" None of his bench players scored enough to give him the win. The only chance he would have had was by switching Ben with Alex Smith (and be honest, Ryan was never going to do that). Honestly though, my team is not very good. I was carried by my defense & kicker. Bell finally had a great game and was worthy of that second pick, but everyone else underperformed. So I will not brag about this win.
Standings
Seth (3-1)
Offord (3-1)
Ryan (3-1)
Josh (3-1)
Jarrod (2-2)
Jessica (2-2)
Lindsey (2-2)
Gideon (2-2)
Jason (1-3)
BatmanJason (1-3)
Adam (1-3)
Dustin (1-3)
Lindsey's team was the biggest winner by crushing BatmanJason by 60.40 points. Seth put up the most points, which is why he is in first place (ahead of Offord by 50+ points, how does Seth even have a loss?). Two teams failed to score 100, which is pretty tough to do in this league (I should go back through the years and see how many times that has happened). Dustin picked up his first win, which is probably bad for Gideon (his team could be in serious trouble). My two teams to watch are Jarrod & Jessica. She outscored Jarrod, but both of them put up decent points and would have won against most other teams. They are the best 2-2 teams.
This week I take on my lovely wife. I love her, but will show her no mercy. I still remember that last fantasy baseball matchup. It is funny, I tend to help her even when I play her during baseball, but for football? Not a chance. She will get zero tips from me. In fact, if she forgets to check her lineup Sunday morning, oh well. Yes, I am that petty. Anyways, in other matchups…Ryan needs to bounce back or risk dropping a little further down. He takes on Jarrod, who could easily hand him a loss. Jessica should have an easy day with Jason (sorry man, your team is not looking great). Adam and BatmanJason will vie for the honor of being 2-3. Offord takes on Gideon, while Seth should have an easy time with Dustin.
I feel like this season the scoring is much lower. I did not change the scoring that much, yes I lowered the bonuses on QBs (not sure if anything else), but it seems crazy that teams are not scoring in the 200s like they were in previous years. Do you guys think that the QB Era is over? Or has the league caught up and become more about elite defensive backs? Meaning that great wide receivers are shut down, which leads to teams needing to run it more? I am just thinking out loud. I have no data to back this up, just a thought.