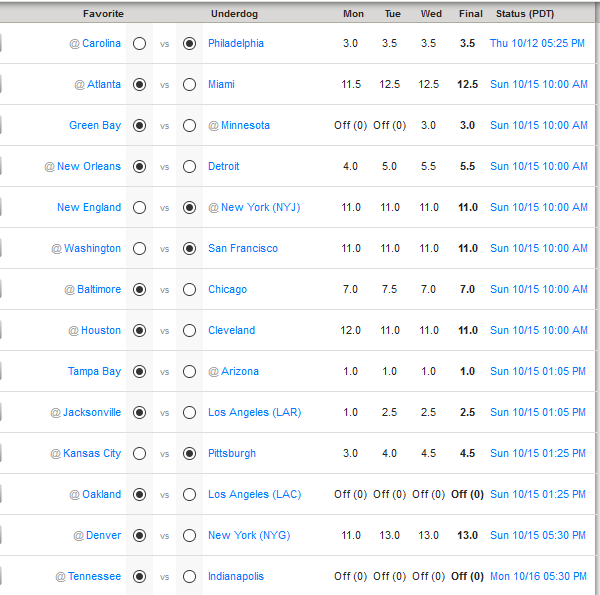 Look at me go! I moved up to third place after a dominating performance. Okay, I tied a few people with seven correct picks. I must have nailed one of my tiebreakers though because I was the one that got the win for the week! Suck it losers!
I hope you took my underdog bet of the Jaguars. I have a good streak going of every other week (do not bet on me this week then).
Underdog Special: I would take the 49ers. Yes, I realize they are 0-5. Excluding the first week, they have lost their other four games by a total of 11 points. You really think the Redskins are going to put up that many points on San Francisco? Get real, they may be saying that silly HTTR thing after the game, but it will be because of an OT field goal.
Sean is still in the lead with 41, but now he is ahead of Mom (33), Josh (32), Gideon, Lindsey, Rob (all with 31), Ryan (30), Jason (28), and Adam (21, so much for that grand comeback, he forgot his picks again).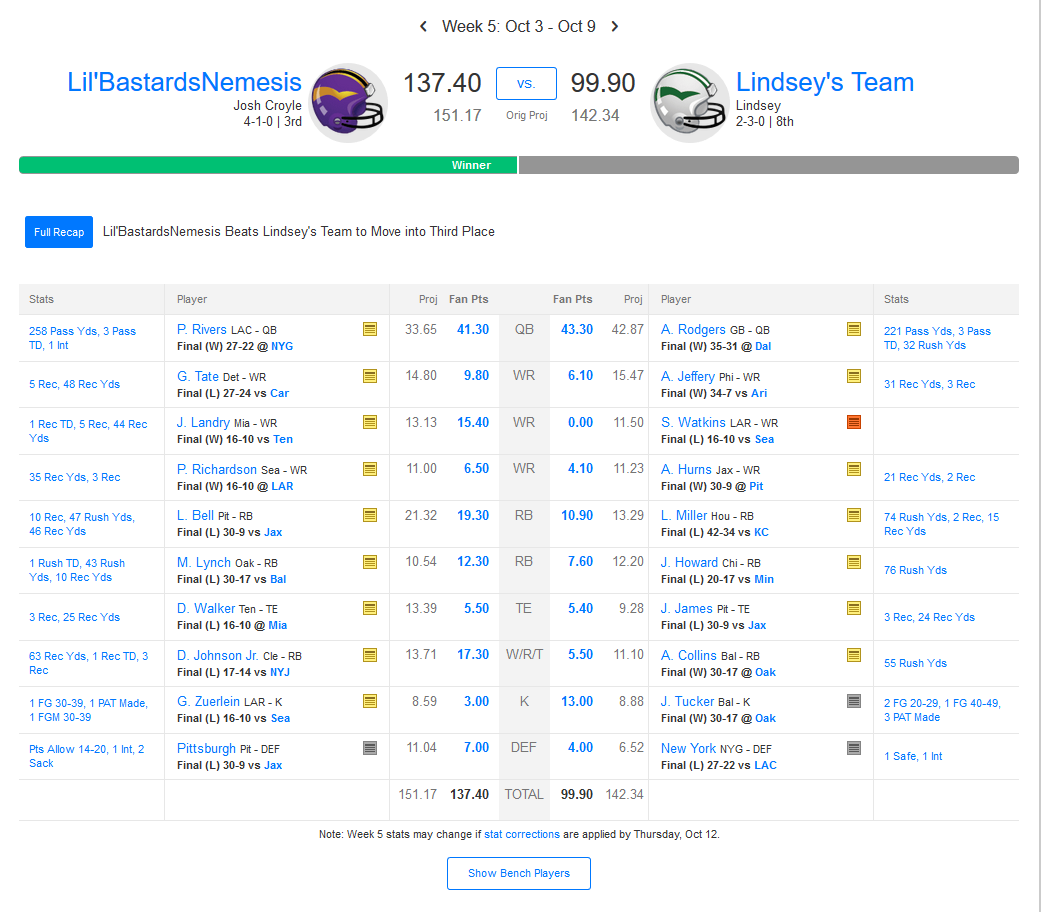 Oh my poor, dear wife…you should have stepped up your game. You should have avoided trash talk at home. Look what happens when you brag about how you will defeat me. You do not even break 100 points. That is sad. Pretty good game from Bell, considering the Steelers sucked at life.
Standings
Seth (4-1)
Offord (4-1)
Josh (4-1)
Jarrod (3-2)
Ryan (3-2)
Jessica (3-2)
BatmanJason (2-3)
Lindsey (2-3)
Gideon (2-3)
Jason (1-4)
Dustin (1-4)
Adam (1-4)
Dustin cannot catch a break! His team scored 167.10 points, but that was not enough for a win against Seth, who continues to roll over the competition. Seriously, he is almost 80 points ahead of Offord, who had an easy time with Gideon. BatmanJason put up a bunch of points against my brother, but 20+ were garbage time points at the end of the Houston game (smart decision on BatmanJason's part to start Watson over Andy Dalton). If you watched that game, then you saw Watson drive down and score two touchdowns and a two-point conversion. Not saying Adam would have won or anything, but it would have looked much closer. Jessica defeated Jason in a low scoring matchup (Lindsey would have at least won against one person). As I said last week, Jarrod's team is the one to watch out for and he did not disappoint me, by defeating Ryan.
This week I face off with Adam, while Lindsey tries to rebound against Jarrod. Jessica and Seth square off, one of them will have a three game winning streak snapped. Speaking of three game streaks…Offord puts his on the line against Dustin (whose team has been scoring more lately…something to keep an eye on). Either Gideon or BatmanJason will end up at .500 after this week, my money is not on Gideon (his team is trying to set a record for least points scored in a season). And finally we have Jason & Ryan…the least interesting matchup (nothing personal guys), I would rather Jason win so that Ryan is further down in the standings, but that just seems petty.
Last week I mentioned about scoring being down. Offord brought up a point about red zone offenses being worse at the beginning of the season and their being more field goal attempts. I decided to look at it (he knew I would become obsessed with the idea). I did not dig too deep, no charts or anything. What I noticed was that for the most part, field goal attempts per game stay pretty consistent throughout the years (around 1.5), but this year it is way up over 2. Then I started thinking about field goal kickers. Most people probably pay little attention to kickers, but I followed the career of Sam Ficken closely and was always amazed that he did not make it to the NFL. I then heard something on a talk radio show about Ficken and how he just was not at the same level as pro kickers. Nowadays kickers need to be almost 100% from 45 yards and closer (yes, I realize they will miss, hence why I said almost). They almost all have the leg to kick well over 50+ yards.
So I looked back at attempts over 50+ yards and what did I notice? Over the past 20 years, they have gone up pretty significantly. In 1996, there were 58 kicks attempted over 50 yards, while in 2016 there were 150. You might say "well maybe teams are kicking more, but are they making more?" The answer is yes, 51.72% vs. 56.67%. I bet if you added a kick category of 60+ (changing the other one to 50-59), you would see some even crazier results in that percentage made. So what does this have to do with scoring being down?
Well, I think as the quarterbacks who helped foster the idea of a pass heavy league (Peyton Manning, Tom Brady, Drew Brees, etc) start to retire (or already have), and the rest begin to descend into the twilight of their careers (Eli Manning, Phillip Rivers, Big Ben), we are starting to see less than elite quarterbacks out there. However, teams have built offenses around the pass and it will take some time for the running offenses to come back (different o-line styles). In the meantime, teams can still score points by kicking field goals, especially from spots where they would have normally punted or maybe went for a first down. So overall league scoring per game stays relatively the same, but passing scoring goes down and is replaced with more field goals.