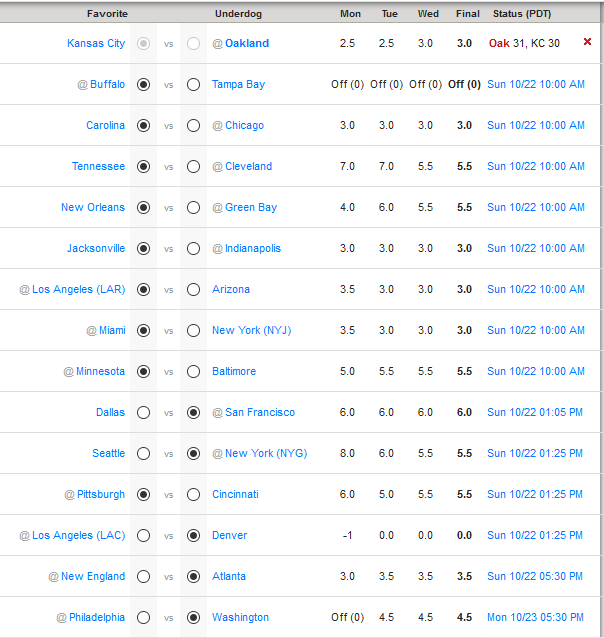 Sean continues to dominate, getting nine last week. I was able to pick seven, along with a few other people, but since Mom only got five, I moved into second place. Granted, she gained it back since I missed Oakland and she was the only person to get that one right. Weird.
I wish I actually was betting on these games. I absolutely nailed that 49ers game!
Underdog Special: I am pretty high on the 49ers right now, so screw it, I am going to ride this wave of euphoria and say take them again. It is usually a good bet to take a team at home to at least cover. Plus, what I said last week continues to be true. The 49ers will be that 1-15 team that wins their division the next season.
Sean is now at 50, I am at 39. After that we have Mom, Rob, Ryan, Gideon, Jason, Lindsey, and Adam.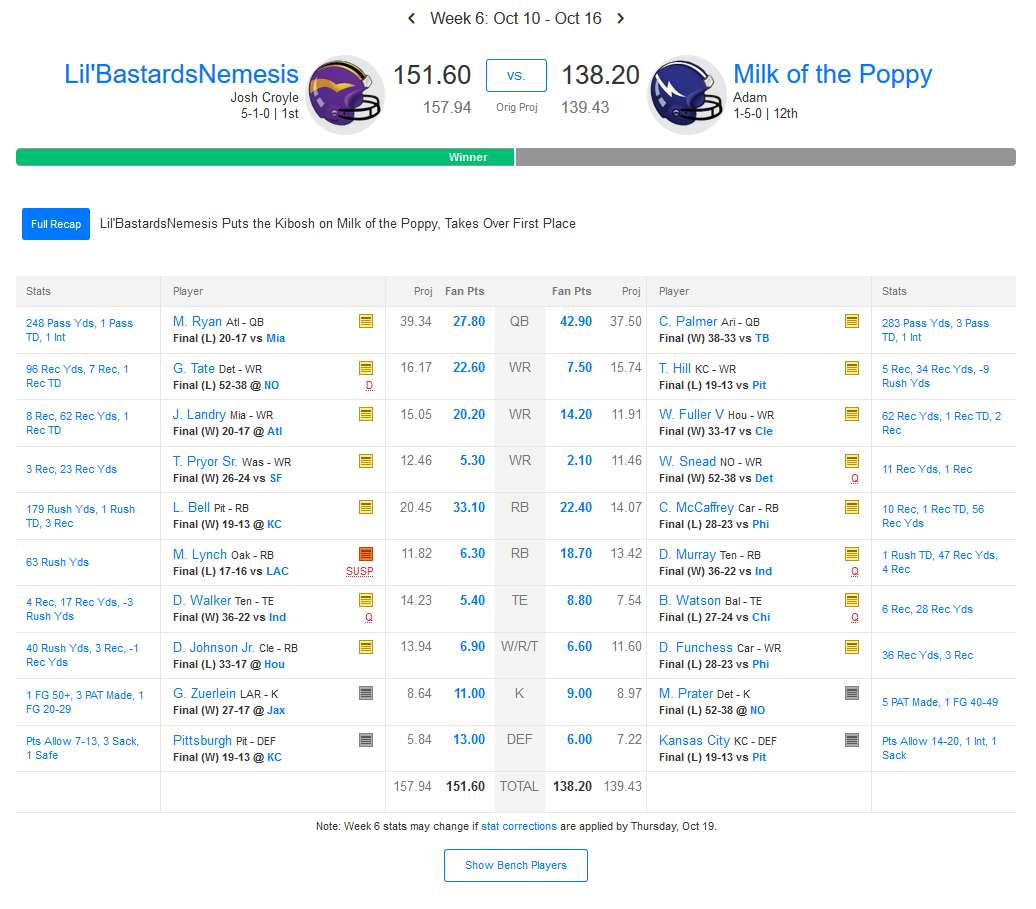 Sorry my brother, my wide receivers finally decided to show up (well all of them except Pryor). If I had written this on Wednesday or Thursday, I would have bragged about how I am now in first place and my team is looking pretty good. And then Thursday night happened. Lynch is ejected (not that he has been much help) and Cooper puts up 57.00 points for my opponent. UGHHHHH….
Standings
Josh (5-1)
Seth (4-2)
Jarrod (4-2)
Offord (4-2)
Jessica (4-2)
Ryan (3-3)
BatmanJason (3-3)
Jason (2-4)
Dustin (2-4)
Lindsey (2-4)
Gideon (2-4)
Adam (1-5)
Jessica and BatmanJason were the only ones to outscore me last week and they definitely put a beatdown on their opponents. Lindsey had a tough break against Jarrod (her QB is Aaron Rodgers…yikes). Jason defeated Ryan in the closest matchup of the week, .70 points…I do not even want to look to see which garbage time points decided that one. Dustin did me the favor of defeating Offord.
This week I take on Gideon, who as I mentioned earlier is at a huge advantage after that Raiders win. Adam looks for his second win against Jarrod, who could have a chance at first place if he can score a ton of points (and hope for Seth to lose). That is definitely possible, since Offord and Seth face off. I could easily drop to fourth after this loss. Jessica gets Ryan, who is tumbling hard with three straight losses. Lindsey hopes that Trevor Semien (I am not even bothering to look up the spelling) can fill in for Rodgers (he cannot, she is screwed) against Jason this week. BatmanJason is looking for another huge win since Carr got him 66.20 points, definitely sucks for Dustin.