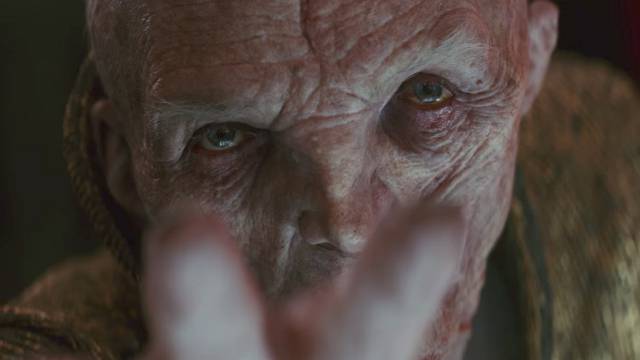 It seems like everyday there is another Snoke theory out there. Fortunately, my Snoke theory is the best around, so you will be to stop searching all of the message boards and go back to enjoying life. I have carefully researched this for months and feel that my findings are incontravertable. Do not read any further if you do not wish to spoil The Last Jedi.
Okay, you are still with me…
You really want to know the identity of Snoke?
Okay, I warned you. This is going to blow your mind…
Snoke…
is….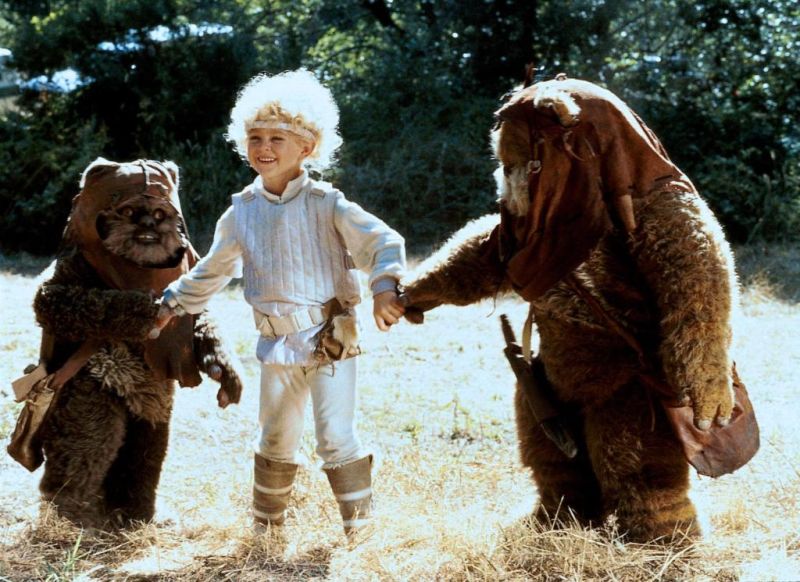 Cindel Towani!
Yep, we all assumed that Snoke was a man, how sexist you fools. Also, you probably have no clue who Cindel Towani is, which makes you the worst Star Wars fan of all time. So allow my much more enlightened brain to explain it to you…
Cindel was the little girl from the Ewok movies (you remember them, right? Caravan of Courage: An Ewok Adventure & Ewoks: The Battle for Endor, and she was mentioned in the Return of the Jedi kids book). After the events of those movies, Cindel leaves Endor and Charal (she was the Nightsister who could turn into a raven). Remember, the Nightsisters of Dathomir could use the Force. Last we saw her she was trapped in her raven form.
Cindel spent the next few years traveling around the galaxy, but she always remembered the magic she witnessed from Charal. Eventually she stole a ship and made her back to Endor. She quickly discovered that Charal had found a way to regain her human form. The Nightsister realized Cindel was Force sensitive and began to train her in the Nightsisters ways. Cindel grew in power very quickly and traveled around the galaxy trying to learn as much as she could of the Dark Side.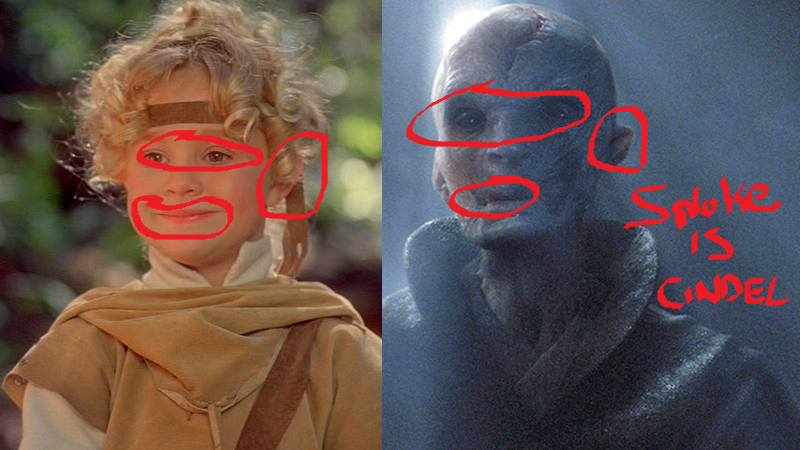 I know what you are thinking and yes she would be considerably younger than Luke. The increased Dark Side usage aged her rapidly. Look at the smile, the ears, the amazing fashion sense…they are a complete match!
This also explains what happened to the Ewoks! Cindel must cover her tracks and leave no witnesses to her complete change to the Dark Side, so she murders all of the Ewoks! Look, if you take the N from her name and put it in Ewoks, then drop the W, what do you get? Enoks, which is an anagram of SNOKE!!!! Yeah, I just blew your freakin' mind!
Just so we are clear, none of this is true. Wicket and the rest of the Ewoks are all safe on Endor. Snoke is most definitely not Cindel…well probably. I mean, it would be really stupid. But you know, there is a chance, and if that .0000000000000000000000000000000000000000000000001% chance happens to be true, well I want to be able to brag about it. But seriously folks, enough with all of the crazy Snoke theories…