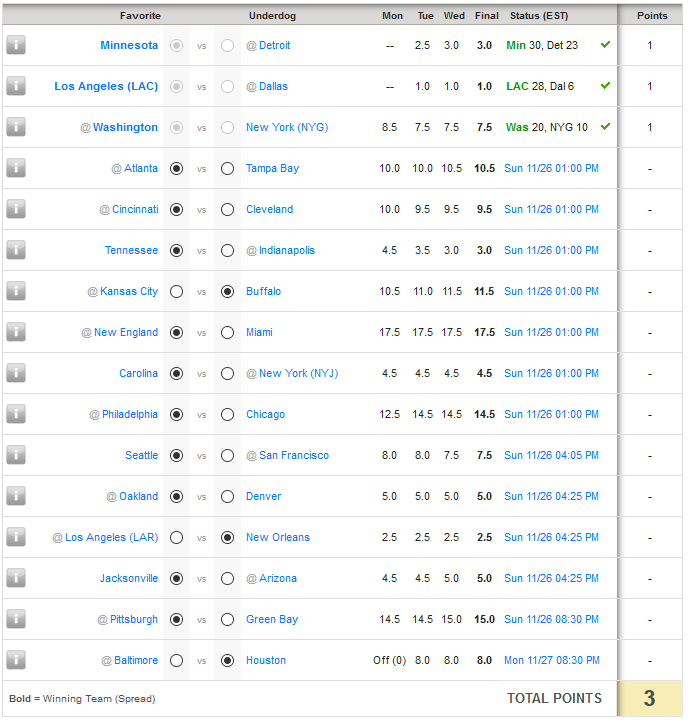 Jason & Gideon were the winners last week, each picking nine right (Gideon must have had the tiebreaker). I was pretty pathetic with only six. Fortunately, I am off to a great start this week by getting the three Thanksgiving games.
Yikes, I hope you did not take my advice on the Raiders…they got lit up by the Patriots.
Underdog Special: New Orleans…just take 'em. They are on fire and cannot seem to be stopped. The week before I was having a nervous breakdown over that Redskins game since I had the Saints in a survivor pool. They are just clicking right now and I think they will actually win against the Rams.
Sean is still dominating. The rest of us are just idiots compared to him.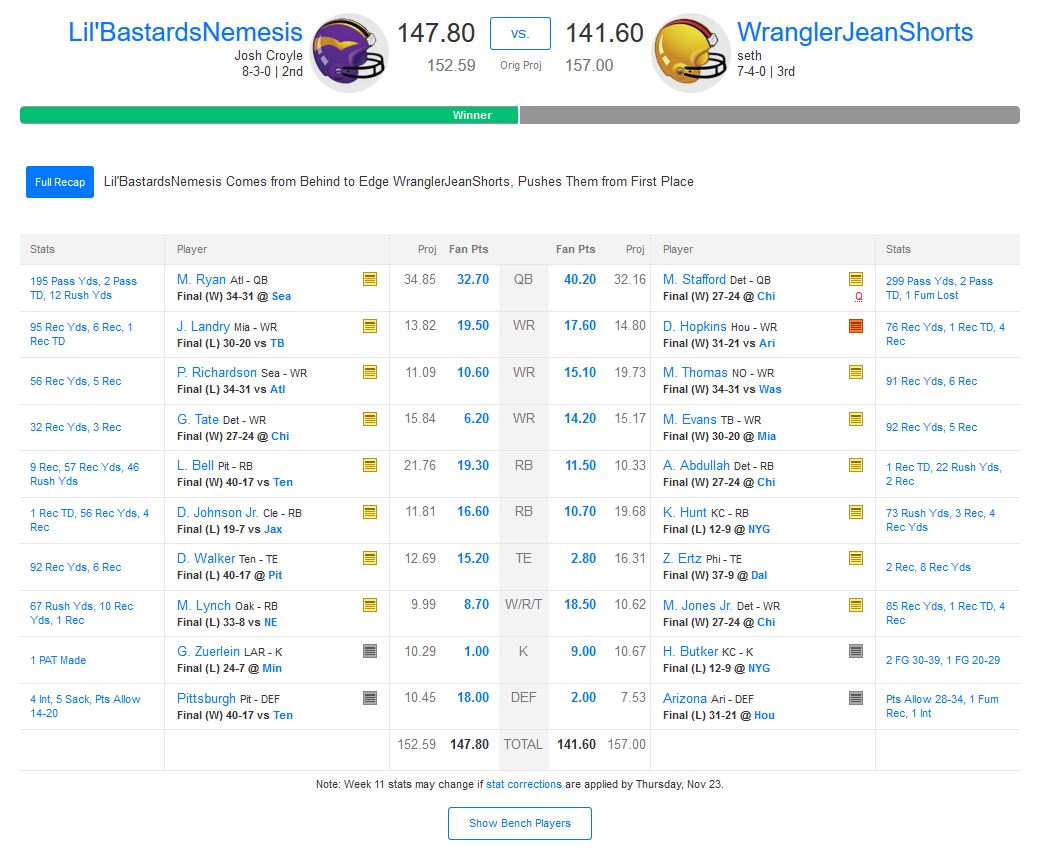 This was an intense week. I think Seth was pretty upset that he did not start Kenny Stills, who had 36 points. Tough break man, but something tells me I will be complaining about the same thing this week (Rivers has over 60 points on my bench). It only matters what your starters did and mine were just a wee bit better.
Standings
Jarrod (8-3)
Josh (8-3)
Seth (7-4)
Jessica (7-4)
BatmanJason (6-5)
Ryan (5-6)
Gideon (5-6)
Offord (4-7)
Jason (4-7)
Lindsey (4-7)
Adam (4-7)
Dustin (4-7)
Jarrod moves into first place after defeating BatmanJason 218.50-162.90. Another week of the second highest score losing, always sucks. Big winners this week were Jessica, Lindsey, and Gideon. The other winner was Jason over Offord. Fun fact: if you add any of these team's scores (Jason, Adam, Dustin) with Offord's score, the combined score would not be enough to beat Jarrod.
This week I take on Jarrod, who I beat back in week one, but I do not think that is going to help me now. Jarrod already has a big lead, which means I am most likely done. Seth should have an easy rebound with Adam, while Jessica takes on Offord (will he win another match this season?). We get another Battle of Jason's (BatmanJason vs. Jason). Ryan takes on Dustin, which could be a pretty good matchup. Lindsey takes on Gideon, if she wins she keeps her season alive.