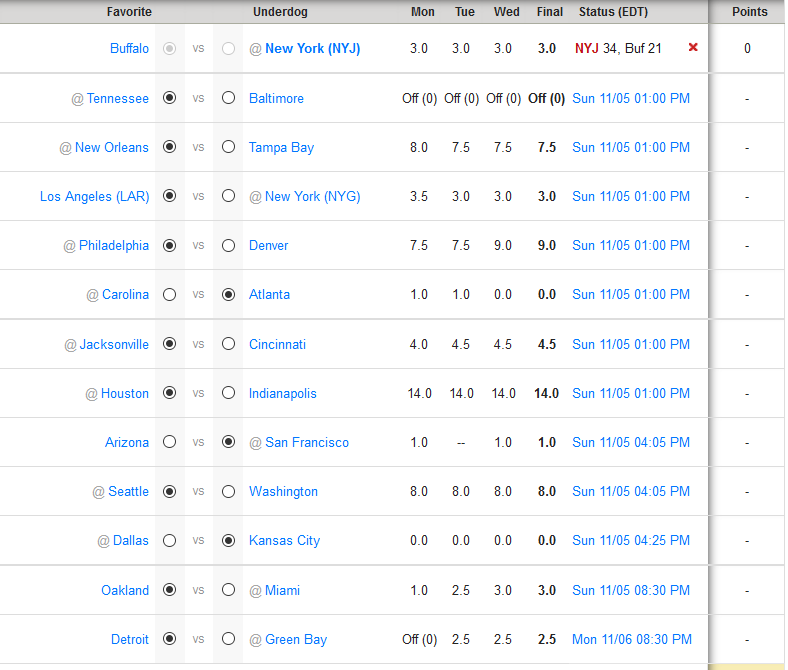 Hey, I was the big winner last week! I picked nine right.
Who nailed that Chargers game? 21-13, you can send me my 10% as soon as possible.
Underdog Special: Well this one is pretty weird. The line was set after Wednesday, but before Watson was hurt. So even though it says Houston, I would bet on the Colts. If not them, well you should probably look at a team that is either even or -1.
Sean had a bad week, only six right! Which means that Mom is only seven behind him. I am in third place and nine points down. A long road ahead of me. After that we have Jason, Gideon, Rob, Lindsey, Ryan, and Adam.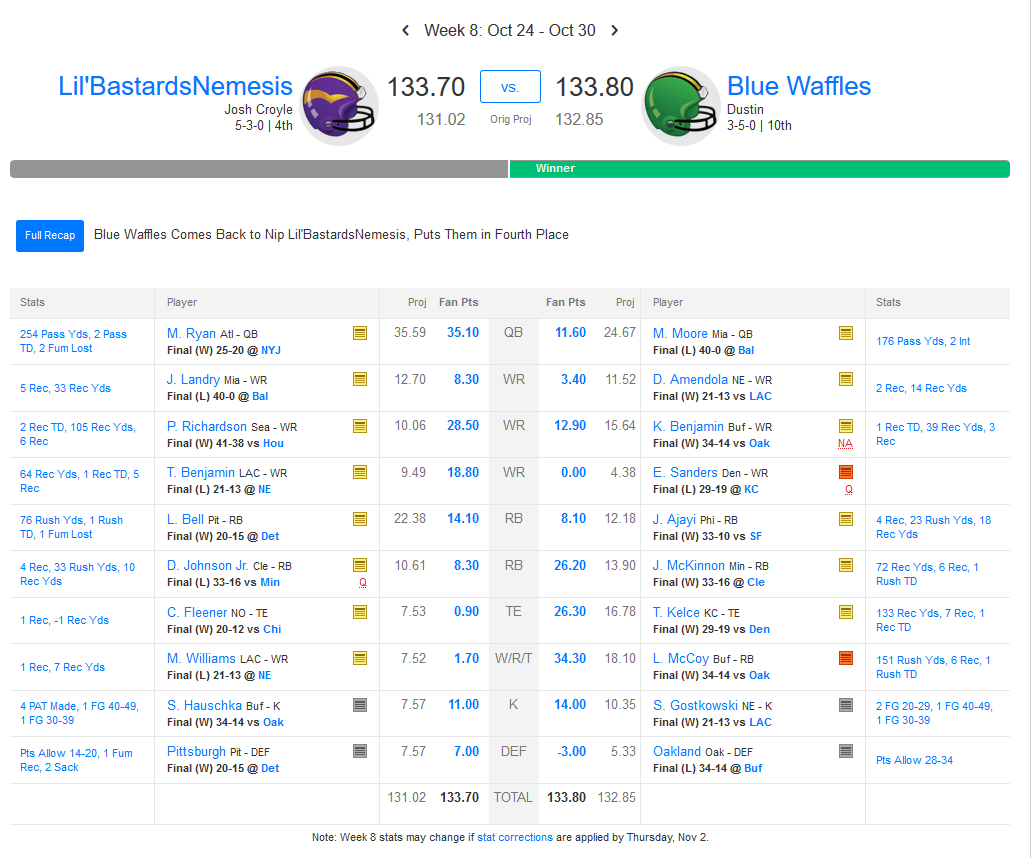 One freakin' yard! You mean no one could just push forward for one more freakin' yard? What a crappy way to lose. Congrats to Dustin though. I am not too upset though, I mean, most of my team was on bye.
Standings
Seth (6-2)
Jarrod (5-3)
BatmanJason (5-3)
Josh (5-3)
Ryan (4-4)
Offord (4-4)
Jessica (4-4)
Gideon (3-5)
Jason (3-5)
Dustin (3-5)
Adam (3-5)
Lindsey (3-5)
Two losses in a row has me all the way down to fourth. BatmanJason has won four in a row and is climbing the standings after beating up on Offord. Seth destroyed Ryan, meaning he is still the leader. Gideon had the unfortunate luck of scoring the second most points and losing to Jarrod. Adam and Lindsey both picked up wins, mostly because their opponents were also bogged down with byes.
This week I take on Offord and I have to do it without Bell. The biggest matchup is BatmanJason versus Seth, it should be a nice high scoring affair. Lindsey has Ryan, which should be pretty good since Tyrod Taylor scored 48 points for her on Thursday. Other matchups include Jessica/Adam, Jason/Gideon, and Jarrod/Dustin.