I did not plan to write another college football post, but this has been on my mind for the past few days. You may have heard the Greg Schiano story. As of now Schiano is the Defensive Coordinator at Ohio State. He was offered and accepted the head coaching position at Tennessee. Then the folks of Tennessee went crazy and demanded that they not hire him because of his connections to Jerry Sandusky. The university felt like the bad press was not worth it, so they pulled the offer.
Let me start by saying that I think Schiano would actually be a good coach at Tennessee, he did a great job at Rutgers before heading off to the NFL (where he was terrible). I am guessing he has learned a ton from Urban Meyer. That being said, I can understand if the reason they did not want him was because of those antics at Tampa Bay or perhaps the Vols fanbase thinks they could find a better head coach. But instead, they are claiming some moral outrage at hiring Schiano because of his connection to Penn State.
Couple of quick things: Jerry Sandusky is a vile, horrible human being and deserves to rot in jail. Also, Mike McQueary has never been known as the most reliable of witnesses during the entire thing. I am pretty sure he has changed his story multiple times and claims to have told a bunch of coaches, not just Joe Paterno. The Freeh Report never found those claims that Tom Bradley or Greg Schiano ever knew anything to be credible. In fact, neither did the court system, since neither coach was ever called to testify, deposed, brought in during the civil trials, etc.  Before anyone accuses me of being one of those Penn State fans who thinks JoePa was totally innocent, let me say for the millionth time: I do not know. I mean, if McQueary did tell him and Paterno reported it to his superiors, that is the appropriate thing as far as chain of command sort of thing, but Joe should have followed up. He should have been more concerned. That is where he failed. However, that does not make him evil like Sandusky. That just makes him a flawed human, who had an opportunity to do the right thing and did not.
So that is my opinion. Hire Greg Schiano on his football merits. Ohio State and Tennessee fully vetted Schiano, they did not find the claims of McQueary to be credible. That should be good enough, but apparently not in this age of outrage.
Okay, moving on, I still have some college football coaching ranting…
-It was weird to me that Tennessee went after Greg Schiano in the first place. There is a better coaching candidate out there for the Volunteers program. He was a quarterback who won you a national title. Yeah, Tee Martin, who is a very successful offensive coordinator at USC. I know they are looking at him now, but I am confused as to why he was not the top choice right from the start. Also, would Peyton Manning ever consider coaching college football?
-I will never understand how college head coaches can recruit kids to come play for them. Especially when they are trying to sell them on the idea that they will be there with them for the next four years. I think about PJ Fleck, the current coach at Minnesota, but previously he was at Western Michigan. Last year they did a Gameday feature on him and he had that stupid "row the boat" or whatever it was, mantra. He preached to his players about how they were all in it together and blah blah blah. And then Minnesota offers him a job and boom, Fleck leaves those kids stuck in the boat without a captain. Although, a rowboat does not have a captain…but whatever, you get the point.
College players cannot transfer without jumping through some hoops. If I am not mistaken, you can transfer to another FBS school, but you have to sit out a year (and I think you need the head coaches permission, which may not happen if you try to go to a conference rival). You can transfer to an FCS school and play the next year, which does happen quite a bit (Pat Devlin). AND yet, a coach can break a contract at any point. Oh I know, there are buyouts and all that stuff, but that does nothing for the kid who comes to Western Michigan because PJ Fleck sat in his family's living room promising to make that kid into a better man, prepare him for the future, row some stupid fucking imaginary boat. Fleck goes to Minnesota and if that kid wants to transfer, he has to sit out or go to an even smaller school.
-I wonder if Chip Kelly will have the same success at UCLA that he had at Oregon. It will definitely be interesting to see. Also, will he keep Tom Bradley on as the DC? I would hope so, I always liked Bradley. I also wonder if Schiano does leave OSU, will Meyer promote Larry Johnson to the DC position?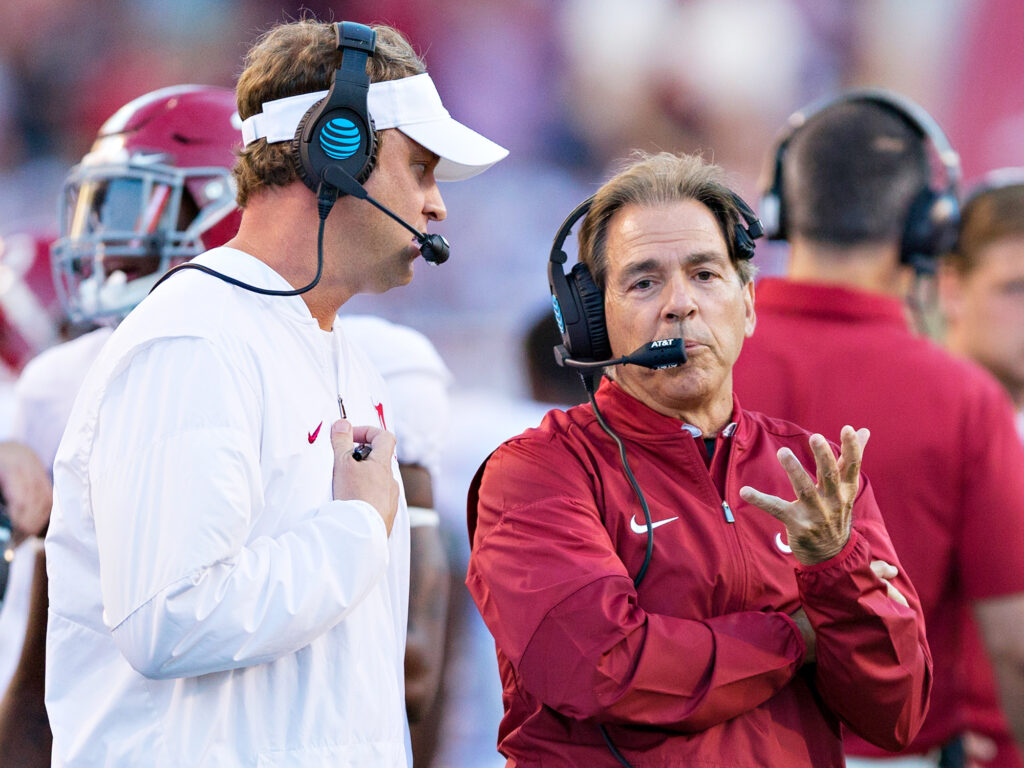 -Scott Frost…do not do it! The Nebraska job is not the job you want to take. Stay at Central Florida, wait for a better opportunity. I know, I am contradicting myself from above, but since this is the way college football goes, might as well play into it. The pressure to turn Nebraska around is going to be too great and if Frost does not have them at 9-3 by 2019, they will put him on the hot seat. I know, the money is hard to turn down, but if I were in his shoes, I would be looking at a school that has some lower expectations at the moment.
-I have a theory: Lane Kiffin will be Nick Saban's replacement at Alabama. Think about it. The Crimson Tide know that Saban will retire someday and it seems like they would not want to fall into the coaching blackhole. Kiffin worked under Saban for a few seasons and seems to have learned a thing or two, as he is now having some success at Florida Atlantic. If I remember correctly, Saban was very vocal/positive about Kiffin taking that job. I wonder if the folks at 'Bama said to him "look Lane, you go to FAU and do well there, show us that you can actually be a head coach, and when Nick retires, we bring you in as his replacement." You wait and see, I am calling it now in 2017. Lane Kiffin, Alabama Head Coach in 2021.
-I always find it funny when a coach wins a few games and becomes this hot commodity. Kevin Sumlin…Dan Mullen…you know what coach has won a ton of games and his name is barely mentioned in these coaching vacancies? Les Miles. I hope wherever he goes he ends up having more success than all of these other guys who keep getting interviews.
Alright, that is it for my coaching rants.