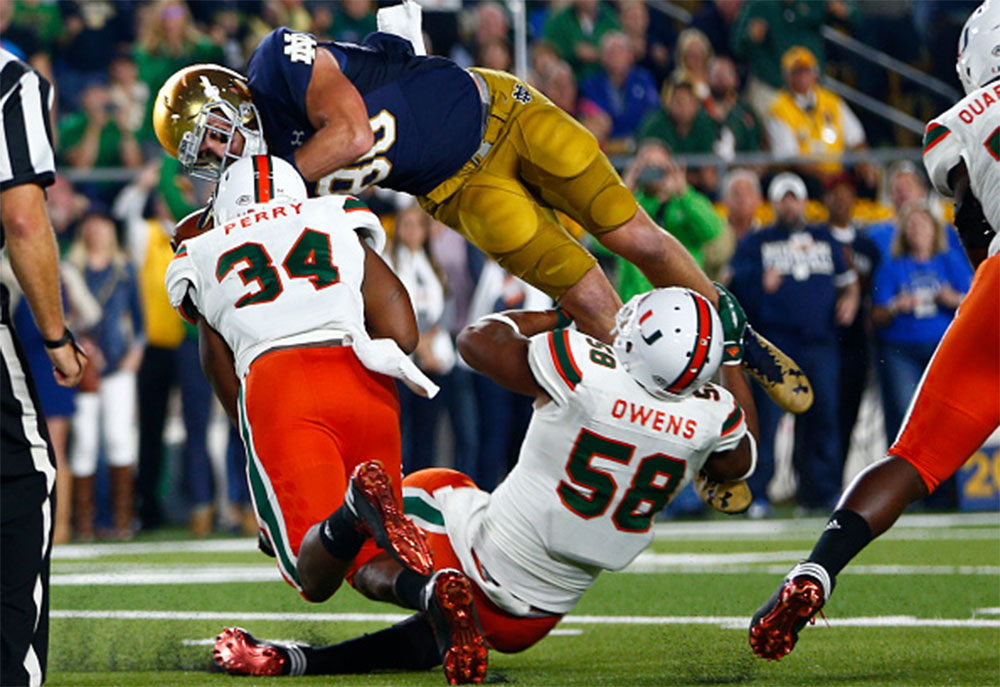 I figured after last week's post about the rankings, that would probably be sufficient for awhile, but then this past weekend happened. Since the actual rankings come out tomorrow, I thought it would be fun to take a stab at trying to predict the top ten. So without further adieu, here is my best guess at the rankings. After the record will be the previous ranking.
Alabama (10-0, #2)–so they beat Mississippi State 31-24, and since Georgia lost they should move into the top spot. The injuries are mounting though and that may cause the committee to look down upon them.
Miami (9-0, #7)–The Hurricanes are for real! They destroyed Notre Dame 41-8. I am not a Miami fan, but I will say that having the Hurricanes back as a contender is good for college football. They are always a fun team to hate.
Wisconsin (10-0, #8)–The Hawkeyes looked impressive beating Ohio State, but then could not find a way to do anything against the Badgers. This is probably where the committee will make a mistake, they will put Wisconsin at #5, but then if the Badgers beat the Buckeyes in the Big Ten championship, they will vault over someone. I am sorry, but if you have three undefeated Power Five conference teams, they should be your top three. Being undefeated against conference opponents is incredibly hard, even the bad teams get amped for these games.
Oklahoma (9-1, #5)–TCU was supposed to have a great defense and look how well that worked out for them against Baker Mayfield and the Sooners. I still have reservations about any team that gives up 50 points (even if they did win), but right now it is hard to argue that Oklahoma is not one of the top teams.
Clemson (9-1, #4)–The Tigers beat Florida State (who hasn't this year?), but it in all honesty it was not an impressive win. The game was actually closer than what the score ended up, 31-14. It was 17-14 going into the fourth quarter.

This is the top five, I could definitely see some of it being flipped around (I have heard Oklahoma being ranked first…that is ridiculous).

Auburn (8-2, #10)–They really threw a wrench into everything by absolutely crushing Georgia. It would make sense for the Bulldogs to be 6th, but it was such an epic beatdown that you cannot reward them for that kind of loss.
Georgia (9-1, #1)–I honestly do not know if they should be here. But the team I would put above them has the same problem…
Ohio State (8-2, #13)–If they had lost to Iowa by a touchdown or something, then I would say that they should be above Georgia, but instead they got smacked around by the Hawkeyes.
Notre Dame (8-2, #3)–They have lost two games to a team that was ranked first for awhile and to another team that will probably be in the top three. They beat up on USC, Michigan State, NC State…they are definitely still a good team.
TCU (8-2, #6)–The AP has them behind Oklahoma State…a team the Horned Frogs beat by two touchdowns.
So here are some crazy scenarios to think about…what if TCU beats Oklahoma in the Big 12 Championship game or Georgia beats Alabama? Or what if Auburn beats Alabama and Clemson takes down Miami. Even crazier, what if Ohio State defeats Wisconsin. OR what if all of those things happen! Can you imagine the shake up then?
I love college football!