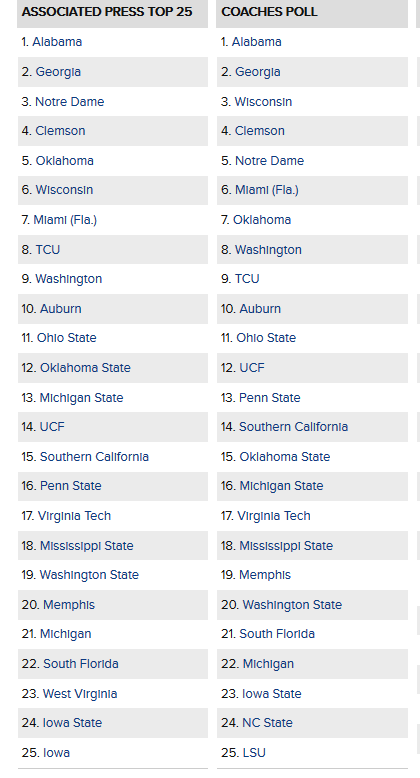 What an insane weekend for college football! The AP and Coaches Polls are out now, which are a bit different from the college football playoff rankings, so it will be interesting to see where these teams land on Tuesday.
-Ohio State gets absolutely destroyed by Iowa, 55-24. You know, the Iowa team that Penn State beat…barely. Or that same Iowa team that lost to Northwestern. Wait, Northwestern? How do you lose to them? Well come to think of it, maybe the Wildcats are actually a good team. They beat Michigan State, Iowa, Nebraska, and Maryland since losing to Wisconsin and PSU. Oh and they were beat by Duke early in the year. How can you take anyone seriously that loses to Duke? So Iowa gets a top 25 spot in the AP Poll, but Northwestern does not…weird. They could potentially finish 9-3. Did anyone see that coming?
-Alright, Penn State lost again. It was pretty heartbreaking. I kept thinking they were going to pull through, but then the late hit on the quarterback came (my first reaction was ugh, a ticky-tack penalty…but then I saw it and went "oh shit, that was definitely like way late.") What annoys me about the loss though is the fact that you have the best running back in the country and for most of the game, they seemed to have abandoned the run. Like if Barkley was stopped for like a yard or two, they would immediately go pass, pass, pass. He is a physical back, let him wear a defense down, he will break free. I feel like Morehead has bought into his own hype as some offensive genius and tries to overthink every situation (although, the play-calling ends up being almost predictable). You still have to win out to get a good bowl game, so the season is not lost.
-Did you watch that Oklahoma/Oklahoma State game? 114 total points…defense was definitely optional. Baker Mayfield and Mason Rudolph, two guys with names that destined them to be Big 12 quarterbacks (see also: Chase Daniel…see also also: Colt McCoy….see also also also: Landry Jones…see also also also also: Major Applewhite). Unfortunately, giving up 52 points probably hurts your chances of breaking into the top four.
-Although, Clemson and Notre Dame played some spotty defense as well. Not 52 points spotty, but still pretty weak. The Irish gave up 37 to Wake Forest and Clemson gave up 31 to North Carolina State, who I thought were going to come back at the end. Honestly, the playoff committee has a tough time ahead of them (at least for this week).
-Hey, at least Georgia and Alabama won…so 1-2 should be easy (they both won 24-10, that's weird, right?)
-Wisconsin rolled over Indiana to remain unbeaten. I imagine they are going to jump up a bit from #9 (although TCU won and they were one spot ahead of the Badgers).
-And speaking of unbeaten teams…the Miami Hurricanes continue to win. In fact, this week they looked pretty dominant against Virginia Tech. They will definitely get a bit a bump. Should be a pretty great battle next week between Miami and Notre Dame. If the Hurricanes pull off that one, they definitely move into the top four, right? Also, if Wisconsin beats Iowa pretty easily next week, does that help them get ahead of Clemson or Oklahoma?
-Oklahoma State loses and gives up 62. Wait, let me say that again, they gave up 62 points! They were ranked 11th and somehow the AP Poll still has them at 12th. I would actually like to see Penn State play them in a bowl game. Trace McSorely versus Mason Rudolph. It would definitely be a fun one. The Cowboys have a tough one this week though with Iowa State, who naturally lost to WVU, to really murky the waters.
-Central Florida won again and will maybe break into the top fifteen of the playoff rankings…maybe. They were 18th and I just cannot imagine the committee dropping that many teams out of the top 15 for a team that barely beat SMU.
There are plenty of big games next week aside from Notre Dame/Miami. We have Alabama/Mississippi State, Georgia/Auburn, Michigan State/Ohio State, Washington/Stanford, and TCU/Oklahoma. Oh and of course, Penn State versus Rutgers.