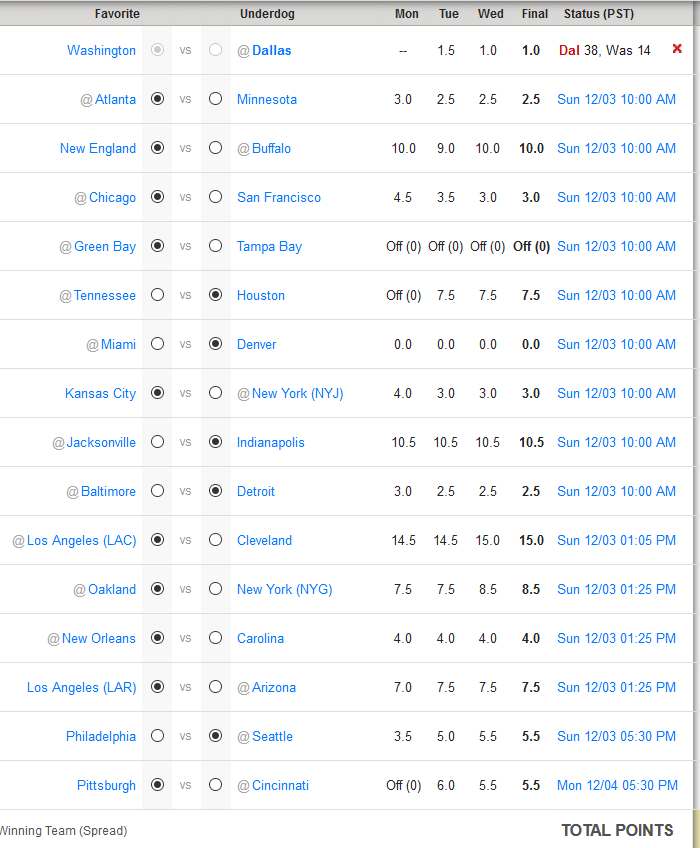 Perfection. That was my first after the first twelve games finished up. I was perfect at that point, but then missed the next three games, but managed to get the Monday night game right. 13-3. That has to be one of my best weeks ever (I am too lazy to look it up). This now means my record is 87-84…which means I was under .500 by a large margin.
Well I am an idiot. One of those games I missed was my underdog special.
Underdog Special: A few good ones this week (you could take the Colts or the Texans, I like them to cover), but my team I would take is the Seahawks. I know that the Eagles are on fire right now, but +5.5 at home for Seattle? I can definitely see this game being decided by a late field goal.
My excellent performance vaulted me into second place and I am now only nine behind Sean. After that we have Mom, Jason, Gideon, Lindsey, Ryan, Rob, and Adam.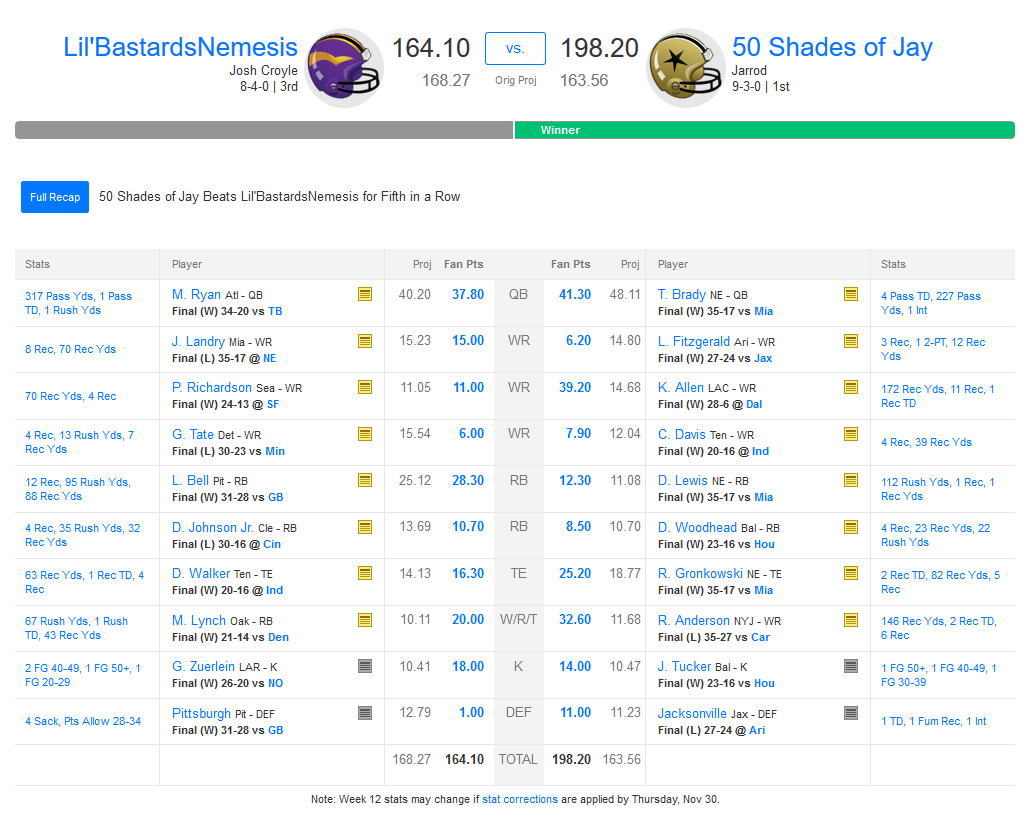 I was frustrated that I did not start Phillip Rivers, but fortunately it would not have mattered. I mean, yes it sucks when you score the third most points and still lose, but whatever. I am just happy that my team is putting up points.
Standings
Jarrod (9-3)*
Seth (8-4)*
Josh (8-4)*
Jessica (8-4)*
Ryan (6-6)
BatmanJason (6-6)
Gideon (5-7)
Lindsey (5-7)
Jason (5-7)
Offord (4-8)
Adam (4-8)
Dustin (4-8)
As I mentioned, I scored the third most points this week. Jarrod was second, so you might be asking who outscored Jarrod? The answer would be Ryan. Yep, the same Ryan whose team had a losing record put up a monstrous 233.20 points. Or as he kept saying "I cock stomped my opponent." Weird phrasing, but what do you expect from Ryan? Julio Jones most likely set a league record with points from a non-QB. In case people were wondering, Ryan did not set a record for most points in a week, my brother put up 300+ in week one during the inaugural season.
Some of you might be wondering how Jones put up so many points. Well he had over 250 yards, which gave him bonuses. The bonus structure used to be set at higher points (25 points for 250 yards, 15 for 200, 10 for 150), but we realized that if a player hit 250 yards, they would get all three bonuses, so 50 total points, which was insane. Since there was no way to adjust it to not do that, I changed the values. So now it is 10,8,5 (so the total ends up being 23, which almost 25, close enough…). Ryan wanted me to mention this for some reason (he ma. This is why people should read these posts or my Facebook group posts.
In other matchups last week, Jessica absolutely crushed Offord, while BatmanJason lost a close one to Jason. Seth defeated Adam and my wife scored a bunch in order to beat Gideon.
This is final week before the playoffs begin. There are some huge matchups, none more so than BatmanJason and Jessica. She has the chance to ruin her loving husband's playoff hopes. Gideon has a very tiny chance, he would need a monster week, plus a BatmanJason loss. I honestly think Lindsey and Jason are done, I know… there is a .0000000000001% chance, but get real, they would both need to score like 300 points and have BatmanJason lose. There is a little money on the line this week. Remember, best regular season record earns $10. Seth and Jarrod square off in what could very well be a finals preview. Seth would need to win by 47 points in order to finish with the best record.