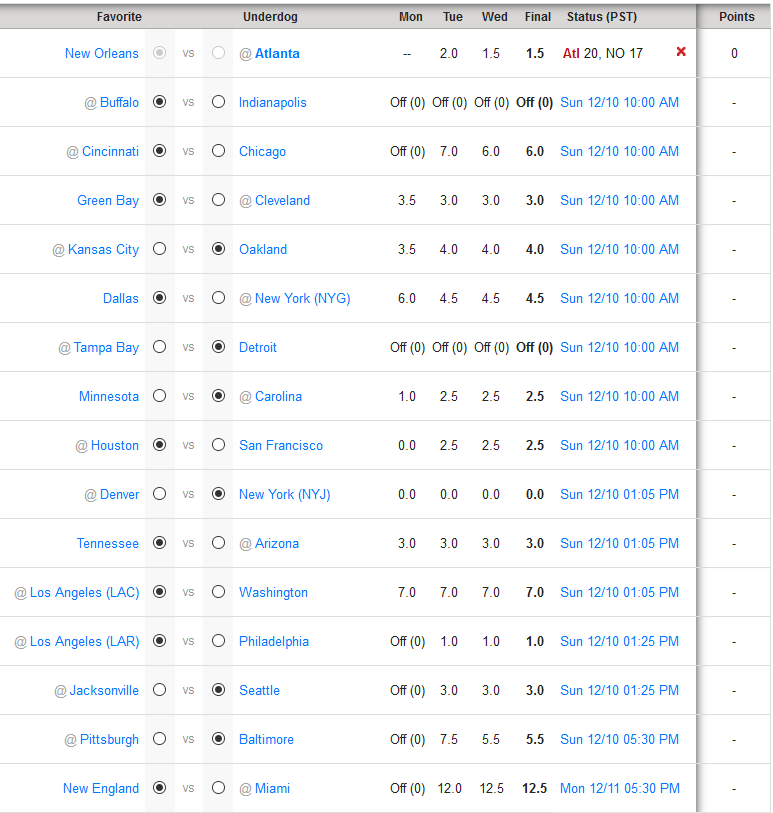 Remember how I was so awesome the previous week? Well this week I was the opposite. I only picked five correctly. That is not very good. Ryan was the best with 8. Definitely a rough week.
Well I was right about Seattle, although I did say it could be decided by a field goal, which turned out to be way wrong. Do not bet against the Seahawks at home.
Underdog Special: Baltimore. The Steelers have been the favorite eleven times. They have actually covered the spread five times. I would definitely take the Ravens to cover the 5.5. Especially when you consider that Pittsburgh is all pissed off over the suspension and they are more than likely looking ahead to New England. Yep, I see another late comeback for Big Ben.
So the standings changed a little. Mom moved into second place, while I am in third. Technically we are tied, but she must have tiebreakers.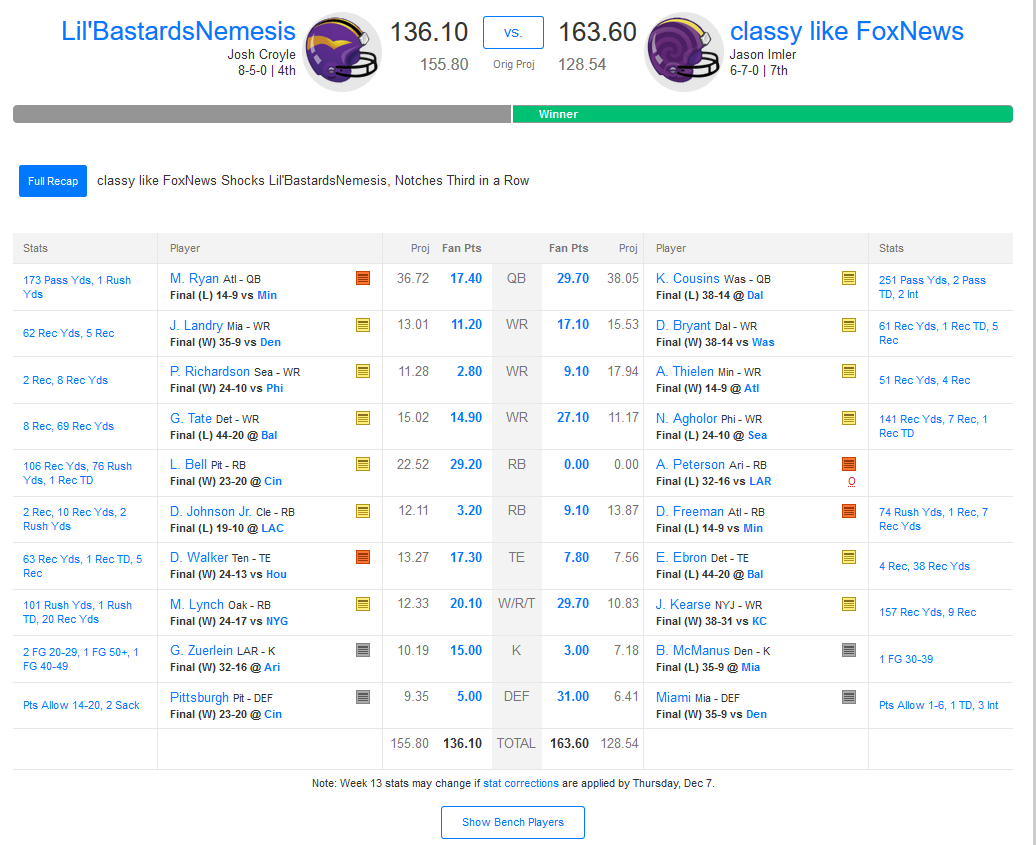 Not a good way to go into the playoffs. Especially when Philip Rivers had another big week. Oh and guess what I did this week? Chose not to start him again and Matt Ryan had a shitty game again on Thursday. I hate my life.
Standings
Jarrod (10-3)
Jessica (9-4)
Seth (8-5)
Josh (8-5)
Ryan (7-6)
BatmanJason (6-7)
Jason (6-7)
Lindsey (6-7)
Gideon (5-8)
Adam (5-8)
Offord (4-9)
Dustin (4-9)
Congratulations Jarrod on winning the regular season! That means you have won at least $10. I initially considered making it the team with the highest points, since you could theoretically score the most points and not end up in first place (may have happened last year), but this year it would not have mattered, since Jarrod scored over 2000 points. He absolutely destroyed Seth and the only person to come close to scoring as many points as him last week was Jessica. She put the smackdown on her husband, but he scored enough to stay ahead of Jason and make the playoffs.
On to the playoffs. I take on Ryan in the first round. I am definitely not feeling confident since Matt Ryan only put up 19.10 points (the good news is that Julio Jones did not put up much either, so at least I have that going for me). Over on the other side of the bracket, Seth takes on BatmanJason. Down in the consolation bracket, we have Gideon vs. Dustin, and Offord vs. Adam. Good luck to everyone, well except to the people who have byes.