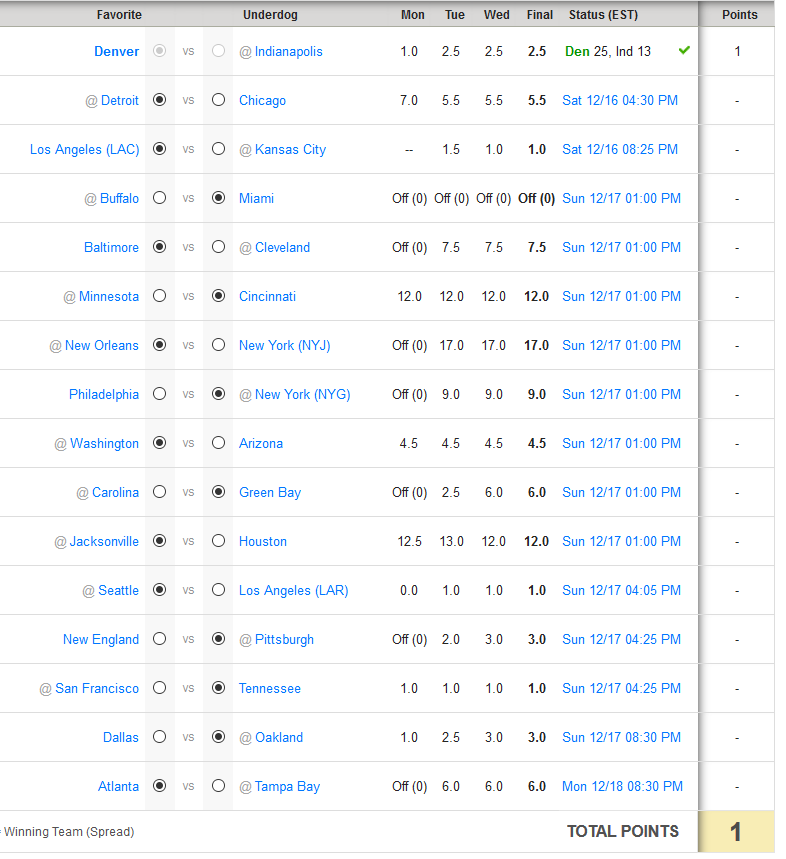 I did alright last week, with seven. Gideon was the big genius since he picked ten, while Sean stayed ahead with nine.
Boy did I call that one! Ben definitely needed a late comeback to defeat the Ravens, what a freakin' game!
Underdog Special: I say take the Giants, especially if you are getting nine. The Eagles just lost their quarterback and the game probably does not mean anything. I would not be shocked if they lose, but I am thinking a low scoring win. They probably play it fairly conservative to ease Foles back into things. I think the Bengals would be another acceptable take since they are not as terrible as it seems and the Vikings cannot be as good as they seem.
The standings…well who cares at this point. We need Sean to forget to hit save one week.
I was going to be so pissed if I lost. I realized on Thursday, at like 8:29 that I wanted to switch Matt Ryan & Philip Rivers. Unfortunately, Yahoo locked the Thursday game as having started and I was shit out of luck. Rivers had another week over 40. I will not complain too much though…since Ryan left Big Ben on the bench and lost out on an 80+ point performance. In fact, Ryan's bench scored 131 points. This week I decided to go with Rivers, which means that Mat Ryan will have a monster game.
Seth defeated BatmanJason pretty handily, which means that he gets to take on Jessica, while I have the honor of being destroyed by Jarrod.
Down in the loser's bracket; Offord ended his ridiculous losing streak! Great job man! And Gideon beat Dustin. So now, Lindsey takes on Gideon, Jason vs. Offord, Ryan and BatmanJason for the dubious 5th place spot, while Adam and Dustin square off for 11th place.