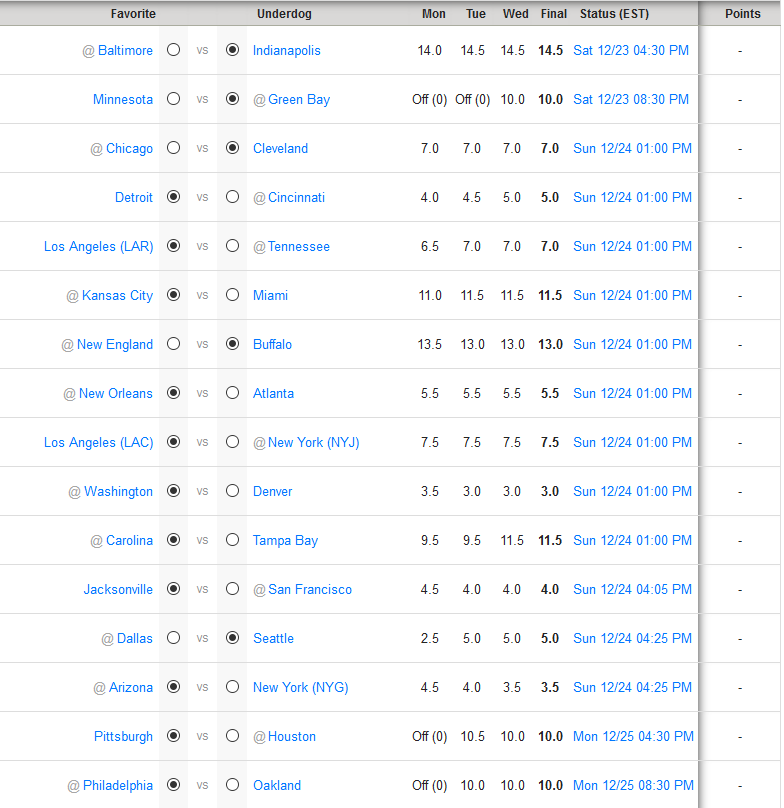 I was terrible yet again. Only picking five right. Jason was the big winner with 11, while Gideon scored 10.
At least I was right again on my underdog special (I think at the end of the year I am going to tally this up and see how well I did). The Eagles did manage to beat the Giants and it was a close game.
Underdog Special: I am not a fan of any of these this week. I feel like Baltimore and the Colts could end up being close, like one of those 13-9 all field goal games. Or the Ravens could absolutely destroy them. I honestly think Cleveland could get a win this week. I know I have the Packers up there, but I am changing that one (I was not away that Rodgers went back on IR). If you forced me to take one though, I would probably take Buffalo. The Bills need to win to stay in the wild card hunt (or I guess keep the wild card). I can see them keeping the game close with their division rivals.
The standings changed big time. Sean is still in first, Jason is in second (only 11 behind), Mom in third (-12), Gideon (-13), I dropped all the way to fifth (-14). After that we have Ryan, Lindsey, Rob, and Adam.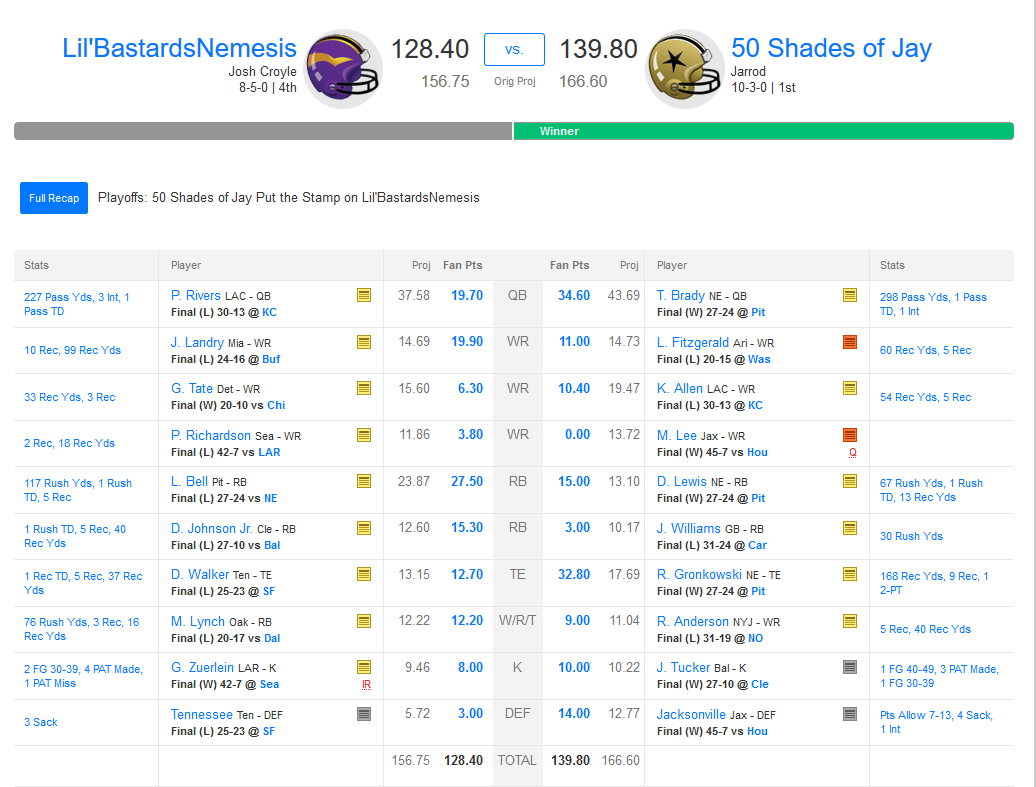 This was a tough loss for me to swallow. I was listening to the Steelers game at work, while checking my score on the Yahoo app. I was winning. I had a comfortable lead. And then the final drive happened. Every completion was to Gronkowski, then the touchdown was to Lewis. I went from winning, to losing, to losing by a significant margin. I was pretty mad that I started Rivers over Ryan, and the Chargers QB ended up having a shitty game. However, it would not have mattered. Jarrod would have beat me by one point if I had Matt Ryan, which probably would have stung much worse.
Seth narrowly defeated Jessica (183.60-181.60)…talk about high scoring. Shitty way to lose for Jessica. Score that many points and not come away with a victory. In the other battles, BatmanJason crushed Ryan to earn that fifth place medal. Dustin put up 171 points in his victory over Adam…for 11th place. Why are you scoring so many points for next to last? Jason defeated Offord, and Lindsey won against Gideon.
This week I take on Jessica for third place, while Lindsey faces off with Jason for 7th. Offord and Gideon have the honor of battling for 9th.
However, the matchup we are all dying for is Jarrod versus Seth. They have played each other twice and Jarrod has won both times pretty handily. Will the third time be the charm for Seth, or will Jarrod stay perfect against his opponent. Check back next week to find out!