I did this last year and it was fun…so I might as well do it again this year. Hopefully I can do a little better in my picks.
Starting with the college football playoff…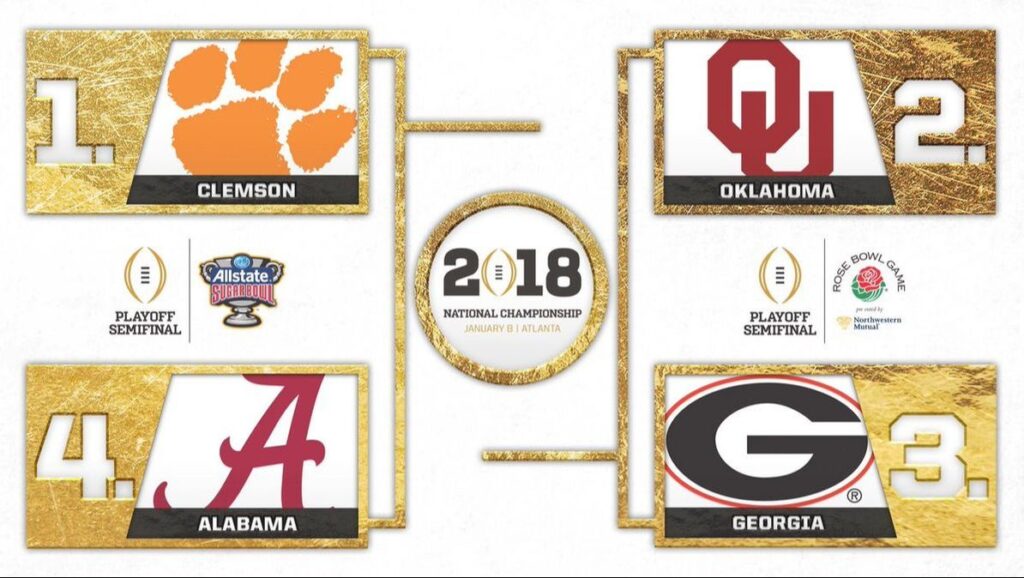 Sugar Bowl: (1) Clemson vs. (4) Alabama
I would like to think that Alabama's defense should be healthy enough to contain the Clemson offense, but I honestly do not know if it will even matter. Clemson looks pretty unstoppable and I do not believe the Crimson Tide can put up the points to go toe-to-toe with defending champs. Right now Alabama is a 3 point favorite, but I think this one will be way wrong. I see Clemson winning this one by at least ten.
Rose Bowl: (2) Oklahoma vs. (3) Georgia
The Sooners would have been my #1 team if I had a vote and yet for some reason the Bulldogs are a 2.5 point favorite right now. I think Baker Mayfield has no problem with Georgia. I am think 35-21.
Onto some of the other fun bowl games…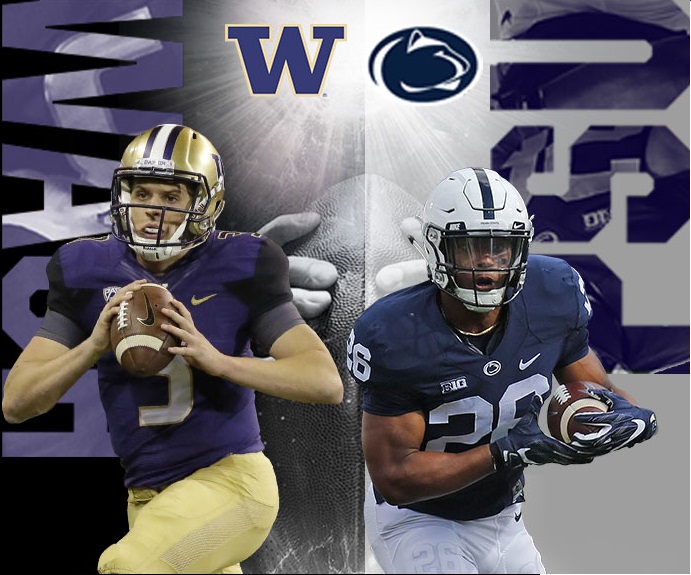 Fiesta Bowl: (9) Penn State vs. (11) Washington
Remember last year when everyone was pissed that Washington got into the college football playoff over Penn State? Well neither team won their bowl game last year, so it did not matter. However, now they get the chance to duke it out and prove who is better. I think Penn State is going to put up a ton of points. The over/under is 55, and I would probably take the over. PSU is a 2 point favorite. I would take them and the over. My guess is 42-35.
Orange Bowl: (6) Wisconsin vs. (10) Miami
The Badgers are favored by 4.5. Are they any good? I am still not convinced. Same with the Hurricanes. Have you ever seen two top ten teams that have so many question marks? I think Wisconsin pulls this one out, but I do not think they are good for the 4.5. Take Miami to cover.
Outback Bowl: Michigan vs. South Carolina
The Wolverines need a big win to prove that they are still a good team. If they can win this game big, they should get some respect going into next season's preseason rankings. I think Harbaugh is a good enough coach to fire his team up for something like that. Also, I did not think South Carolina was very good and the Wolverine defense should have no problem shutting them down. I think Michigan wins 24-7.
Peach Bowl: (12) UCF vs. (7) Auburn
There was a time when people thought Auburn would be in the top four. I like UCF, but only because I am a weirdo. I am hoping for the a big win for Scott Frost, who is doing a cool thing by coaching this game before heading to Nebraska. Also, if the Knights can pull off the upset and remain the only unbeaten team in the country, then perhaps small conference teams can earn some more respect in the future. If the Tigers absolutely destroy them though, ugh. So, I will pick with my heart. I am taking UCF on the upset, even though they are 9.5 point underdogs.
Camping World Bowl: (22) Virginia Tech vs. (19) Oklahoma State
What a shitty fall for one of the more electric offenses in the country. My dream of Mason Rudolph versus Trace McSorely did not come to fruition, so it looks like he will get the chance to destroy the Hokies. OSU is a 5.5 point favorite and I would definitely take them. The over/under is 62. Take the over, there will be no defense played in this one. I am guessing 52-44.
Holiday Bowl: (18) Washington State vs. (16) Michigan State
The Spartans are a 1.5 point favorite. This is one of those Big Ten teams that I have zero confidence in. The Cougs should have no problem winning this one. The o/u is 47, I would be inclined to take the under. My guess would be WSU 24-17.
Obviously my picks will most likely be wrong. So do not use them as a betting guide or anything crazy like that. Let me know if you agree or disagree!