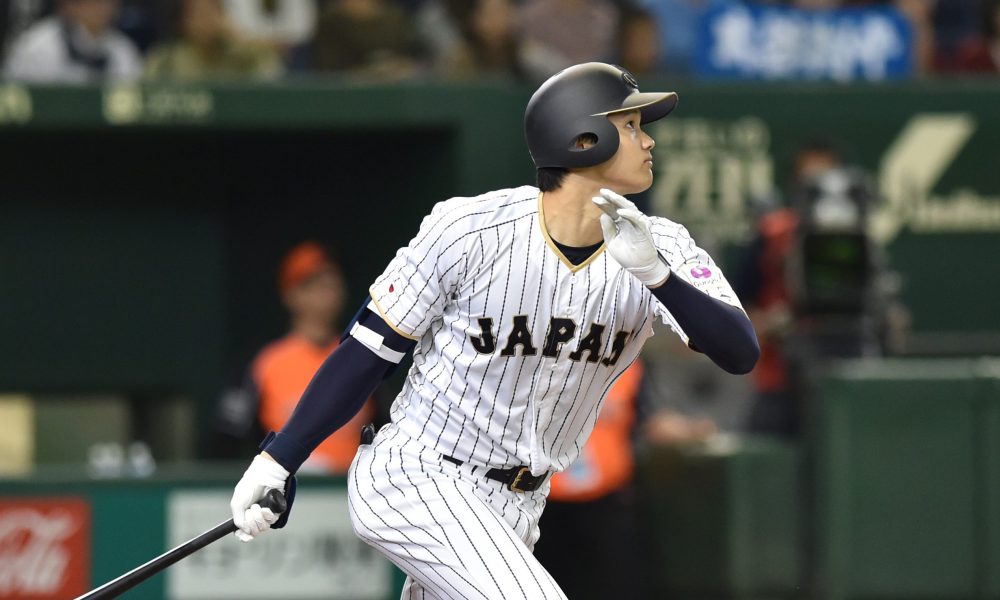 Crazy end of the week in baseball news. First, Shohei Ohtani shocked everyone by signing with the Angels. I honestly did not have them as one of the three teams. My three were the Mariners, Padres, and Rangers. Then we learned that Giancarlo Stanton was traded to the New York Yankees. They were on the periphery these past few weeks, but I honestly did not expect them to have the prospects to get the deal done. Looks like I was wrong on both accounts.
I cannot remember anything quite like the process to sign Ohtani. Teams writing proposals and doing presentations about how they would use him. Ohtani having all sorts of stipulations about what criteria it would take to get him to a team. I hope he lives up to the hype. People saying that he is like Stanton combined with Kershaw seems a bit insane. I mean, if he wins 10 games, hits .265 with 25 HRs, I would call that a pretty successful season. For some reason people think he will be a 20 game winner, plus hit 50 HRs. Dial back those expectations people. I wonder how Yahoo will treat him for fantasy baseball? If you draft him, can you use him as both a hitter and pitcher? Will you get credit for his hitting stats the days he pitches? Hmmm…
One of the more interesting things I read about the whole thing was the Rangers pitch to him. They want him to do both and they are apparently considering a six man rotation. I have said for years that teams should try a deeper rotation. Most teams end up using a bunch of starters regardless and this past season we saw teams using the 10-day DL to give guys rest at times. So why not just have a six man rotation? This is where a guy like Ohtani could probably be most useful. One of the ideas I heard would be to also use that sixth starter in almost a piggy-back situation with other guys (or use a few of your starters that way), since many starters cannot seem to make it through the order more than two times…anyways, it will be interesting to see how the Angels use him. I was actually glad the Pirates did not sign him. I have a feeling they would find a way to screw him up (I know, that is so pessimistic, but I cannot help it right now).
Stanton to the Yankees is a little upsetting. Not because of the whole "oh it's the Yankees, they can get whatever they want." But in all honesty, it just makes me question the No Trade Clause. The Giants and Cardinals were willing to give the Marlins a pretty big prospect haul from what the reports are saying. Yet Stanton did not want to go to either team, so he would not waive the no trade clause. It seems shitty to me that the Marlins would then take an inferior deal, just to get rid of the Stanton contract. Why buy the team, if your only goal was to make money in the first few years? Build a winner, then the money would come. It just frustrates me to see a team blow itself up and it does not appear they got much better, future or present. Does MLB need more bad teams that are unwilling to spend over $100 million on payroll? It is moments like this when I think contraction would be good for the sport.
The trade also really made me dislike Stanton. He would only waive the clause for the Dodgers, Yankees, Cubs, and Astros. So basically the best four teams in baseball. I get that he has been on a bad team for awhile, but he is still very young, he could have went somewhere else and helped build a contender (I mean, the Giants and Cardinals are not like perennial losers or anything). Instead, he takes the easy way. If this was something he was so concerned about, why sign that monster contract? I realize it would be insane to turn it down, but he had to know back then that signing it would hinder everything the Marlins do. This is the kind of stuff that makes people dislike professional athletes.
And then we have the Pirates…something tells me Andrew McCutchen will be either a Giant or Cardinal next season. Thanks Giancarlo! You are the gift that keeps on giving.