Dagnabit! I would have won the week if it weren't for Gideon! He was pretty brilliant with eleven, while I was only slightly better than everyone else with eight. Week 17 is probably one of the hardest/weirdest weeks. Great job Gideon, you have my respect.
Did anyone doubt me about the Browns/Steelers? I should have bet everything on that game. I was 110% certain that the Browns would cover that one.
Underdog Special: As you can see, I have no underdogs picked this week. Probably risky, but I just do not have any faith in any of those teams. Tennessee is the team that I would probably take a small chance on, since they seem to be able to get everyone to play down to their level and the Chiefs are probably going to have a playoff letdown like always. If you were wondering, I was 9-7 for my underdog special picks (although in Week 10, I actually took two teams and one of them did cover, so technically I was 10-7). See, if you were betting on my genius, you would end up ahead.
The standings go: Sean…and no one else matters. Sean is beating Gideon by twelve. Even if Gideon were perfect from here on out and Sean missed every single game, that would only be eleven more. Guess what that means? Sean is the champion! Congrats Sean. On an interesting note, Gideon has 122, Mom is at 121, and I am at 120. So we are competing for second and damn it, I will not give up!
Ugh, 4th place. So freakin' lame. Means no money, no glory, no nothin'. And it was not even a close one. Jessica beat me up pretty good. But honestly, no one really cares about some consolation championship. You want to know who the main event. Jarrod defeated Seth fairly easily 178.50 to 151.30. I am guessing Seth is mad at himself for starting Matthew Stafford over Jared Goff (that would have given Seth 178.80).
Congratulations Jarrod on a well deserved championship. Also to Seth and Jessica for winning some money. I will get your winnings out to you in the next few days.
College QBs and the NFL Draft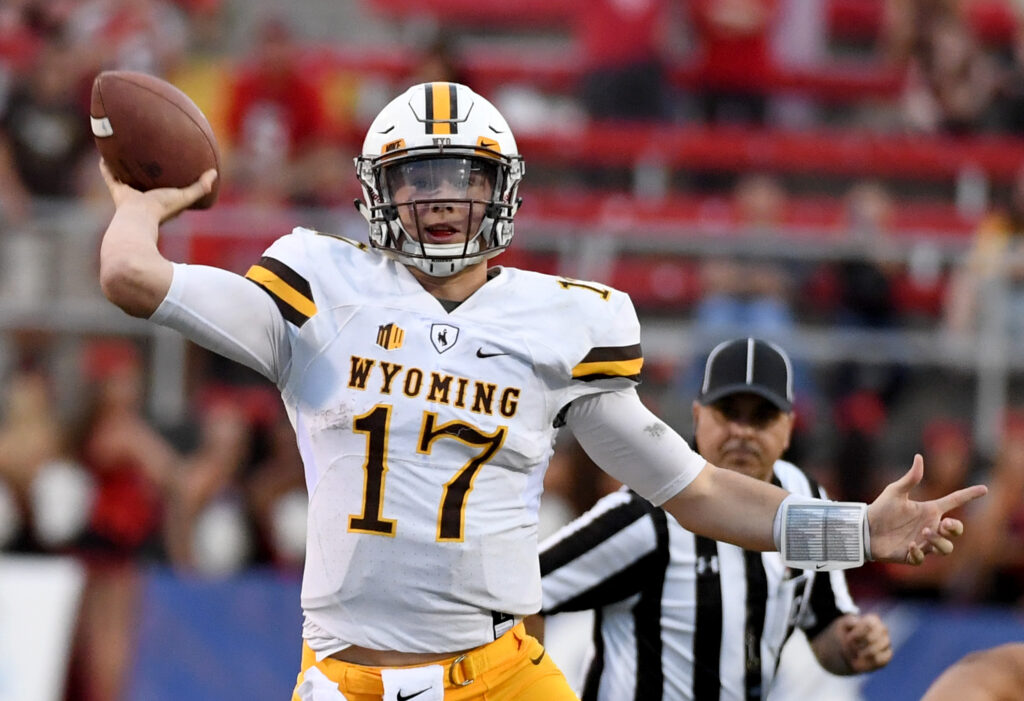 As the college season winds down, it is now time for players to declare for the NFL draft. We have already heard from Josh Rosen, Sam Darnold, and Josh Allen. Oh and some running back from Penn State. Personally, if I were the Cleveland Browns, I would draft Saquon Barkley at #1, then at #4 draft the best offensive lineman on the board (not sure what the Browns line looks like, but I am guessing it can never hurt to draft a great one if there is one available, right?). I know what you are thinking, what about QB, who would be the Browns quarterback? Well, I say you bite the bullet and sign Colin Kaepernick. He wants to revive his image and career? Win a few games for the Browns and that city will forgive you for kneeling and just about anything else.
As I watched many of the quarterbacks play this year, I was not very impressed with any of them. If I were a scout or GM, here is how my QB ranking would go:
Baker Mayfield–the dude is accurate. He also has something (moxy, poise, whatever), where he just seems to make other players a little bit better. If I were doing my due diligence, I would really want to know if the kid is ready to fail. I think that is the thing that truly separates great NFL QBs from the rest. They fail and instead of just plateauing and saying "welp, that's as good as it gets", they push themselves to get better and strive for more. Does Mayfield have that? I have no clue. But that is what I would want to find out.
Josh Rosen–I do not see him being good in the NFL. Not sure why, there is just something about him that screams "not very good pro." Maybe he can assuage my concerns at the combine or a personal workout.
Sam Darnold–I honestly think Darnold looked so great last year because of JuJu Smith-Schuster, especially in the Rose Bowl. A great WR can make a good QB look great (Hackenberg, I am looking at you). He just seems to make poor decisions (evidenced by the turnovers) and just some really bad throws. He had a bunch of throws behind receivers during the bowl game this year that were caught, but they really slowed the play or cost them YAC.
Josh Allen–He is big and hopefully durable. Not accurate at all. A 58% completion percentage. That is not good. And it is not like he was playing in a huge conference with teams that have stellar defenses, he was not facing Ohio State and their 20 All-Pro DBs (it feels like they have that many). Nope, he was in the Mountain West Conference. Can you name three other schools in it? Probably not.
Lamar Jackson–He is in the 50/50 Club. 50 passing touchdowns and 50 rushing touchdowns. Can you name the other two members of that illustrious club? This is good bar trivia. Colin Kaepernick and Tim Tebow. Which one of those guys will Jackson end up like? I am thinking he goes in the second round, or very late in the first round.
Mason Rudolph–I love him as a college QB! Not sure he is good enough for the pros though. He is big (like 6'5) and he definitely could use a great combine show to have teams take notice and maybe take a flyer on the kid. He would be a 3rd or 4th round project most likely, Or maybe someone takes a chance in the 2nd.
I realize that Mayfield will not be the first QB drafted. Nor the second, nor the third. So if I were a GM, I would be more than happy to either scoop him up at the end of the first round or maybe the beginning of the second. As a Steeler fan, I would be pretty happy if they took Mayfield and tried to make him the heir to Ben, especially if Ben retires at the end of the season.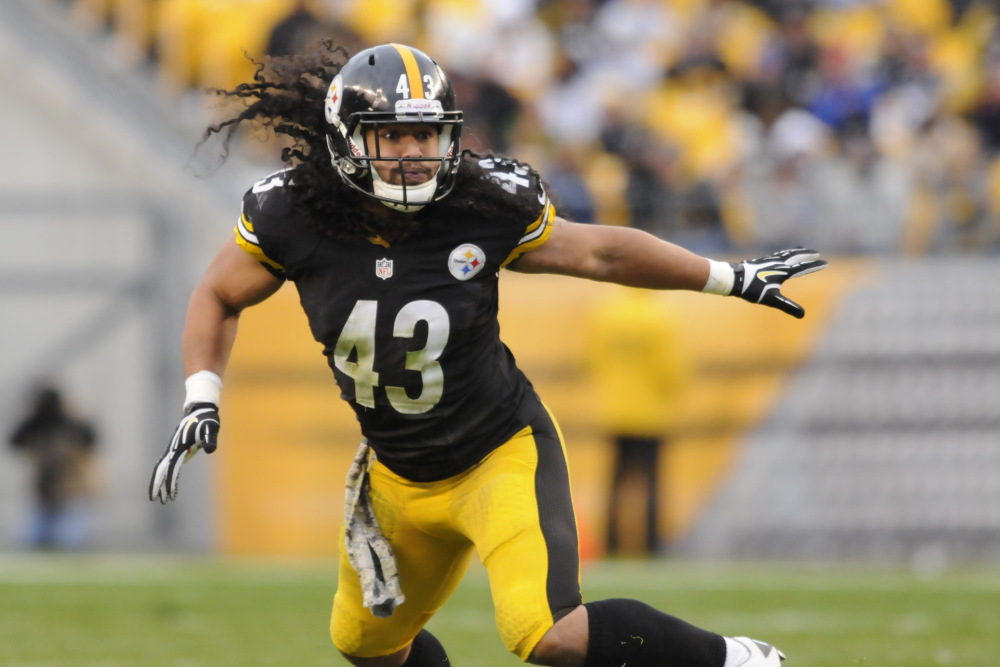 Hall of Fame
I have been having Hall of Fame discussions with some friends. The first debate is about Eagles vs. Steelers, more specifically Brian Dawkins & Terrell Owens versus Troy Polamalu & Hines Ward. Let me be clear, I think all four players should be in the HOF. Owens was the more talented receiver, but Hines was…well he was Hines Ward. He has more career yards than Michael Irvin, plus he was a fantastic blocker (maybe one of the best blocking receivers…and maybe the dirtiest). Ward always seemed like the perfect team player. TO had his problems, but there is no denying that he was incredibly gifted. Second all-time in yards, third in touchdowns, over 1000 receptions.
The one thing I keep saying in these discussions is that the NFL HOF is weird. The baseball HOF is very statistical. They talk about players having to hit certain milestones. The big numbers: 500 HRs, 3000 Hits, 300 Wins, etc. Baseball can afford to do that since baseball is a team sport, but also very individual. You can be great, but be on a terrible team. Football can be similar, but it can be less meaningful. If you are a linebacker on a crappy team and you rack up tons of tackles because you are always having teams run the the ball at you, does it mean you are great because you had a bunch of tackles? Probably not. Think of it this way, Deion Sanders is considered one of the best corners ever and yet he is 24th all-time in interceptions. Why? Well, he was such a good CB, that his guy was rarely open. Teams did not throw his way as often. But every QB knew that Primetime was the best out there and to keep the damn ball away from him.
My point to this is that being enshrined at Canton is not just about having tons of stats, but also having a definable greatness. Troy Polamalu definitely has that greatness. Offensive coordinators would have to game plan around Troy and how to find ways to neutralize him. To be fair to Brian Dawkins, he may have been similar (a nightmare for OCs), but since I am a biased Pittsburgh fan, I probably paid less attention to the Eagles.
This brings me to another player: James Harrison. Offord asked me the other day if I thought Harrison would be inducted to the HOF. My initial reaction was to look up his stats and was shocked to see how low he was in sacks (52nd). Tamba Hali has more than him. But then I started to think about it. Harrison was probably double-teamed a ton, he inspired fear in quarterbacks. Maybe his stats are not as eye-popping as other linebackers, but maybe he had more of that greatness. Or maybe not, we shall see if he ever retires and then five years later.
College Football Championship
Ugh, an all SEC game. My prediction is that Alabama wins it. In fact, I think they win it fairly easily. They are a 3.5 point favorite, I am thinking the final score is 28-17. The Crimson Tide defense is healthy and looks pretty damn incredible. You can see why they were #1 all year and why the committee felt they belonged in the top four.
I did not do all that great in my bowl game picks post. I made a few predictions, such as betting the over/under and the line. I was 4-6 for that one. At least I got Penn State right. I thought the Nittany Lions looked great during that game. Defense was a little suspect, but Washington was a very good team, so there was no shame giving up some points to them. I had to laugh at some of the PSU fans though. On the one hand, people thought the offense was too conservative and that is why the Huskies started coming back (actually not the case, McSorely was passing even late into the game, when running it would have been the smart/conservative decision). But then, those same fans will get upset when Saquon does not get the ball and scream things like "why are they not giving the best running back in football the ball more!?" I realize all fan-bases get like that, but it really annoys me (Steelers fans do the same thing–any time a play does not work: "fire Todd Haley!").
Seriously though, I am going to miss Saquon Barkley. Not just for the ridiculous skills and amazing plays, but also for pure joy and emotion he showed after scoring. He was just so much damn fun to watch.
I was also right about UCF! The only unbeaten team remained unbeaten. And will maybe finish the year in the top ten. I am not going to sit here and say that they should have been in the CFP over any of the other teams. However, the argument that a team from a small conference that goes undefeated is not able to compete with the big boys is ludicrous. Hopefully a team like Central Florida will get a little more respect during the season. Going undefeated is hard. I do not care what conference you are in.