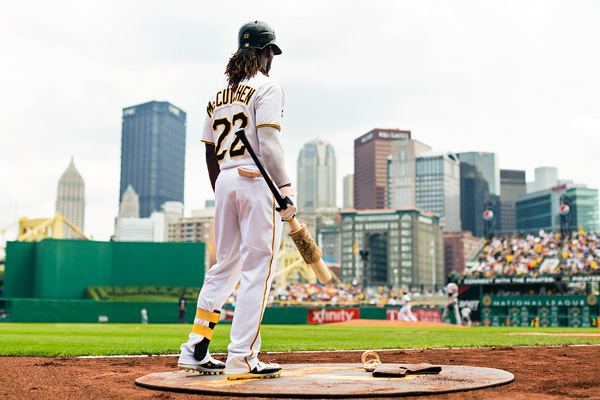 I think most of us have been able to process the horrible news that the Pirates have traded Andrew McCutchen to the Giants. I knew it was coming. I kept telling people the Giants would be the team (I also told multiple people that I did not like the Giants prospects and was worried that the return would be crappy). Look, I get that the Pirates are a small market team. I get that the economics of baseball means the Pirates cannot afford to spend money on players as they get older. But damn, this still hurts.
There have been hundreds of posts written about what McCutchen has meant to the city of Pittsburgh. He made baseball cool & fun again in the city. He was the first player to come up from the minors in a very long time that gave fans hope. That hope was rewarded as he became one of the best players in baseball and helped lead the Pirates to their first winning season in 20 years and then took the Pirates to the post-season three straight seasons. All of those things were amazing, but I have some different favorite memories of Andrew McCutchen.
I am pretty sure I have mentioned this story before, but who cares, it is a good story. The first time I saw him play was actually in Altoona. Jason and I were at a game, we sat in the outfield, and Cutch hit a linedrive home run to dead center. Some guy caught it and the sound it made was definitely a sickening crunch. I am pretty sure it cracked some bones. Center field is 405′, the guy was sitting in the back row and when he reached up to the catch it, the ball was still traveling up. I wish back then they had exit velocity, it was the hardest hit ball I have ever seen in person. That was the moment that I knew Cutch was for real.
My next favorite Cutch moment was the game in May against the Phillies. The Pirates had been good during the first half of 2012, but then collapsed (same in 2011 if I remember correctly, although the collapse happened earlier). McCutchen hit a walk-off home run against Brad Lidge (I think?) and as he rounded the bases, he did this flying leap into the arms of his teammates. I think that was the moment the rest of the league realized what all of us Pirates fans already knew: Andrew McCutchen was special.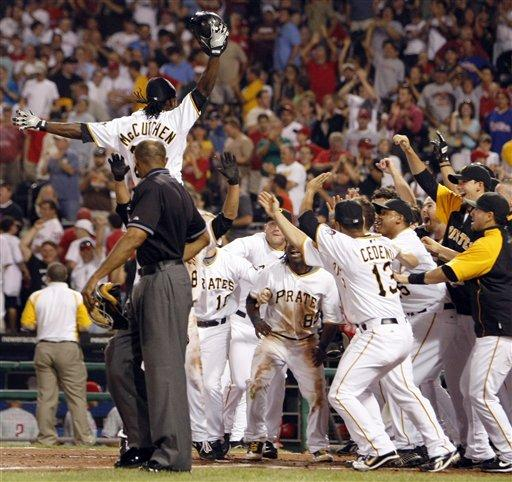 One of the things I will miss the most though, was watching McCutchen turn on his speed. When he would have a shot at a triple and you would see that burst of acceleration as he rounded first, it was always such an amazing thing. There are definitely guys faster than him, but I doubt there are many who have that extra gear like him.
Some of my other favorite moments were the non-baseball things, such as giving his batting gloves to a couple of kids or his Make-a-Wish day spent with some kid, where they played video games on the scoreboard at PNC Park. Also, just the way everyone else seemed to have fun and be at ease when Cutch was on the field with them. Whether it was dancing around and being silly, or flashing the Z (remember when that was a thing? I miss those days). He seemed to love playing the game and he genuinely seems to love this city. He will certainly be missed. When he eventually retires from the game of baseball, he probably deserves a statue at PNC. Maybe not one as big as Stargell, Clemente, or Wagner…but something to honor the man who did so much to bring baseball back to the city of Pittsburgh.
Okay, enough sappy stuff. Now I need to rant for a minute.
As I said at the beginning. I knew these trades were coming. That is not what makes me mad. What angers me is that we (those of us who have an unhealthy obsession with baseball) knew the Pirates window was going to close somewhere around 2018-2019. At least the window with Andrew McCutchen being involved. So they would either need to trade him and get maximum value or just take the loss (more on that in a second). If you knew the end was near, why not make a bigger push back in 2015 or 2016. Add a decent pitcher, make that splashy trade. I realize that someone will say "well those trades never help out" or "yeah, but look at how that player ended up doing that did pick him up." The one example I can really think of was David Price, and he had another year of control left and the Pirates did not pull the trigger on the trade. Yes, he ended up not being great for the Tigers (although, he was not as bad as people think), but you never know how he would have been with the Pirates (for you value folks out there, he was worth about 2 WAR during his time with the Tigers that season, the Pirates finished two games behind the Cardinals for the division title…just saying). I realize that the Pirates could not have went "all in." But those moves would have done very little to decimate the minors. They would have not set the team back.
The other part of this trade is the optics. It just looks bad. The casual fan does not understand that teams do not value players the same as they did years ago. That now the market says that a middle reliever with a few years of cost-controlled service is more valuable than a year of Andrew McCutchen. That does not matter to them. There are people who come to the games to see Andrew McCutchen. They do not care that the Pirates will have Kyle Crick for fairly cheap the next four or five years. Tell that to a ten year old, see how much he/she cares. From a fan happiness perspective (which you probably cannot quantify based on WAR or RAA or any of the other myriad of stats out there), the Pirates would have been better off just holding onto Cutch. Then, make him a qualifying offer and when he turns it down, you get a compensation pick at the end of the first round.
I wish Andrew McCutchen the best of luck. I hope that he has a monster year and leads the Giants to the World Series. He is that kind of guy, how could you ever root against him?