One of my employees gave me some tickets to the Penguins game on Sunday versus the Florida Panthers. Lindsey could not make it, so I gave two to my brother and two to Adam2 & Kayla. I obviously kept one for myself and found a way to adjust my schedule so that I could go to the game.
As you can see, the seats were pretty awesome. A few rows back from the glass and the Pens destroyed the Panthers. It was also exciting because Malkin and Hornqvist both scored two goals and since it was a free hat giveaway, we were hoping for a hat trick.
We had a fun discussion about what happens to all the hats that get thrown on the ice. I decided to look it up. It turns out they do all sorts of interesting things. Some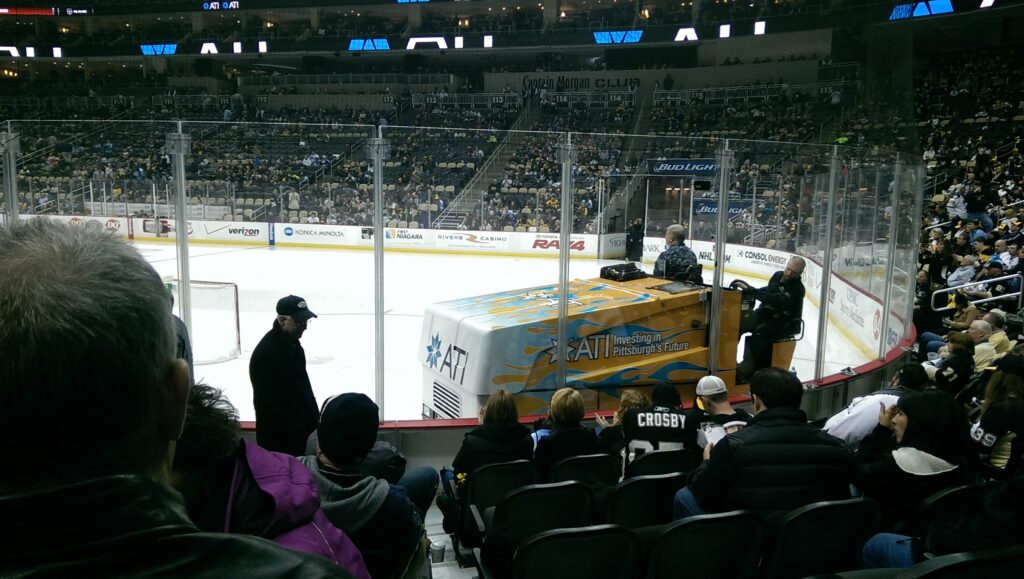 teams allow the players to keep them (or in some cases they trick the player scoring the hat trick), usually after someone goes through them to get rid of the dirty, gross hats. Other teams have given the hats to charity (after cleaning them of course) and some teams have been keeping the hats for sports museums. So that mystery is solved!
Another question we asked was what kind of training does the Zamboni driver receive? Do they require a special kind of license? No, I will not be looking this one up.
As you can see, it was a pretty fantastic game. And yet I have not even mentioned the best part! During one of the breaks in the action, they did the dance cam stuff and they found this kid who was absolutely amazing. In fact, he was dancing up such a storm that the Panthers scored and barely anyone even noticed, they were too busy cheering for the kid.