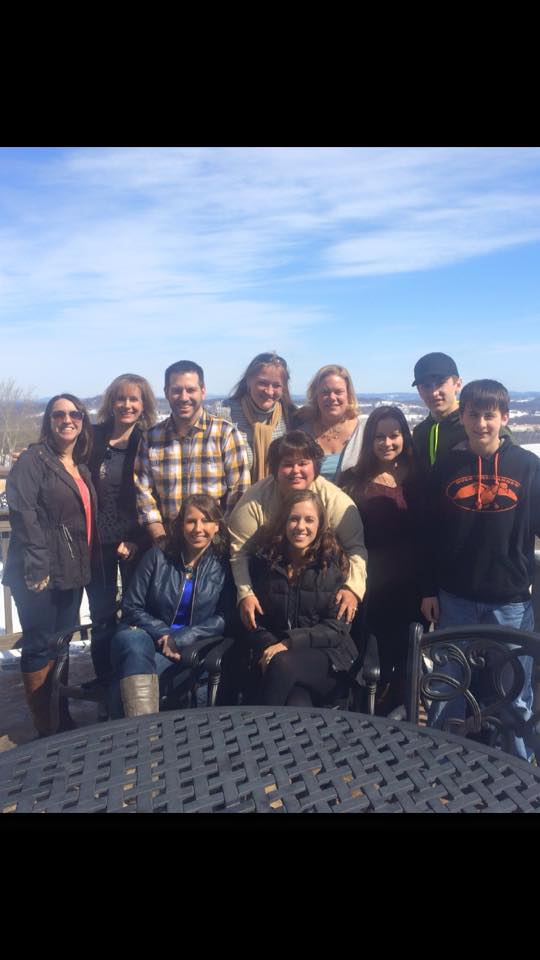 Lindsey and I took a little break from house stuff and went on a little trip to wine country. No, we did not go to Napa Valley. Instead we went to visit Aunt Lori in Virginia. She lives near a bunch of wineries and the ladies in the family are trying to start a new tradition of going down every year to hit up some of these places. Somehow I was roped into being the designated driver.
We hit two wineries. The first one was Bluemont Vineyard, which Addison has a bit of a connection: her boyfriend's family owns the place. That does not really change the fact that it was a pretty place. Seemed like everyone enjoyed the wine and the scenery was pretty great. Minus the snow and all that jazz.
The second place we visited was called Cana Vineyards and Winery. This one was pretty awesome. They had a barrel room where they held the tasting and you could bring your own food. Aunt Lori packed us a nice lunch of bread, cheese, and meat. It was pretty delicious. Stacey baked this delicious banana, peanut-butter, chocolate bread and it was absolutely delicious. I mean it may have been the best bread I ever tasted. Seriously.
We then went to a third winery, but they were having a private event and it was closing. Since it was pretty late (who knew 6:00 p.m. was late), we decided to head back to the house and eat some dinner. After that we played some games and everyone was pretty wiped out and in bed by 11:00 p.m.
Now I know what you are thinking: Josh, you drove a bunch of drunk women around Virginia and these are the only stories you have to tell? Freakin' banana bread? (Seriously, delicious!) Well there are plenty of stories, but I am sure none of them would like me to repeat them. Instead, I will just give some highlights, granted some of these will not mean anything to most of you, but to those people that were there, they should get a chuckle.
-Becky asking the singer at Cana to play some Taylor Swift or the Uptown Funk song. I am pretty sure she was a foot away from him and he was still trying to sing whatever song he was doing.
-Lindsey and Lora informing me and cracking up that the singer and I looked alike. We did not look alike. He had long, Jesus-esque hair and his shirt was unbuttoned showing off his sexy lack of chest hair.
-Lindsey and Lora throwing ice at people. I think it started out innocently, Lora meant to toss something at Heather or Aunt Lori, but there was some ice that flew at some table. The guy at the table was looking around to see what hit him. Then Lindsey decided to toss some at a group of girls on a bachelorette party (or birthday party, since it was only three of them).
-Kettles, CT, and cutting boards. Those words will haunt me forever.
-"HEEEeeeeeyyyyyyyyyyyyyyyyyy!!!!!!!!!!!!!!" I have no idea how to write this out in order to capture the way Becky kept saying it, but that is pretty close.
-I also received plenty of great advice from some happily married women, such as "every once in awhile, just empty the dishwasher." Yep, that is how you make a marriage last twenty years.
So yes, it was a great time. Thank you Aunt Lori for having us down. Thank you for cooking for us. Thank you James for making delicious waffles the next day! Thanks Addy for the great desserts and the pleasure of finally meeting your boyfriend. Thanks Isaac and Luke for playing ping-pong with me, you both need to practice more if you are ever going to beat me though (although I am sure you can beat Bill at this stage). Thank you Becky for being the source of many laughs. Thank you Stacey for the bread and the advice. Thank you Heather for being such a fan of my silly blog (you have no idea what that means when I consider the fact that you have a degree in English). Thank you Lora for riding down with us and once again being with me when I get a speeding ticket (and for getting more upset about it than me). And thank you Lindsey. For just allowing me to be by your side (I actually emptied the dishwasher before we left for Virginia!).
And now, pictures!