This past weekend was my bachelor party. A few months ago when my brother asked me what I wanted to do for my special weekend, I took some time and I thought about it. I did not want to go to Deep Creek like we did for his bachelor party, even though we had a great time. At first, I considered a golf trip somewhere, perhaps to a city I had never been, then maybe try to hit up a baseball game at a stadium I have never seen. Then I realized what I wanted to do: Pirate game.
I told the guys that were going that I just wanted to tailgate for a good chunk of the day, play some fun tailgating game, then head inside. After the game, if there was a time, I wanted to go out to a bar that had pool and darts. I was super-excited about the tailgating because during my college days, I kind of missed out on all the fun tailgates. I was usually working on weekends. Yes, I have tailgated before, but I just wanted the full, fun experience. And the pool & darts after the game? Well I just miss those olden days of going out for those fun activities.
So who are the guys that were willing to go with me to Pittsburgh for a day of drinking and fu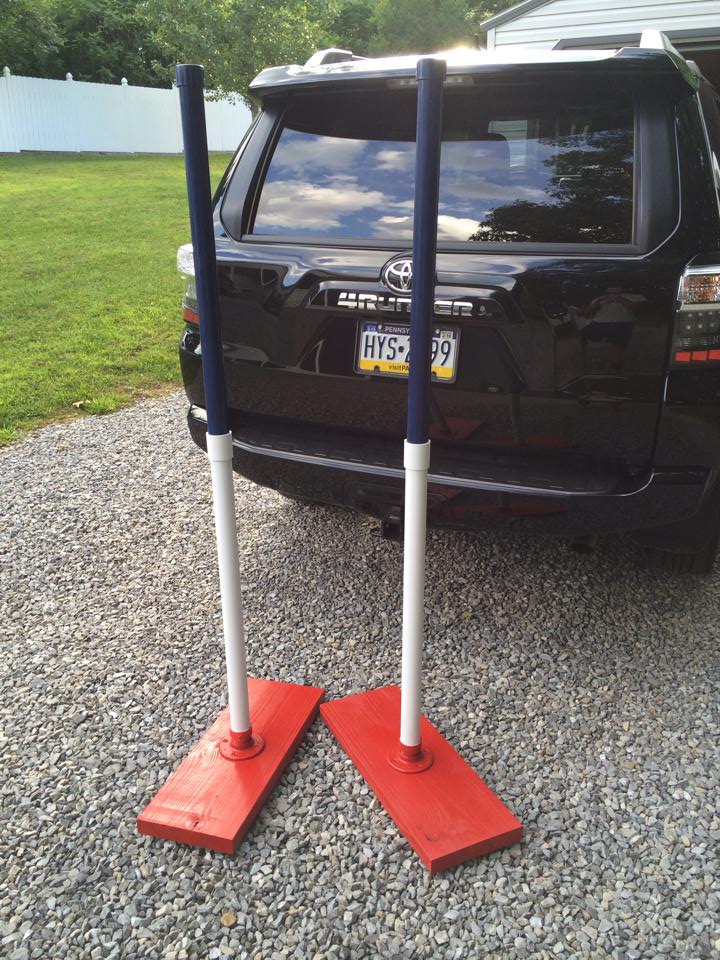 n? Well obviously my groomsmen, minus Connor and Drew since they are just kids, and Offord. It was pretty much like a TPTSNBN reunion. For those not living in Pittsburgh, I told them to meet at my house around 10:00 and I would have breakfast for them. Kayla came along as well since Lindsey would be here (obviously Lindsey was super excited about the chance to use all of her entertaining ware–I am not even kidding).
Once breakfast was over, we loaded up the car and made our way to the Days Inn on Banksville Road. We checked in and waited for Ryan and Offord. They got there around 2:30ish and we packed into Adam's car and went over to the park. We were pretty much one of the first people in the lot and our spot was amidst a sea of people setting up cornhole. I swear people just jumped out of their cars and started playing.
We searched around a bit and found the perfect place to set up the game Adam brought. It is called Beersbee and he made the poles himself (he is really quite talented, he needs to start selling these things he makes on Etsy). The idea is that there is a bottle on top of each pole. The two teams throw a frisbee at the pole with the goal of knocking off the bottle. If you knock the bottle off and the other team does not catch it or the frisbee, then you get three points. If they catch the bottle, you score a point. If they catch the bottle and the frisbee, then they get three points. You must always have a beer in your hand. If the frisbee does not knock off the bottle and is in your vicinity, you must catch or the throwing team gets a point. Make sense? It sounds complex, but is really simple and a ton of fun.
Adam and I beat Jason and Adam2 the first game, but then lost to Ryan and Offord. Ryan throws a frisbee like 120 MPH. I am pretty sure he destroyed a beer can that was in my brother's hand at one point. I think those two ended up being undefeated on the day. One of my favorite things about the game, aside from it being a lot of fun, was that is was different. Everyone that walked by would stop and talk to us about what we were playing.
We also made a random friend. I think his name was Shawn and he goes to Kent State. He was waiting for his friends to get there, so he just watched us play and drank his beer. He was a pretty nice kid. Also, there were some people having a scavenger hunt and we helped them out with a few of their needs. Adam2 was nice enough to bring some good cigars with him and a few of us partook in a little stogie action. Obviously by the time we went into the game I was feeling pretty good.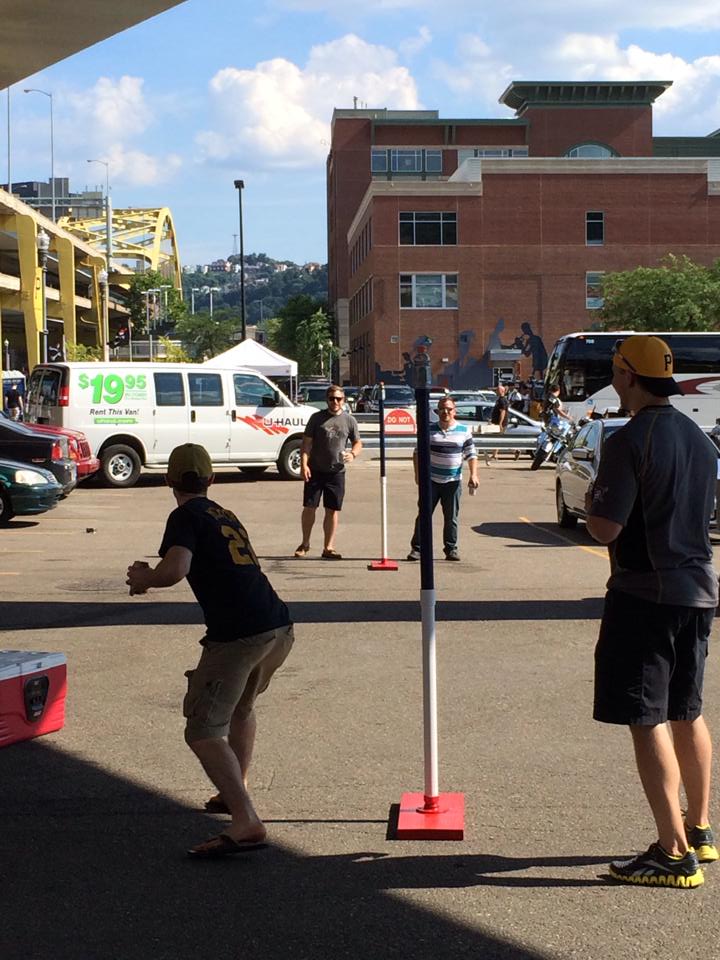 For those that watched the game, it was not a good one. The Pirates lost and it was pretty ugly. By the eighth inning, I had enough and was like "yo guys, let's roll!" We left the park and went to the White Eagle. It was some little dive bar that Ryan's uncle tends bar at during the afternoons. They had a pool table and dart board, so it filled all of my requirements. I fared a bit better in pool as Jason and I won all of our games (or maybe we lost the last one). That part of the night was started to become a bit blurry. If we did win, it was because of Jason.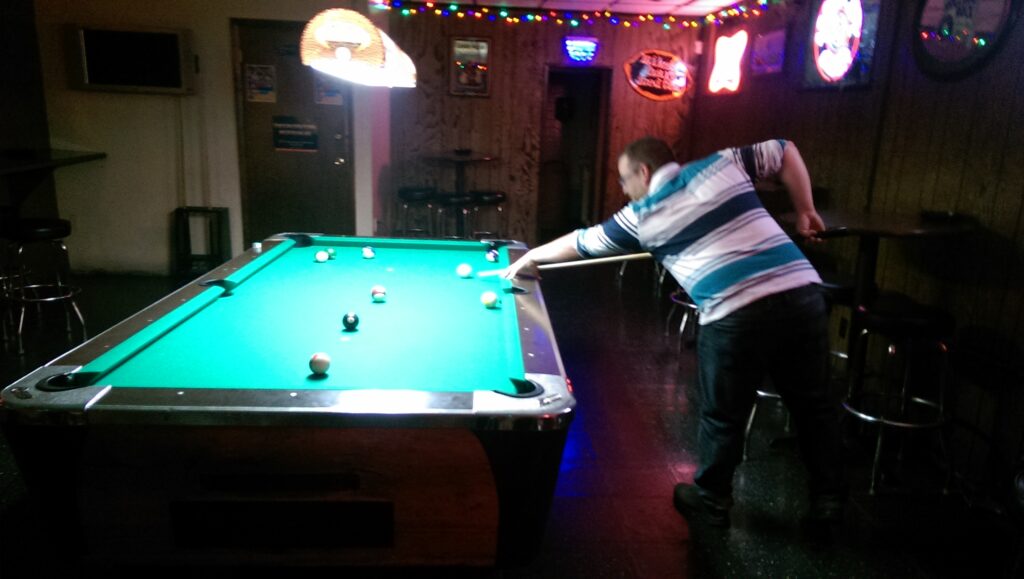 We shot darts as well. I can tell you that I did not do so well. I am pretty sure Adam2 won. He says that he won because everyone else was pretty drunk and horrible. I am thinking he is probably just being modest. Ryan had to leave early and he did not drink at the bar, so he took my brother's car back to the motel. As the night came to an end, we called a cab and apparently I spoke with a Latvian accent the entire ride. Have you ever heard my Latvian accent? It sounds like my Russian accent, which sounds like…well needless to say, I cannot do accents. I almost feel bad for the driver.
The next day we got up and went to breakfast/lunch at IHOP. I made it home and plopped down on the couch for a nap then just lounged all day. I had a great time out with my friends and I figured I deserved some much needed recuperation.
Thank you to Ryan, Offord, Jason, and Adam (fun note, this was the first time the guys got to meet Adam2 and they were a little upset to learn that his actual name is not Adam2) for taking me out for such an amazing day!
And an even bigger thank you to my best man for organizing everything and making sure that I had a great time. I love you brother!
And now for some more pictures…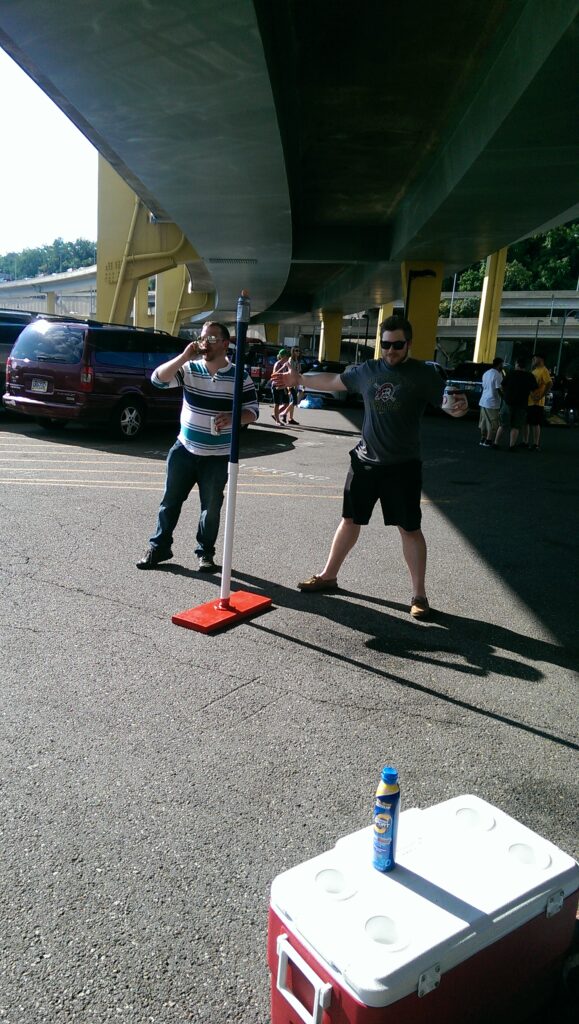 As you can see, Jason dressed for a fun day tailgating at Pirates game.
I think Offord is telling Ryan to stop throwing it so hard because he is close to killing someone.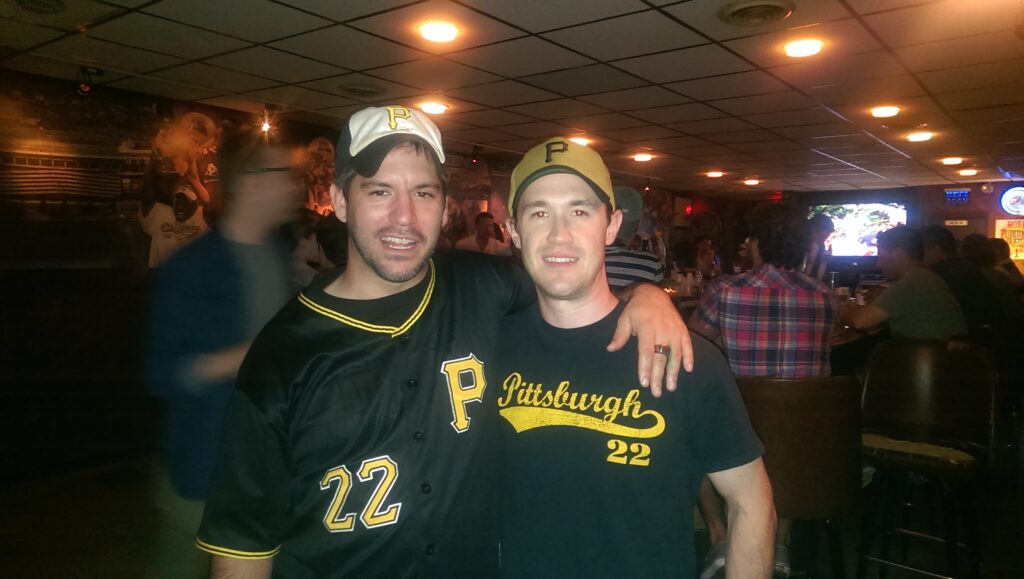 Wow, I was starting to look a little drunk…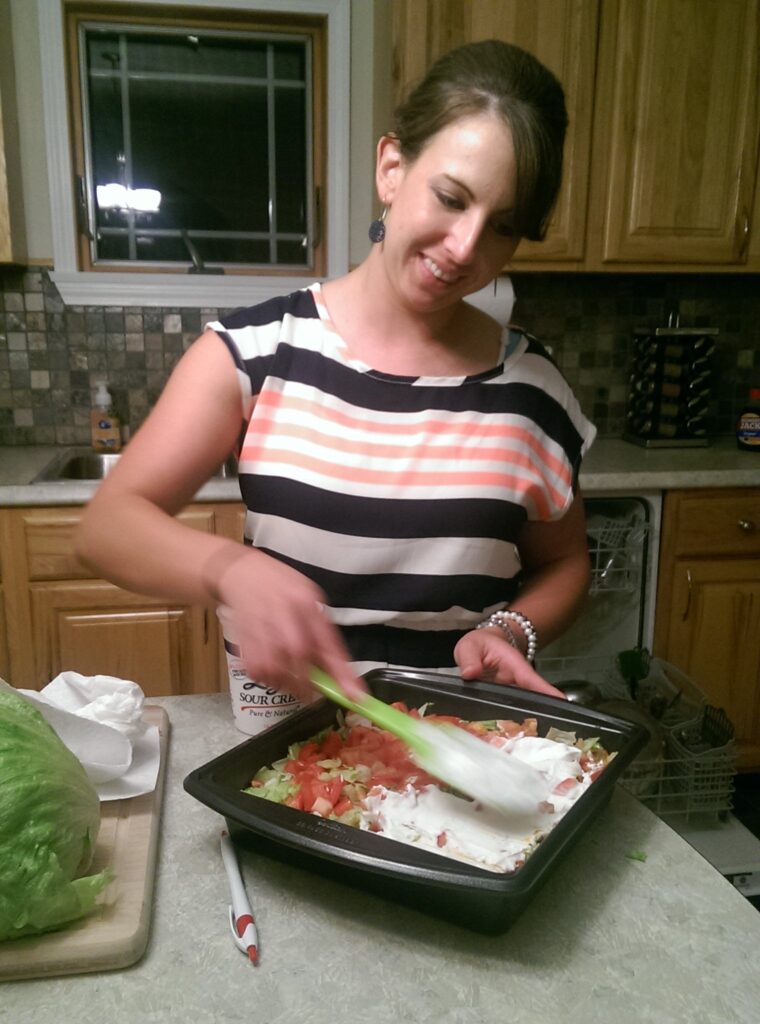 And because of course I would post a picture of my beautiful fiance. She was nice enough to make us a delicious taco dip.