People always ask if I was nervous. I tell them that I was a little nervous, but not about the actual wedding. I have made many decisions over the course of my life and marrying Lindsey was the surest I have been about anything. It is also true when people say that when it is just the two of you with the officiant that you do not even notice the crowd of people watching you. As I stared into those beautiful eyes, I fell in love all over again, so much so that when the officiant instructed me to repeat after him, I forgot to speak.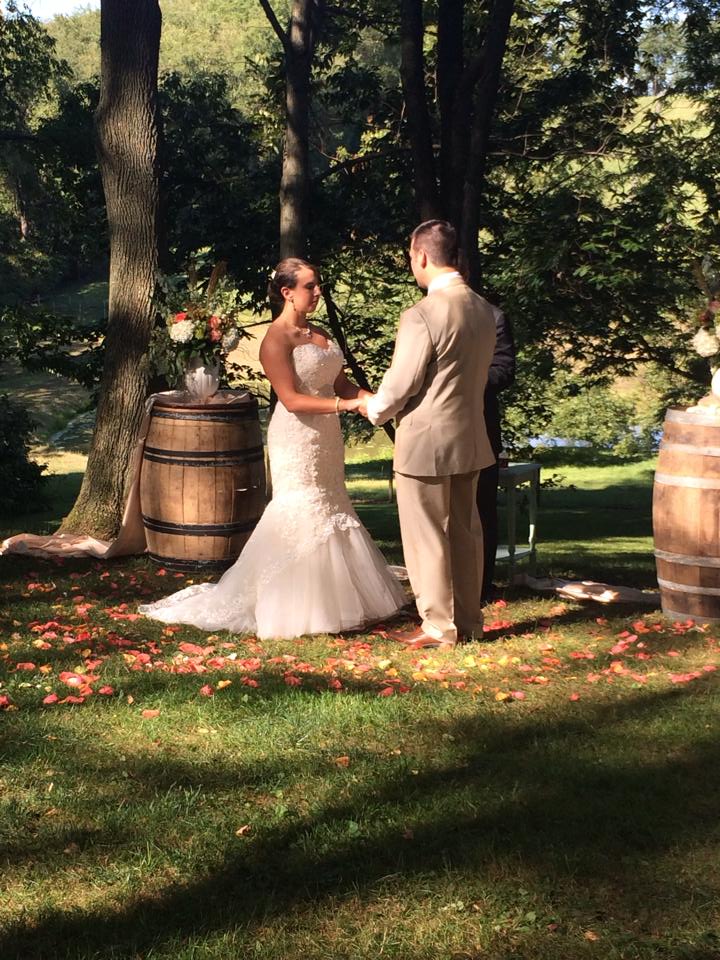 But yes, I was nervous. I was nervous that things would not go perfectly, that our guests would not have a good time, that my brother would have a panic attack during his best man speech, and a ton of other things. However, marrying Lindsey? That was the only thing I was not nervous about.
I need to backtrack a bit though. The ceremony started at 4:30. Most of you do not realize what went on that entire day for me. It started very early. We were up and down for breakfast at 7:00 a.m. We then made it to Norvelt Golf Club, where Adam, Adam2, myself took on Ryan, Jason, Harmon (my step-dad), Tim (my cousin) and Greg (future father-in-law), Brent (Lindsey's cousin's husband and professional athlete), and Ted (Lindsey's step-brother). We played a best ball scramble and as it turns out the teams were pretty fair. Well my team lost, but only by a few strokes to the other threesome. The foursome came in second (at least I think that is what happened, maybe someone could back me up with those details). Because of time constraints, we could play nine holes. I think if we had eighteen, then our team would have hit our stride.
Once back at the hotel, we had a little bit of time to get ready, then my guys had to be down in my room in order to get some pictures. I wanted a picture of my best man fixing my tie. It was a picture I would have liked to have taken with Dad. The funny thing is though, I am the one who wears a tie everyday and had to make sure my guys ties were on right (especially Ryan, I think I fixed his tie twenty times). We also took a few pictures in the hotel lobby, cool action shots of us walking, and one of our fantastic socks.
At the winery we started taking a bunch of pictures. Mostly of me and the guys, but also some of just me with family. Mom, Harmon, Connor & Drew, and Lora & Aubrey. Once those pictures were out of the way, then came the real fun. Us guys were in charge of setting up all the decorations. This was where I was nervous. We had to do this without me seeing Lindsey, who would be at the winery at 2:00 in order to get her pictures. Plus, there would still be a bunch of people at the winery since it was open.
I at least had the brilliant idea to have the guys bring a change of clothes. I figured we could change in the car and that way we would not be sweaty, dirty, and probably a bit gross by the time the wedding started. We probably looked a little funny walking around the winery in mesh shorts and our white undershirts. Or at least I probably did, some of the other guys were smart enough to change that shirt as well.
I had the list of where all the decorations would go and we immediately got started. We put the programs, water, bug spray, and flip-flops out at the ceremony site. I explained to Ryan and Jason what they would do with the stuff. The florists had the ceremony site set up and it was looking quite amazing.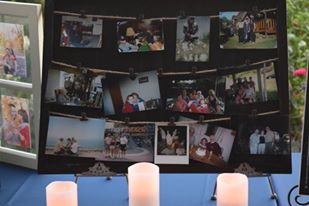 The next thing we had to set up was the seating chart, guest book, and the memorial/engagement/family pictures. There were supposed to be tables set up for these, but when we got to the tent, there was just one table and the florist already had it somewhat decorated. So I tried to move stuff around, but all that stuff would not fit. Fortunately, one of the caterers came over and helped me with the problem. She had extra tables (I am not sure if we paid for them or not, I would have to look at our invoice) and set them up in an L-shape and completely understood what I was trying to set up. She even suggested a better order for the stuff to help the flow of guests.
There were a bunch more little things that needed set up, but at this point things were almost in order. Adam2 found the florists and we explained to them the last few things we needed done, but because of the winery patrons, we could not put them out. They were a huge help and said they would take of it.
It was now time to get dressed, but as we started towards the car, the first bus arrived with guests. This caused a small panic attack. What were we to do? Plus it was going to be a bit harder to dress in the middle of the field parking lot. We asked the lady who runs the winery and she said they could not really offer us a place to change. Then her husband (I think he was her husband) came over and told us to get in our car and follow him over to his house across the street. He would allow us to get ready on his porch, which was completely secluded. He had a beautiful house and while we changed, he brought us some beers. They were definitely much appreciated.
While standing on the porch, it occurred to me that I had not heard from our musician. He was supposed to be at the winery around 1:00 and I had not seen him. I sent him a text and asked if he was on his way. He responded that he was already at the ceremony site and was all set up. Well that was a crisis averted.
Once we were changed, we went back to the winery and went down to the ceremony site. I started to make my way, but then realized I left the rings in the car. I had to run back up and get them. Ugh, obviously a good way to start. At the ceremony site, Adam2 and Adam stood at the bottom step and guided guests to their seats. Since each knew our different sides, they could say which was the groom and which was the bride side.
At first I stood with the officiant, but it made more sense to go around and talk to people. This was also my chance to speak with the musician and give him the proper pronunciations of names. After what seemed like an eternity, the final guests were seated and Ryan & Jason made they way down, which meant the procession would begin.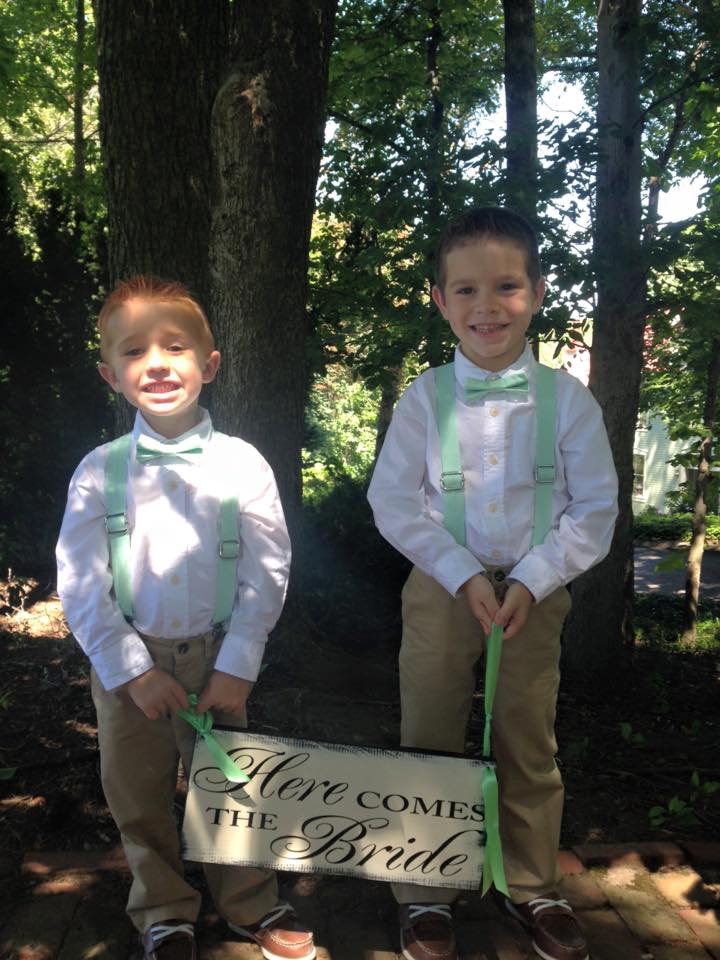 The bridesmaids made their way down, followed by the flower girls, then came Connor and Drew holding the "Here Comes the Bride." The four kids did an amazing job and probably stole the show a bit. Well until Lindsey and her dad came down. It was kind of cool that the sun was in my eyes as she was at the top of the steps (although probably bad for my vision). I kept trying not to squint or close my eyes because I knew people would be taking pictures and I did not want to look like an idiot making weird faces. Then Lindsey came into view and I was blown away by how amazing she looked.
Once I shook Greg's hand and took Lindsey's hands, the rest of the ceremony was a bit of a blur. Like I said earlier, I remember the vows and all that important stuff. I remember Lindsey shaking and me squeezing her hand to reassure her. My cousin Bill and Lindsey's cousin Danielle did the two readings. Bill read a poem by Bob Marley called He's Not Perfect (okay, it is not really a poem, but more of a quote). Danielle read Emily Barrett Browning's Sonnet XIV. I am not sure many people really got what we were going for, but I put way too much thought into this stuff. Bill's reading (a guy from my side) was meant to be something as advice for Lindsey, while Danielle's (a girl from her side) was advice for me.
The wine ceremony went about as expected. The officiant did a great job, but c'mon, did anyone expect me to mix red and white warm wine and not make a face? I did my best to cover it up, but I must have made a little grimace because Lindsey laughed at me.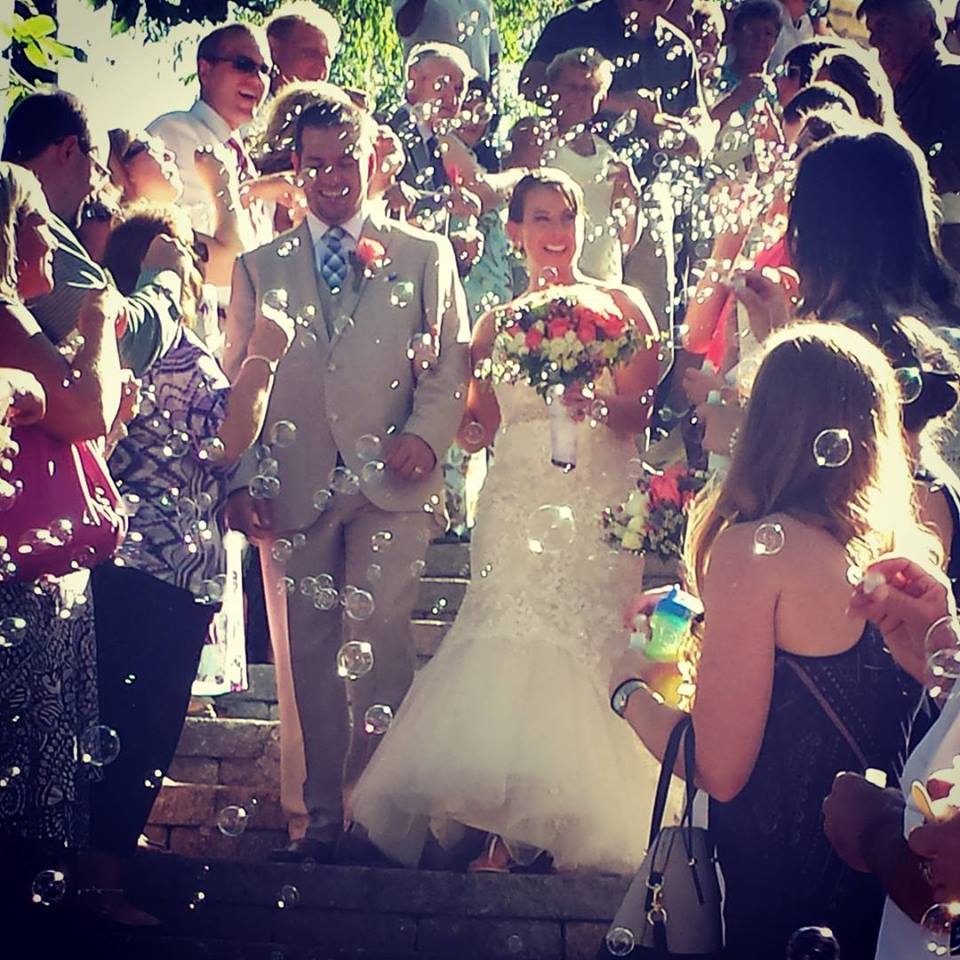 There was a few more things and then he told me I could kiss the bride and introduced us as Mr. and Mrs. Joshua Croyle (I really wanted to go with Josh, but Mom wanted Joshua, I guess I could make her happy and use my given name). After that, we went up the steps and came back down so we could do a bubble ceremony. Basically Lindsey wanted a picture of us walking through bubbles. I really thought it was stupid, but then I saw this picture that her cousin Brenda took on her Iphone. I think it looks amazing and I cannot wait to see how the pictures of this came out for the photographer.
Once the bubbles were over, we had to stick around at the ceremony site and take pictures. While we were doing that, our guests got to enjoy the cocktail hour appetizers and drinks. At this point in the day, my stomach was starting to growl. We took a ton of pictures, first with family members, but then once those were done, we took the fun pictures of me and Lindsey or us and our bridal party. Here is a a great sample of one of those pictures.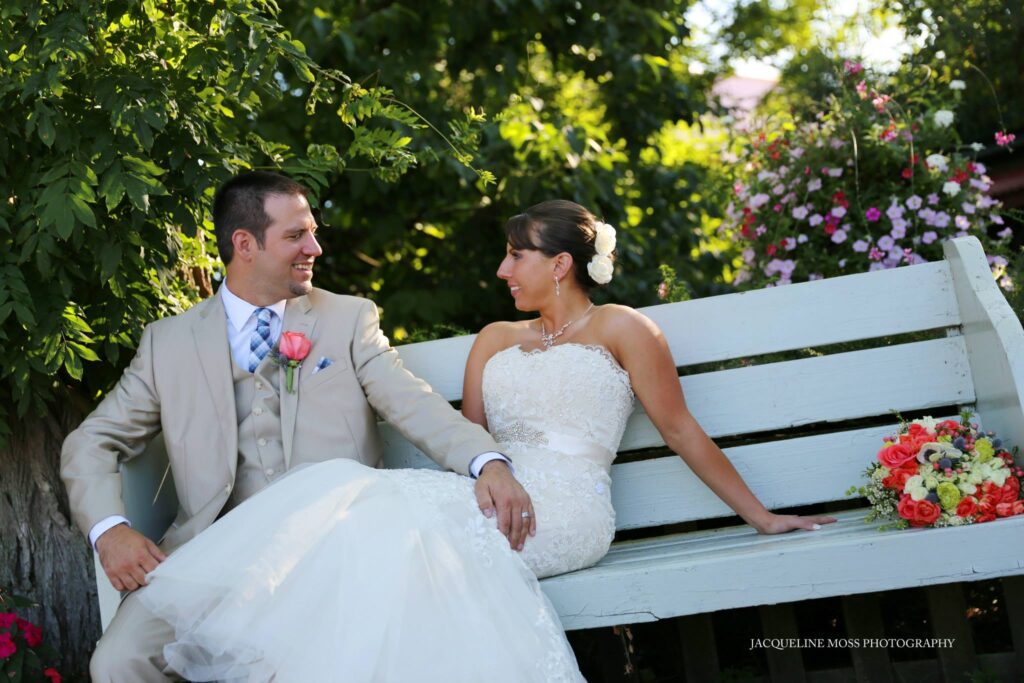 This concludes my first post about the wedding. Stay tuned for part two, which will be about the Rehearsal. Thanks to Jennifer, Brenda, and Becky for the pictures (even though I took them from their Facebook without permission). Seriously though, if there is a place to enter the Bubble Picture into a contest, I think Brenda should do it. Or I will do it for her, haha.
Also, thanks to Jaqueline Moss Photography, but I will write much more about her fantastic photos at a later date.