When I made my predictions, I did so with the caveat that I would probably get a bunch wrong since I was so busy with life stuff. Well now is the time to see how bad it was…
AL West: 0/5
AL Central: 0/5
AL East: 1/5
Wild cards: 0/2
Royals Record: 4 games under
NL West: 2/5
NL Central: 3/5
NL East: 2/5
Wild cards: 0/2
Pirates Record: 3 games under
Yikes, this was probably my worst year. I am not going to look back through all my years to see how bad this ranks and just call it now as the worst year ever (you do know that I will eventually go back through and see if it was actually the worst). ONLY 8 out of 30 right. 26.67%. Pretty freakin' bad. I did not get any of the wild card teams. I was at least pretty close with the Pirates and Royals records. I guess that is a bit of a positive.
As you can see, the playoffs did not shake out at all like I thought. Is that shocking though? Who really thought the Mets, Astros, Cubs, and Blue Jays would be that good this year?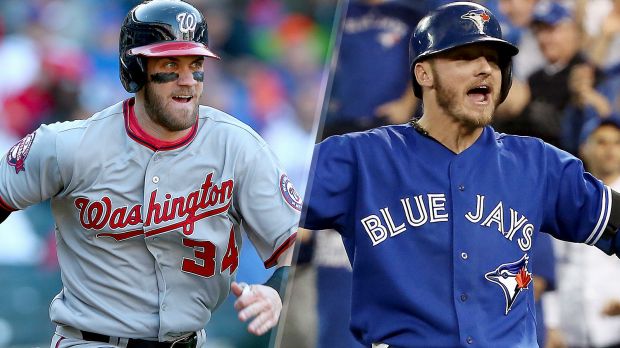 What about the awards? How did I do with those? Not good. I missed all of them. Maybe I should see how my guys finished in the total voting though.
McCutchen: 5th
Jones: Not listed
Kershaw: 3rd
Price: 2nd
Tomas: Not listed
Norris: Not listed
Well at least I was okay with those Cy Young picks. And what about my IDPs?
Chris Carter only hit 24 HRs (hey, at least it is the inverse of 42) and struck out 150 times. He did not win the HR title. Eric Hosmer was not in the top three, but another Royal was with Lorenzo Cain (does this count?). Well the Rays did not trade Longoria. So it looks like I am 0/3 in the AL.
How did I do with my cool 100 win pick for a bunch of NL West pitchers?
Kershaw:  16
Greinke:  19
Ryu: 0
Bumgarner: 18
Peavy: 8
Cain: 2
Okay, so only 63 total wins. Not even close.
Gerrit Cole only pitched against the Braves once and he went seven innings and did not give up a run. Not a no-hitter though. The Phillies did trade Hamels, but not to the Cardinals. Sorry Philipsburg folks!
I promise to do a bit better next year. And at some point I will do a fantasy baseball write up. You know, one of my cool looks at the stats to see who was the actual best team. Probably still Ryan.