I decided to do things a little differently this year. Instead of my normal way of doing the predictions, I decided to ask for some help from Offord and Ryan.
American League East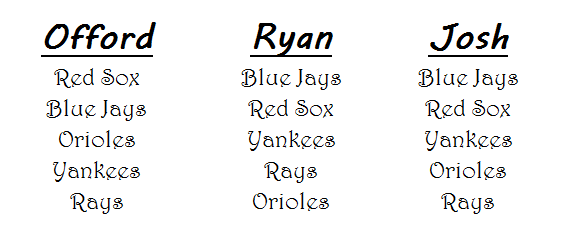 Offord:  This is a strong division top to bottom with each team only needing a few pieces to move to the top. I think Boston is the most solid in all aspects so I put them in front for now. Toronto still has the offense but I think Stroman may be a bit overrated and Happ will probably fall back to his old self. I mean, he was on the Blue Jays last year and was not good, right? Tampa is the same team as always – strong young pitching and below average offense. NY is a few injuries away from a 90 loss season. Baltimore is trying the KC formula with a strong bullpen and terrible starting pitching, but while they do have some offensive fire power, they will not be able to manufacture enough runs to get leads to the bullpen. I'll take Boston but will not be surprised if any of the other teams make enough moves to win the division.
Ryan:  Toronto will continue to pound and find some surprising bounce back pitching; I feel the same about New York, but I don't think it's enough to compete with Boston's improvements and adjustments. Tampa will be great defensively and have some very capable pitching…Baltimore has none; at least no starting pitching. I don't care how good your bullpen is, it is going to get tired quickly if your starters don't last long throughout the season.
Josh:  The Blue Jays still have the power capability to be tough to beat. The Red Sox went out and spent the money and should be much better than last year, but I am not quite ready to jump on them as the clear cut best team. This is a loaded division, if one of these teams start the year hot, you could see this flipped around. The Rays may be in for a rough year, but then again, I think that every year and their pitching ends up bailing them out. If only they had some offense.
American League Central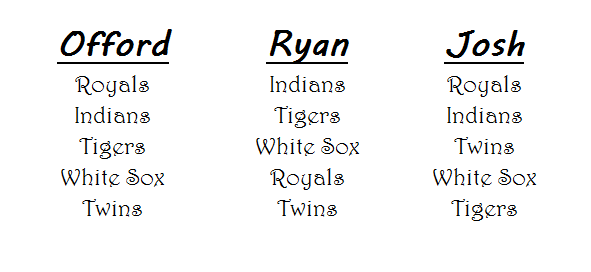 Offord:  Another strong division, but I think KC is still too good to lose it. Their core is not going to be together much longer so this may be their last year at the top, but I think they will still take the division easily. I thought Cleveland would make the playoffs last year and if not for some bad luck, they probably would have. I think their luck swings the other way this year and they manage to snag a wild card spot. I agree that Zimmerman will probably not help the Tigers as much as they hope, so they will need a strong bounce back from Sanchez and some good innings from Norris to make a splash. VMart and Cabrera likely won't get through the season healthy and I don't think they have the depth to overcome their injuries and the mediocre pitching. Chicago could move up to second in the division if Erik Johnson and Carlos Rodon take major steps forward, which I think they can. Next season they could have one of the top rotations, but I do not think they have enough on offense and in the bullpen this year to compete. Who knows what the Twins will do..
Ryan:  I like Cleveland even with Brantley (My correctly predicted 2014 breakout performer), possibly out for the first couple of months, and especially if they do not trade Salazar or another young pitching prospect. I love the Napoli signing and what Lindor will do for them at the top of the line up and in the field; and I always give Terry Francona too much credit. I like Detroit with a bounce back season from Verlander and a healthy season from Cabrera and Martinez. I do not believe Upton and Zimmerman are going to be as big of a help as the Tigers hope, but I still like their additions more than anyone else in their division has done. I hate the trade the White Sox made to get Frazier, and I am even more ecstatic that the Pirates did not bite on his availability. Will he be better than what they had there in 2015? Absolutely! But, not to the degree that they are hoping. I know the Twins like their prospects and they like their Korean guy and they have Joe Mauer; but when was the last time that Mauer was a force in the middle of their line up? How will Park adjust the Major League pitching? How will their big name prospects adjust the Majors? Which Hughes will they get-the 2014 Hughes or the every other year Hughes? Will Paul Molitor continue to give Jaboo the right kind of rum? I just think there are too many questions around the Twins for them to make a difference this year. But what do I know? The Twins always find a way to prove everyone wrong.
Josh:  I am a little confused about how Ryan could say the Royals will finish in fourth place. How can the reigning World Series champs, plus the team that lost in the World Series two years ago get so little respect? Sorry Ryan, but I am with Offord here. They are just too good to ignore. Unlike my friends, I actually like the Twins and think that after getting a taste of winning, they will hunger for some more. The White Sox are not really that good. They have some good pieces, but not enough to compete in this division.
American League West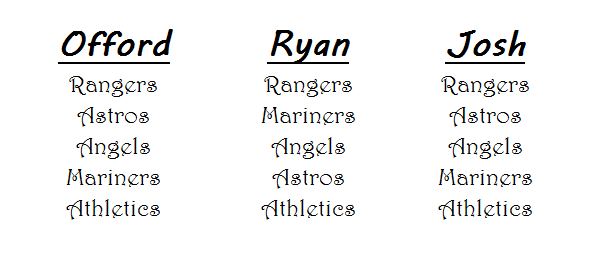 Offord:  I don't like Seattle as much as Ryan does and I don't think they really did enough to rise up to the top tier of this division. They are OK in most aspects but in my opinion only a .500 team. Sadly, I also like Texas to represent the AL in the WS. Houston and LAA are both good enough to grab a wild card and Oakland is terrible in just about every way, except uniform colors. They will always be my favorite.
Ryan:  Texas is my AL pick for the world series. They have too much coming back from last season-both people who proved they were the players we all thought they were in Fielder and Choo (more so in the second half) and people coming back from nagging injuries or just missing the entire season with injury like Darvish, Beltre, Hamilton and Holland. Plus their last year addition of Hamels and this is a pretty stellar team. I really don't know who could compete with them right now. I love what the Mariners have done on the defensive side of the ball and the speed they have added to their outfield. They still have Cano, Hernandez, Seager and Cruz. Their biggest question mark is their bullpen and if they answer the bell they are going to be a force to be reckoned with. There is a lot to like with Houston, but I believe many of their young stars take a step back and their pitching does not produce like it did this past season. The angels have Mike Trout and Andrelton Simmons up the middle. I don't think you can say another team has a better defense up the middle right now. If the Angels have a healthy Pujols and their young pitching can also prove their health and potential worth, then the Angels may finish even higher in this division. The Athletics are still trying to find valuable assets to trade away who aren't named Sonny Gray at this point, so they have a little ways to go. They could make some noise in 2018 though.
Josh:  We all agreed first and last place in this division! Everything those guys said about the Rangers and A's is prety much on point. Actually Offord and I are pretty much in agreement. I definitely like the Astros and would like to ask a quick question. How come everyone keeps saying their young stars will regress this season and yet the Cubs will be a 100-win team? The Cubs have a bunch of young stars as well who could see some regression. Dallas Keuchel will not be as good, but Jake Arrieta will be that great. Does that make sense?
National League East
Ryan:  Pitching! Pitching! Pitching! Pitching! Pitching! Pitching! The Mets have all of the pitching. ALL OF IT! They have a potential 6 man rotation where 5 of the 6 starters would a number 1 or 2 in most any rotation in the majors. The Cespedes signing was the best deal I have ever seen a team make. They are telling their fan base we are winning now and they are telling Cespedes if you want your big dollar long term contract you need to produce, now. If Cespedes gets hurt, he will grab onto those options and they will have a slugger for another 2 years after this season for a little below market price while he tries to prove his market again. I call that a win-win-win…Brilliant! The nationals have the 2nd best rotation in the majors still, but it does have question marks as well as depth issues. If one guy goes down, this entire team will struggle. If this scenario happens do not be surprised if the Marlins catch them. If they have a health Stanton and Fernandez for an entire season, that will make the entire team better. My problem with the Marlins is after Fernandez, they have plenty depth, but they are all pitchers who swing both ways. They could be seen as a back end rotation kind of guy or a long relief guy…not always a recipe for success. I have Philadelphia over Atlanta because Atlanta has team filled of prospects and journeymen right now and the Phillies have Charlie Morton. No, seriously it is because the Phillies seem to have a direction and an up and coming star in Franco and even possibly Odubel Herrerra; plus next season they will have a decent payroll to play around with.
Offord:  I pretty much agree completely here, except that the Marlins do not have a chance at taking the division without more than 2 solid starting pitchers. If they add Gallardo then maybe they could move up. You forgot to mention the Phillies have Nola as well, who could be a force this year and definitely in the future. They could still lose 100 games though this year.. along with the Braves.
Josh:  I think we can all agree here that the Phillies are just terrible. It is insane to me that with Bryce Harper, who was an absolute monster, the Nationals were still just a middle of the pack offensive team. That is crazy. The Braves are not very good and by having them in third place, I am saying that this division is still pretty bad. The Mets and Nats are good, but the rest suck. Honestly, I could see the Nats being that team everyone expected them to be last year.
National League Central
Ryan:  I know this is going to sound biased, but hear me out. The only thing that is going to stop the Pirates from taking this division is going to be another slow start from McCutchen and a slow April from the Pirates, like last year. Cutch was obviously hampered with a leg injury to start the season and they were trying to find an identity with their pitching staff because they weren't sure what they had with Burnett, Locke and Morton; and they did not know the potential of the new battery mates. This season their confidence should be through the roof, especially when Kang returns healthy and now Polanco understands what it takes to play and entire Major League season. I know there are some questions concerning our pitching staff, especially with Locke(still!) and Vogelsong. However, Vogelsong fits the game plan of the Pirates pitching stratagem and I have faith in Uncle Ray to un-Locke a past all-stars potential. Our biggest concern should be their continued experiments with First Base, that lack of punch in the middle of the line up should be our only concern. I have St. Louis over Chicago only because they have guys who are proven and who have been there-done that. Chicago showed they can win games and play any which way they want in 2015, which is also why I do not think they will win more than 90 games this season. I believe the Cubs are over confident and that over confidence has fed into them thinking they can just stick a bat anywhere in the field and the defense will take care of itself. The Pirates have proven that is not a solution, luckily for us our pitching and defense was solidified around our one position we took that tactic with, first base. The cubs are attempting that with a few positions and I believe it is going to hinder their progress. Heyward, I believe will take a step back defensively because he has to cover more ground and take on more responsibilites, Schwarber does not belong anywhere he needs to run more than 5 feet for a ball, Soler is a head case and Zobrist…I can't wait to see what Zobrist does. He will either crash and burn or he will be brilliant. I have the Reds over Milwaukee because the Reds are better defensively up the middle along with established veterans at every major position and the Brewers have…Ryan Braun…without steroids.
Offord:  The NL is so much more top heavy than the AL, and no where is that more evident than in the Central. The Brewers have basically punted on this season and should try to trade Braun at all costs. The Reds are interesting but after moving Chapman I think they are looking ahead more than trying to win this season. They still have some decent players but if you plan to compete you don't trade away your best player before the season starts. I think the division will be a great race between the Cubs and the Cardinals, maybe coming down to the last game of the year. Joe Maddon, as much as I dislike him, has always been able to do a lot with inferior talent, and now he has the talent. They have a lot of depth with their starters and offense, so they really only need to upgrade their bullpen a bit. The Cardinals replace Lynn with Wainwright and basically return the rest of the team, minus Heyward. They might lose a few games because of this but I think they still make a run at 100 wins. The Pirates continue to sit in the toughest division in baseball to win, and I don't think they have the rotation to beat the top two teams. They will compete again for the WC but I think they may come up short this year. 
Josh:  Offord makes some really great points. And yet, I hate myself for having the same picks as him. I changed my picks like three times (to be fair, I did mine before looking at their picks), switching the top three teams in just about every conceivable way. The Reds and Brewers are looking at rebuilding (will the Reds give in totally and trade Joey Votto?). Another little rant here. Why do I think Ryan could be right about the Pirates? Because they have proven they are one of the best teams in baseball. The Cardinals, Royals, and Pirates are built around consistency. They have players at just about every position who are good to very good at their position (plus a superstar or two sprinkled in). They have very good pitching. They all just seem to have this idea of "team" which resonates more than the other teams out there. These teams are the opposite of the Dodgers, Nationals or the Red Sox & Yankees. They have a bad and they just go out and sign a bunch of superstars. And yet they do not dominate. Everyone thought the Nationals should be a clear cut World Series winner last year at this time. Did they win it? Nope. Okay sorry, this rant has gone on long enough. I think you all get my point, it takes more than just a bunch of the best players to win. The players have to click and become a team.
National League West
Ryan:  It is an even year, so of course you have to pick San Francisco as your favorite for the NL in the world series. Plus, they have the 3rd best rotation in the majors with their offseason additions. Their bullpen is not astounding, but it will get the job done and they have offense up and down the line up, good defense up the middle and a pretty good outfield. The Dodgers have too many question marks, but they question marks have the most upside of any questions submitted. Puig? The loss of Greinke? A new Manager? The top prospect in baseball? What do they do with 4 starting outfielders? Most of these questions are good questions to have and I look forward to the answers. But, no matter the answers to those questions they still have Kershaw, absolutely no questions at first base and an all star closer. I like the moves Arizona has made over the offseason. They have shown they are ready to play with the big boys; it is just not quite enough yet for 2016…maybe next year. The biggest thing with Colorado is what will they get in return to replenish their farm system and overall organizational depth in the trade for Carlos Gonzalez. San Diego is doing just enough to keep their heads above water for this season. I feel like they have the same forecast as their west coast brethren in Oakland.

Offord:  I agree 100% with this division. I think Arizona is going to be that team that spends all the money and prospects but still can't get much above .500, similar to the Padres last year.
Josh:  First, I need to address our one difference: the Rockies. I think they are going to be bad. I see CarGo getting traded pretty early in the season. Hell, they might as well trade Jorge De La Rosa as well, you know, their ace, who is probably a #3 or #4 elsewhere. Yeah, it will be a long season in Colorado. The Giants had a great offseason. They added Cueto and Samardzija, which should really give them the best rotation in that division, if not the league. They also added Denard Span, which definitely gives them a much better lineup. The Dodgers are very good as well, but I could see them falling a bit and maybe the Diamondbacks finally end up moving up in this division. The Padres still suck.
Playoffs and Awards

Josh:  It seems like we agree on quite a bit. Corey Seager as the National League Rookie of the Year. And at least two of us agree that Bryce Harper will have another monster season. I will say that I was close to picking Starling Marte. I really do see him having a big year. I guess Ryan could not take the time to look up a possible rookie from the AL Central, such as Byron Buxton.
Offord:  We disagree strongly with PECOTA and other predictors that are not high on the Rangers. David Price finally has a good postseason!! Ugh we agree…on Mookie Betts.
Ryan:  Ok. Also, I realized a mistake in the NL Central…I still am sticking with the same reasoning for the Cubs and Cardinals, but flip flop the results. The Cardinals will have too many things catch up to them this year and it will hurt their future progress. Do not be surprised if you start seeing the Cardinals playing sellers at the deadline this year. (I already fixed it up above, but I did enjoy Ryan's comment)
Ryan:  It (AL ROY) will be someone under the radar that no one has really heard of. Kind of like when the Pirates had Jose guillen his rookie season.
Josh:  We are in agreement on the NL Cy Young and I think I originally had Cole winning it, but changed it to Harvey.
Crazy Predictions
Okay, this is always the fun part. Making up crazy predictions that have no chance of being right!
Ryan: Mike Trout will be the first ever major leaguer to have a 50/50 season; that's 50 HR's and 50 SB's for anyone keeping track.
Offord:  Um… Mike Trout's base stealing has been in steady decline since his rookie year, and he has never even stolen 50. He will be lucky to get 20, more like 10 probably. Check his history…and how would Trout not win the MVP if he had a 50/50 season??
Josh:  Yeah that seems a little crazy. Maybe he could hit the 50/25 Club (does that exist?)
Ryan:  Crazy Pirates Predictions:
1. The Pirates will have 6 players in double digits for HR's, 5 with at least 15 HR's.
2. Marte will have a 30/30 season, with at least 15 outfield assists on his way to another gold glove
3. Cole will be the runner up for the Cy Young.
4. The Pirates will end up having 2 guys in their bullpen with at least 20 saves: 25 from Melancon before he gets traded and then an additional 20 from Watson
5. Melancon gets traded (this is not so crazy as inevitable, but it will be who he gets traded with that we will be surprised; I have no idea who it will be)
Josh:  A quick rebuttal:
-The Pirates having 6 players in double digits for HRs is not that crazy. I 2014 they had 9 guys…
-I keep tossing it up whether or not Melancon will be traded. It makes sense to trade him, but I guess you would have to look at the return versus is it worth breaking up that bullpen, especially if they are in the position you have them in, first place. Now, if they are in third place, like where Offord and I see them, then maybe they pull the trigger and take their chances.
Offord:  Crazy Prediction: 1) John Jaso hits and fields well enough to keep Josh Bell in the minors all season. 2) AJ Burnett comes out of retirement if the Pirates make the playoffs, and promptly gives up 10 runs in the first inning against the Cardinals. 3) Pedro becomes so bad at hitting lefties that he tries hitting right handed, and actually raises his average.
Josh:  I am still not sold on Josh Bell as a solution to our first base woes. I mean, he hit what, seven HRs last season between AA/AAA? Anyways, on to my crazy prediction. George Springer is healthy for the entire season (crazy!) and finishes second in the MVP voting after having a 30/30 season. To fit in with everyone, I will make a crazy Pirates prediction as well:  Starling Marte and Gregory Polanco have a higher WAR than Andrew McCutchen.
Alright, that winds up the 2016 Major League Baseball Predictions! Thanks to Ryan and Offord for the help!