This is one of my favorite things in the world. Drafting my fantasy baseball team is such an exciting couple of hours. The only other thing I like more about fantasy baseball is the craziness of the championship. You are just constantly trying to add/drop pitchers. It is a battle of who can pick up the guy who is least likely to suck on that final night. Aside from that thrill, the draft is pretty close.
Everything starts happening so fast, you go in with a plan, but then all of a sudden someone decides to throw a wrench into your plan. A player you never expected to be available is now there, what do you do? And usually by about your third or fourth pick, the plan is completely ruined. Now it is time to adapt. I have found that my best seasons have come when I either stick to my plan rigidly OR when I go into the draft with a very flexible plan. Last year it was a detailed plan and I stuck to it for the most part. This year was a bit more fluid.
Before we begin allow me to introduce the teams:
Ball So Hard Inc: Matt
InsertFunnyNameHere: James
SeattleTemplePilots: Lindsey
Immortan Offord: Offord
VeniVidiVici: Dustin
Kerning 2 Love Again: Jason
Roscoe G Cole Train: Pat
I Like El Coffee & T: Sean
There is no Spoon: Gideon
Vandelay Industries: Adam2
RyanLovesDrewStubbs: Me
JoshsLilPuigWentHome: Ryan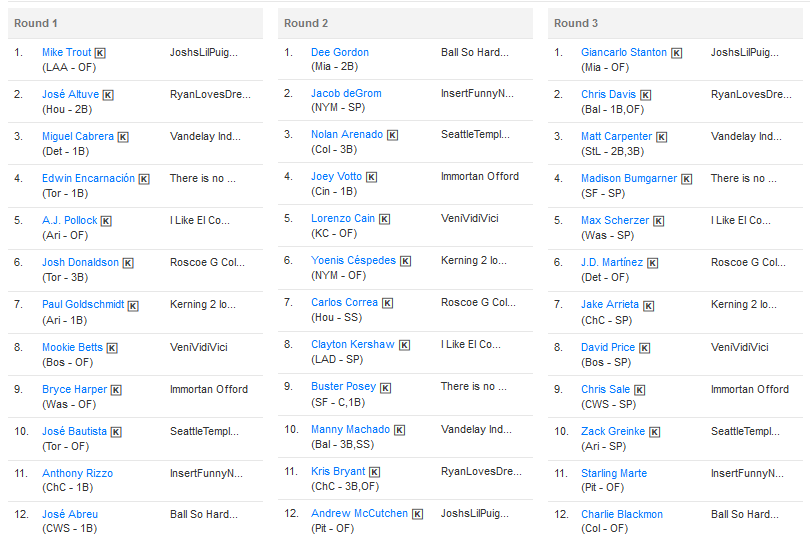 The first three rounds were for the keepers. Matt and James did not have any keepers, so they were the only ones who actually drafted.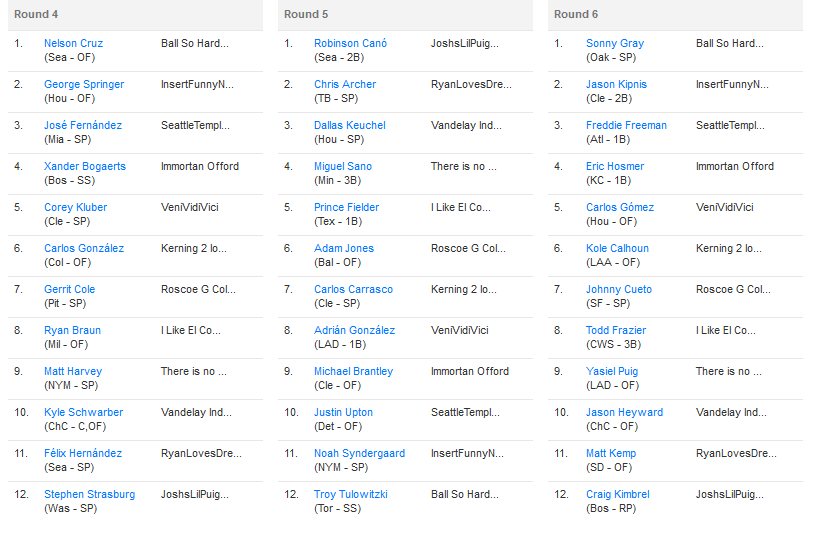 Round 4 is where the fun began. My goal in the first two rounds was to take starting pitching. I really thought Gerrit Cole or Matt Harvey would fall to me (they were both around that area), but then Gideon and Pat went down a bit to take them. When it came to me, King Felix was the best available pitcher, so I scarfed him up. My next pick was Chris Archer. It was definitely a toss up on whether or not to take him, Keuchel, Carrasco, or Syndergaard. In the sixth round, I was basically going for either best available or best outfielder. That happened to be Matt Kemp. Not sure how I feel about that one yet.
Quick aside, Kyle Schwarber…am I the only person in the world who is not 100% in love with that guy?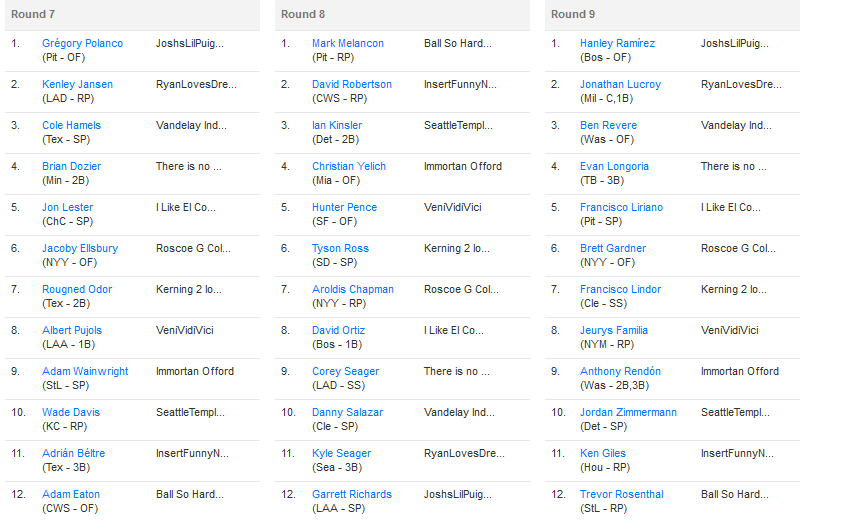 Another odd start in my opinion. Ryan takes Kimbrel at the end of the 6th. I took Jansen, but at the time felt it was too early for a closer, but then remembered that we were in the 7th round, not the 4th. I know, the keeper thing can really throw your perception off. I really liked Offord's pick of Wainwright and I definitely had him lined up in the next round. I had a little temper tantrum when Adam2 took Salazar. I was not sure what I wanted to do, but decided to take Seager, I figured I could move Bryant to the outfield. This next pick was probably one that I am the least proud. Lucroy is a great player, but he is a catcher not named Buster Posey. I could have waited for a catcher in a later round. My thought was the Lindor would still be available in the next round, but Jason scooped him up.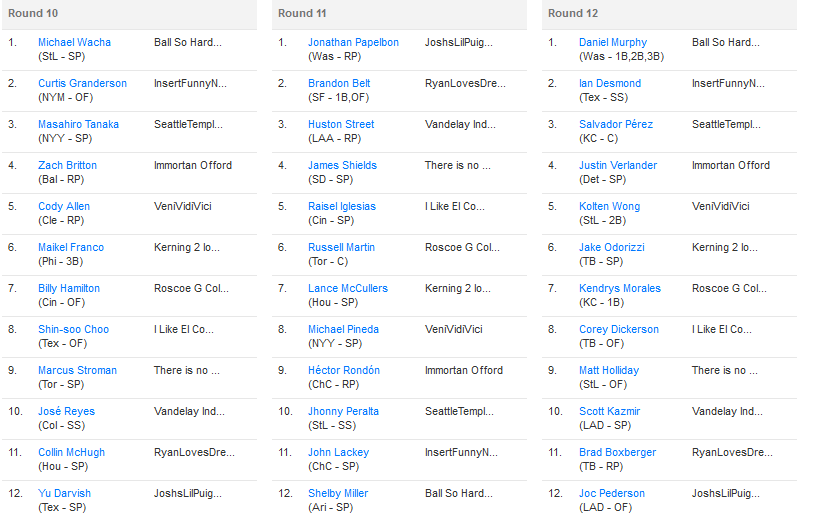 During the 12th round there were two funny exchanges. First Offord takes Verlander, who if you remember was Ryan's comeback player. Ryan was a little upset about losing out on his major sleeper pick when Offord told him that the only reason he drafted him was because of Ryan's write-up about him. And then we made fun of Ryan for some more stuff. And then I take Boxberger and Ryan questions what I was thinking. We had to inform him that Brad Boxberger is the closer and he had 41 saves last year. How does he win the championship every year?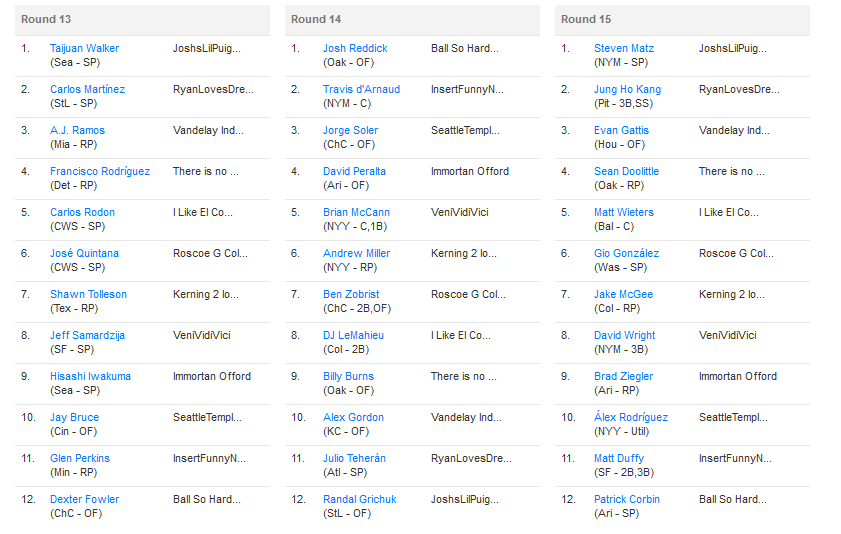 Notice a theme in these rounds? Starting pitching. I was pretty upset that Ryan took Steven Matz. It made me nervous so I reached pretty far down for Kang. I like him at shortstop. If he is ready for opening day, then it is definitely a decent pick.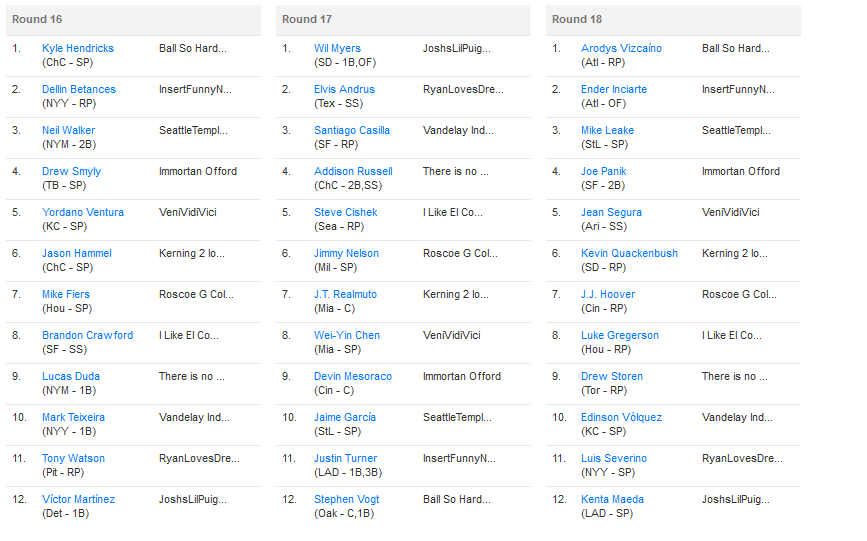 Tony Watson for holds (unless Melancon is traded, then I have him for saves). Elvis Andrus for short if Kang is not ready or if he struggles. And Luis Severino as my wildcard guy. 
I am not sure why I took Kevin Pillar. I guess I thought the stolen bases would be nice. I should have taken Park. Also, the Alex Wood pick might not be that good. I mean, he could get a bunch of starts for the Dodgers, but they could all be terrible. Lindsey took Osuna, who I was eyeing up. And then I had to take a young guy, figured Buxton would be a good one.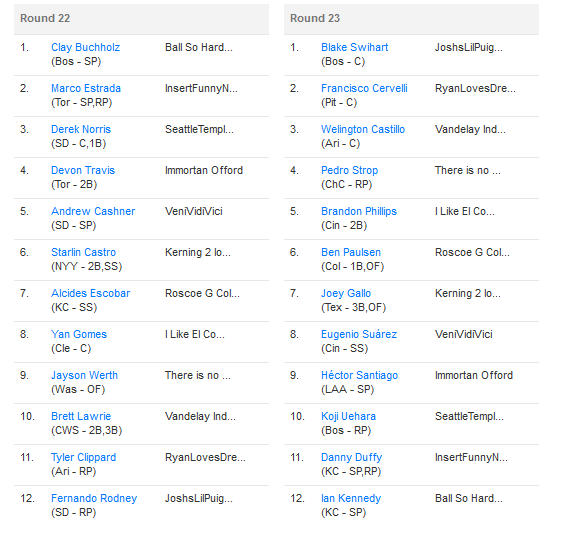 Seriously, I can never have enough pitching. I decided to do something different with my final pick. Usually I go after some way out there prospect and try to hold on to him for a bit until he is called up (remember Mike Trout???). It never really works and it ends up being a dead roster spot. This year I went a different direction. I went with a usable player. I drafted Cervelli. This is what annoys me about the Lucroy pick. Cervelli and he are probably in that same tier of fantasy players. Most things I look at have them both as third tier catchers. How much more am I getting from Lucroy? Oh well, no point getting upset over it.
Normally I would put all of the teams into a spreadsheet and use their projected stats to figure out who had the best draft. Not this year though. Instead, I will just use the Yahoo Projected Standings. It is not perfect, but neither was mine and this will just take less time.

Fourth place. Not terrible. I suppose I can live with it. Lindsey projected for fifth, I am sure she will be ecstatic. Ryan projected for last…I LOVE IT!
Now I need to address the problems with the Yahoo system. It takes all of your players into consideration. Soooo, if you are someone who drafts a ton of hitters on your bench, then all of their stats are added into your total. However, the fantasy season does not work that way. You only have 11 countable positions. You may have a few times where you substitute someone on an off day and get a HR out of them, but for the most part, those stats are on the bench. For example, James is getting full credit for Kipnis, Beltre, Matt Duffy, Dustin Pedroia, and Justin Turner. He can't use them all at 2B/3B.
I know, I spend way too much time thinking about projected standings after a draft. Whatever, I know what I need to make my team better. At the moment I am actually considering offering someone a trade for one of my keepers. We shall see though.
Anyways, good luck to everyone and welcome to the league Matt and James!