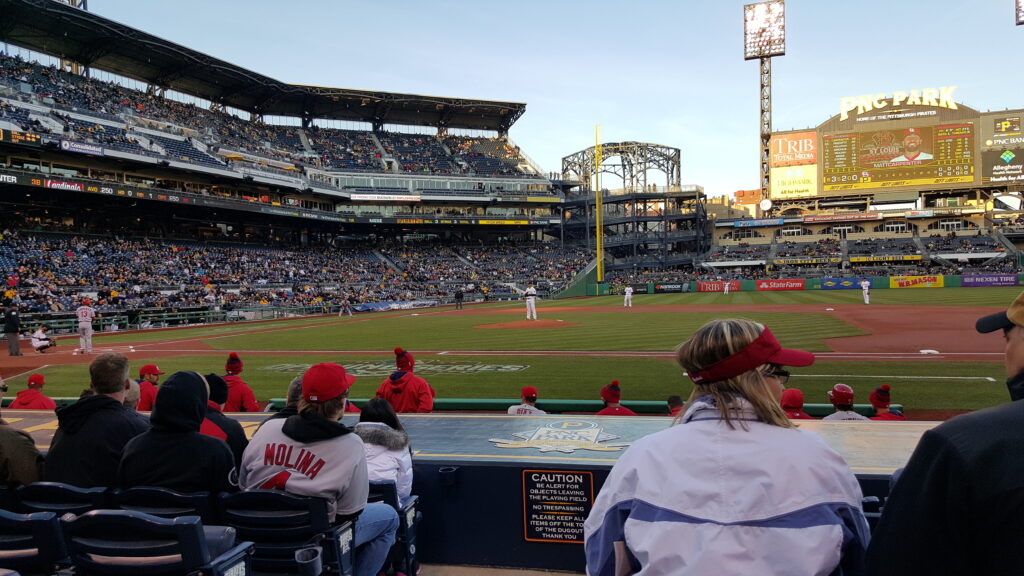 I was able to get tickets for the second game of the year through work. When work gives you tickets, they are usually pretty damn good. Some of you may have noticed that it was a bit cold yesterday, but that did not stop us from going to Pittsburgh for the game.
We got there around 6:00 and the all of the restaurants nearby were pretty full, so we just waited for Michelle (you may remember her from the wedding). Once inside, we got some food from BRGR. Okay, the burgers were good, but two burgers, one order of fries, and a Coke cost us $37. Hell, Red Robin is not even that expensive.
I wore a long sleeve shirt with a hoodie and my jersey over it. I then had on my fleece jacket. I even wore long underwear and I still was cold throughout most of the game. Lindsey was really cold. Well mainly her feet. For some reason she wore her Sperry's. Yeah, boat shoes when it is 25° seem like a great idea.
It was a pretty great game. The Pirates won in extra innings. We made it through the 10th inning and Lindsey started to get mad at me for wanting to stay. She was freezing. So we left. When we got to the car, I heard Mercer knock in the winning run.I definitely gave Lindsey the look. She did not care, she was at least warm.
I guess that is one of the things I should learn to get used to when going to games with my beautiful wife. She does not like extra innings, she is not a fan of being cold. She hates rain delays. I was just impressed that she managed to make it ten innings.
Back to the seats. I love sitting down that low. The guys behind us were pretty funny. If I had those seats all the time, I would probably talk with them a good bit. They also seemed friendly with the usher, who was an old curmudgeon. He was relentless with stopping people from moving closer. In fact he would get so angry at the lady in front of us, who would move down two rows to get pictures of Cardinal players. Even in the 10th inning, when some guy came down with his kid to sit, he still yelled at them and told them they had to go back to their seats. It was amusing.
I look forward to the next game!