I love looking at the "on this day" stuff from Facebook. This is one that came up for today.

I wondered to myself what that game could have been like and decided to check it out. I discovered something pretty crazy.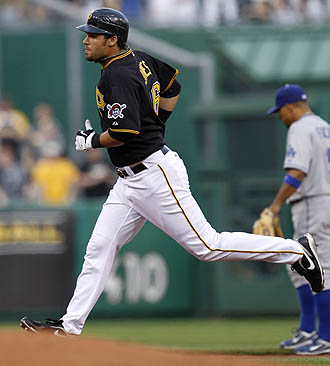 The Pirates beat the Dodgers by a walk-off hit in the 10th inning. This was the second game of the year and the Pirates were undefeated. How did the Pirates win the game? Well Ronny Cedeno hit a single and scored Lastings Milledge. Let that sink in for a second. The second game of the year, the shortstop knocks in an outfielder (Milledge played LF during this game, but I remember him playing a bunch in RF), the Pirates are undefeated…
Yes, this is a similar situation to the game on Tuesday. Obviously though there are some key differences. For one, Gregory Polanco and Jordy Mercer are much better than Milledge and Cedeno. The 2010 Pirates were terrible. I mean, fucking awful. They finished 57-105. They were 2-0 on April 7th and from there they only won 55 more games.
Last season the Pirates won their 57th game on July 26th. By that time in 2010 they were already 20 games out of first place. But hey, on a positive note, Garrett Freakin' Jones already hit three home runs by game number two and this season, the Pirates have yet to have one. Crazy!