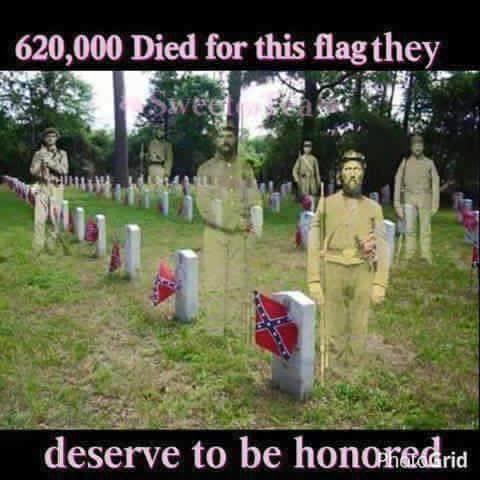 I saw a few people post this image on Facebook yesterday. As most of you know, yesterday was Memorial Day and as some of you know, I have ranted about flags before.
Am I the only person who sees this as ridiculous? You seceded from the United States of America. You lost the war. We let you come back. What other country has a civil war and then allows the losing side to keep flying their flags? Most other countries would have just committed some sort of mass execution to serve as a warning not to do that shit again.
The part that really annoys me though is that the people posting this stupid meme are also the ones constantly posting pictures of the American flag and how great it is to be American and how Obama sucks because he is not an American. Nothing says American like being traitor to your country. These people want Hillary Clinton to face treason charges for deleting emails, but think it is okay to fly a flag of a group of people who actually committed treason.
But you know what pisses me off more than anything? The three people who posted this fucking picture on Facebook? All from the NORTH! How does that make any sense? Do you know how many of these flags I see here in Pennsylvania? Probably two or three each week. Why? IF THE CIVIL WAR WAS HAPPENING AGAIN, YOU WOULD BE ON THE OTHER SIDE! It makes my brain hurt.
And in case you were wondering, there is a Confederate Memorial Day. Not a Federal holiday (nor should it be), but the Southern States have them and I am actually okay with it. If each state wants to remember the soldiers who gave their lives, then so be it.