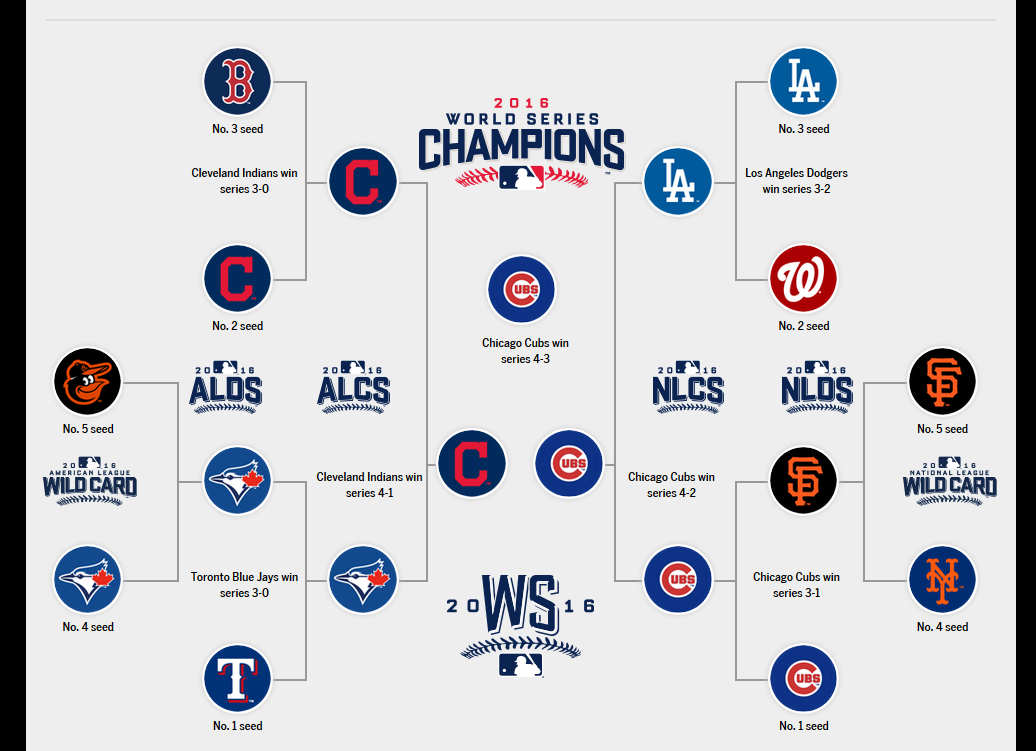 Back in February, I asked Ryan and Offord to help me with my annual baseball predictions. It was actually a good bit of fun and as always, we had some very different opinions. So let us look back at those picks and see how we fared.
Looking at the American League, Offord was the big leader. He scored 7 out of 15. Ryan was second with 6/15, and I was in last with only 4/15. Ryan would have been a little better, but he did not get one single team right in the East. That is actually hard to achieve. The best comment comes from Offord who predicted that J.A. Happ would be his normal, average self in Toronto. That turned out to be wrong, as Happ ended up finishing sixth in Cy Young voting. Don't worry, Ryan made us both look stupid by predicting the downfall of the Royals and the Indians winning the division. I looked pretty foolish mocking his pick.
Over in the National League, Offord was again the winner. Although we did not do nearly as well. Offord was 5/15, Ryan and I were both 4/15. Ryan completely missed the Central and I screwed up the entire East. I guess it just goes to show that none of us really know what we are talking about.
Okay, so the standings after divisions? I will give a point for each correct place and two points if they were the division winner.
Offord:  12/30=3 division winners plus 9 others=15 points
Ryan:  10/30=2 division winners plus 8 others=12 points
Josh:  8/30=2 division winners plus 6 others=10 points
The next part is the playoffs and awards. I decided to come up with a convoluted scoring system. In the Wild Card and Division Series, you get 1 point for each team in it. In the Championship Series, you receive 2 points each. Five points for each team in the World Series and 10 for the correct World Series Champion. Each award right is worth 5 points and whoever is closest on the Pirates record receives a ten point bonus. Is that confusing enough?
Playoff Scores:
Offord:  14
Ryan:  8
Josh:  8
Offord did a good job with taking the Cubs into the World Series. Ryan and I were just not sold on them and obviously we look pretty damn stupid now. I will give Ryan credit for having the four teams in the ALDS. That is pretty impressive.
Award Scores:
Offord:  5
Ryan:  5
Josh:  10
We all picked Corey Seager to win the NL ROY. I feel like Ryan should lose 25 points for being to lazy to look up a name (although, he did technically get it right since he said unknown player from AL Central and Michael Fulmer would qualify…). I was the only one to predict Mike Trout winning the MVP. Offord does pick up the ten bonus points because he was closest with the Pirates record (maybe it should be void though since they were below .500?).
Final Standings:
Offord:  44
Ryan:  25
Josh:  28
Suck it Ryan! I beat you at something. Congrats Offord on being the best at poorly picking things. Finally though, we need to laugh at some of our crazy predictions.
Ryan said Mike Trout would be in the 50/50 Club and we made fun of him pretty mercilessly all season about it. Well maybe we should not have been so hasty. Trout finished with 29 HRs and 30 Stolen Bases. Obviously that is a far cry from 50/50, but still much closer than we really considered. Also, Ryan thought Marte might have a 30/30 season…definitely did not even come close. Did he even hit 10 HRs? The Pirates did have more than six players with double digit HRs (which I mocked for not being that crazy), but only four of them were over 15. Cole was not the Cy Young runner-up, nor was he even in a discussion about being invited to the ceremony. Ryan was also correct about Melancon being traded, but not that Watson would also have 20 saves.
I will say that Offord was correct about John Jaso. He did hit well enough (I would argue in the beginning of the year) to warrant keeping Josh Bell down in the minors. Once Jaso struggled though, it was weird to not see Bell up. Burnett did not need to come out of retirement and Pedro was not nearly as terrible as Offord believed.
I was sadly right about Marte and Polanco having a higher WAR than McCutchen, I wish I were wrong about that one. I also did not expect the entire team to have a better WAR than Cutch…yikes! My other prediction was about George Springer, who did have a good year (29 HRs), but was not even in the discussion for MVP.