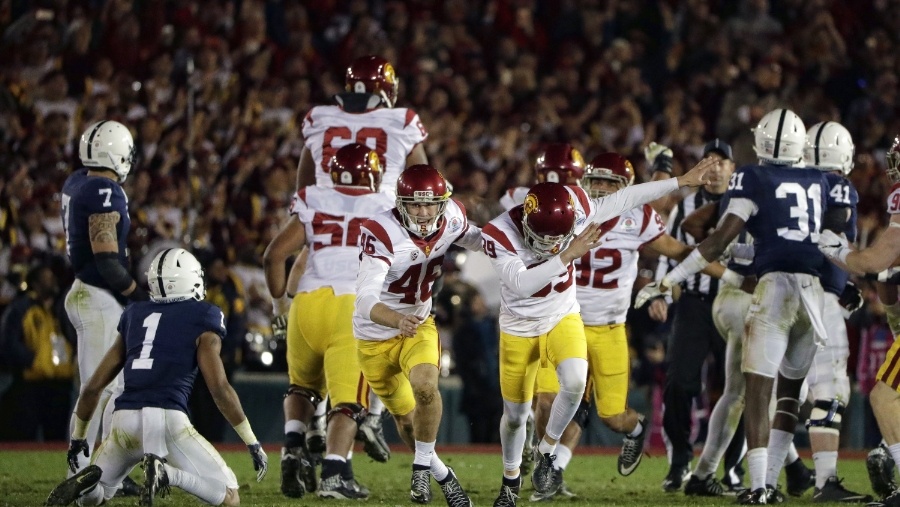 Wow…
What an absolutely insane game!
I am sad about the loss, but honestly I cannot be too upset. USC is a really good team. If the team that played today had started the season this way, they may be in college football playoff, not Washington. With that being said, Penn State is every bit as good. I still do not begrudge the playoff committee for the choices they made (I know, tons of people are looking at that Ohio State loss as proof that they did not deserve to be there).
I have written a few posts this season about the Nittany Lions, so I obviously do not need to rehash how impressed and proud I am of the way they turned the season around. I am excited to see what the future holds for this team.
Instead, here are some of my random thoughts about the game, the season, college football in general…you know, just me rambling.
-Did anyone else catch the conversation between Fowler, Herbstreit, and Keith Jackson? First of all, it was brutally bad. Jackson is almost 90 and talks very slow (nothing against an old guy like that, but the booth is probably not the place he needed to be at that time, maybe talk to him at half-time). His memory is not as sharp as it used to be (again, to be expected), which made it more difficult to understand what he was talking about. However, he did get one nice awkward moment. They asked him about the state of college football and the playoff (basically does the playoff make early season games irrelevant). Jackson started talking about media oversaturation and Herbstreit & Fowler were immediately like "okay, thanks for joining us, hope you can make it back sometime." You know that someone from ESPN was screaming in their earpiece "shut that old man up!" Hahahaha…I definitely giggled.
-Speaking of Kirk Herbstreit…there was another moment where I feel like an ESPN producer had to be in his ear saying "careful Kirk…"  They were discussing players sitting out bowl games. Herbstreit was saying that he understands the decision. Then he said that he does not agree with it, but he understands it. I feel like Fowler was going to try and push him for more, but again ESPN was like "guys, drop that shit now!" How much of ESPN's airtime is dedicated to the NFL Draft…imagine if a bunch of the top picks got hurt in the bowl games and weakened the draft. People may not tune into ESPN for daily draft coverage. Can't have that!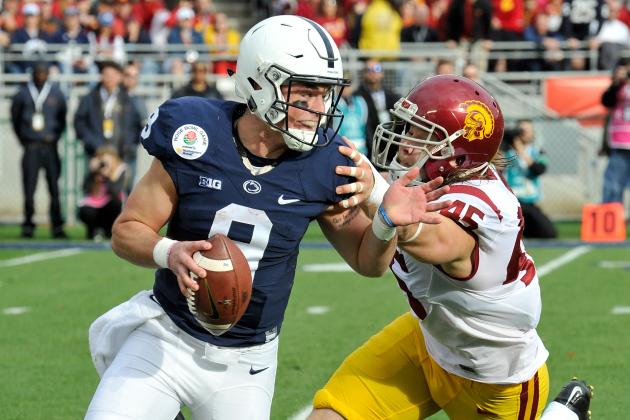 -Okay, one final announcer thing. The sideline reporter was mentioning different USC alum in attendance and she was like "Mark Sanchez has been standing on the sideline the entire game." My joke (to Samson) was "where he has been all season!"
-Now, some actual football thoughts. It seemed a bit fitting to me that Trace McSorely would end the season by throwing an interception. I mean, the first loss of the year was against Pitt. Does anyone remember how that ended? An interception on a deep ball when all that was needed was a field goal. I do not begrudge the kid. He makes big plays, but seriously, everyone in the stadium knew where he was throwing. Also, Godwin needs to go for the ball a bit more on that play. At the very least, he needed to be closer to the safety to try and make a tackle. I know, easier said than done.
-The defense needs to figure out how to make stops in the first half. Actually the entire team needs to become a four quarter team, but the defense is what frustrates me. They come out in the second half and always look and play completely different. Definitely needs fixed for next season. Coming from behind looks awesome, but destroying a team from the opening play to the final second is much better.
-There were some ridiculous catches in this game. Godwin made a bunch. USC had some. The Penn State interception was craziness.
-The officiating was bad. I know Penn State fans are complaining about USC getting away with holding, but I would imagine that Trojan fans are griping about some calls against their team. My biggest complaint is about the disqualification. I understand why the player was DQ'd, I just do not agree with it. I get that the NCAA is trying to eliminate helmet to helmet hits, but I feel like there needs to be malicious intent. That kid was not trying take McSorely out of the game or anything. I think the 15-yard penalty was sufficient enough (they should allow the opposing head coach the opportunity to veto a disqualification, haha).
-I felt bad for Brandon Bell and Adoree Jackson. I actually felt sorry for Jackson as he was trying so hard to get back into the game. I hate seeing players get hurt, especially seniors in a bowl game. What a shitty way to end your collegiate career.
-SAQUN BARKLEY!!!!!!!!!!!!!!!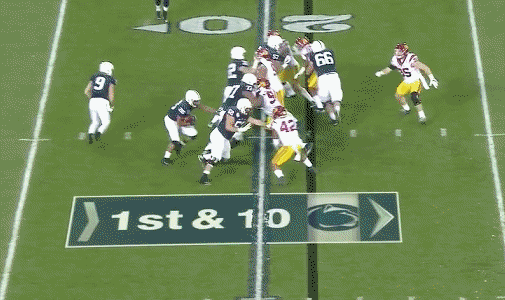 -So far I am 5-4 with my picks…not too shabby (although some of my actual predictions were way off)
-Lastly, I am definitely creating a Big Ten Fantasy Football League for next season. Here is the premise: it is fantasy football, but with players from the Big Ten. It will probably be standard scoring. I am hoping to have 10 or 12 teams. It will definitely be a money league. So, if you are interested, send me a message on Facebook or Twitter. Or email me. Text me if you have my number. Any possible form of communication is acceptable.