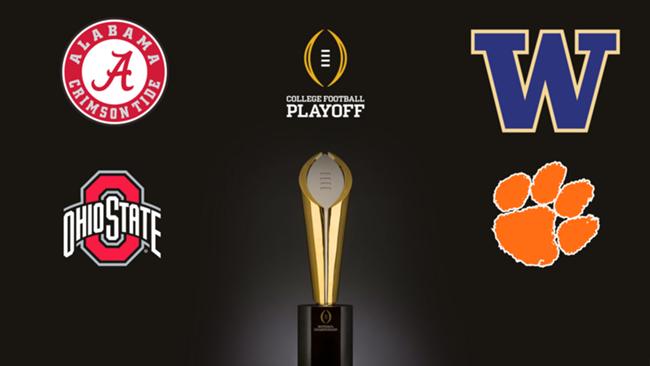 I was going to do a bowl game pick 'em, but no one actually participated last season (except Sean, I think). So instead, I figured I would make a few predictions about some of the bigger games.
Okay, first we need to start with the College Football Playoff.
Chick-Fil-A Peach Bowl:  (1) Alabama vs. (4) Washington-12/31 @ 3:00 p.m.
Okay, so as a Penn State fan, I am supposed to be up in arms about Washington being the fourth seed. I think I have discussed this earlier, so no real point in rehashing it here. I would actually love to see Washington come out and beat the Crimson Tide, but I just do not think it will happen. I think Alabama is just too damn good. Alabama is a 14.5 favorite, so I may actually take the Huskies. I think they keep it within ten points.
Playstation Fiesta Bowl:  (2) Clemson vs. (3) Ohio State-12/31 @ 7:00 p.m.
I think this will be a good game. Ohio State should be able to contain Watson enough to pull out a victory, I think they win by a touchdown. So I would definitely take the Buckeyes at -3. This is one of those weird games where I should root for Ohio State since their only loss is to Penn State, but it makes me want to throw up thinking about cheering for the Buckeyes more than once in a season.
Okay, now we get to some of the other major bowl games…
Capital One Orange Bowl:  (6) Michigan vs. (11) Florida State-12/30 @8:00 p.m.
Michigan is a 6.5 point favorite. I think this Wolverine team is too good (and more importantly, healthy) to lose this game. I am guessing with most players back, especially their QB, they should be able to defeat the Seminoles pretty easily. Wolverines by at least a touchdown.
Buffalo Wild Wings Citrus Bowl:  (13) Louisville vs. (20) LSU-12/31 @11:00 a.m.
LSU has something to prove. Coach Orgeron has to show everyone (yet again) that he is the man for the job. Might be why the odds-makers have them as the favorite (-3.5). If I were betting, I would definitely take the Tigers.
Outback Bowl:  (17) Florida vs. Iowa-1/2 @1:00 p.m.
Umm, I do not believe in the Gators at all. Right now they are a 3 point favorite, but I might seriously consider the Hawkeyes. But then again, doesn't Iowa have a reputation for playing like crap in bowl games (or did I make that up)? Okay, I will take Florida.
Goodyear Cotton Bowl Classic:  (8) Wisconsin vs. (15) Western Michigan-1/2 @1:00  p.m.
I like Western Michigan. I was not impressed by Wisconsin. Yes they started out with a dominant running game against Penn State, but they were quite susceptible to the pass and have zero pass game of their own. I will take Western Michigan at +8.5 (and I may actually take them to win the game outright and remain undefeated).
Allstate Sugar Bowl:  (7) Oklahoma vs. (14) Auburn-1/2 @8:00 p.m.
I hate this matchup. I get that the bowls have certain parameters of who they select (#1 Big 12 vs. #3 SEC, or whatever), but wouldn't it be better if Oklahoma and Michigan squared off? However, that is not the game, so we are stuck with this. I think the Sooners win by two touchdowns (they are -3) and try to make a statement about how they should have been in that 4th seed conversation.
Rose Bowl:  (5) Penn State vs. (9) USC-1/2 @5:00 p.m.
Oh man, a rematch of the 2009 Rose Bowl. I think this time we see a different result. USC is favored by 6.5 and I would not be shocked if they are up by that at half-time (I think the Nittany Lions once again give us a heart attack). I just think this team is fully healthy and going to be ready to prove to everyone they are for real. I guess the same could be said of USC. I am sticking with my heart though and taking Penn State! WE ARE!
Some of the other interesting, if not large bowl games…
National Funding Holiday Bowl:  Minnesota vs. Washington St.-12/27 @7:00 p.m.
Lindsey's step-brother is a WSU guy, so I tend to root for them. They are a 10.5 point favorite against the Gophers. Sorry Ted, I have to take Minnesota. I think the game is close.
New Era Pinstripe Bowl:  (23) Pitt vs. Northwestern-12/28 @2:00 p.m.
I know, I am supposed to hate Pitt with a passion. I am supposed to sit here and say how I want Northwestern to obliterate them because it will make the Big Ten look better. But honestly? I want Pitt to win. I want them to finish the season on a high note. I want them and Penn State to face off next season, both ranked and undefeated. When you look at Pitt this season, they could easily be 11-1 or 5-7. They had six games that were decided by one score. Five of them by a field goal or less. That is living dangerously. However, I think they have no problems with Northwestern and they easily win by 5.5.
Alright, so those are my thoughts on some of the bowl games this year. Feel free to post your picks in the comments. Or just respond with how stupid I am when I get them all wrong.