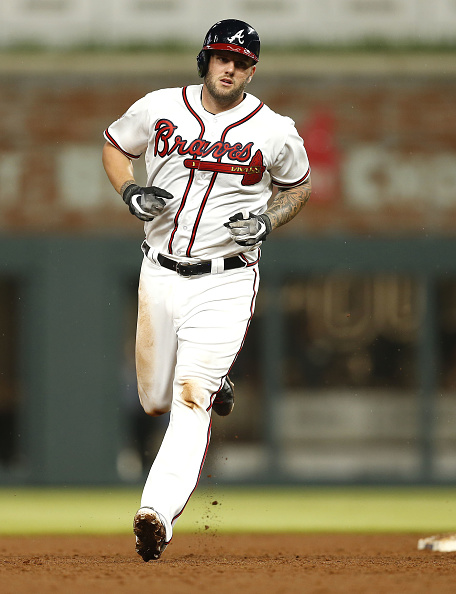 Philipsburg native, Matt Adams, was recently traded from the St. Louis Cardinals to the Atlanta Braves for infielder Juan Yepez. The Braves needed someone to fill in for Freddie Freeman who is out for a few weeks with a broken wrist. Yepez is only 19 years old and at Single-A, but he is not someone that is highly valued on the prospect lists.
The good people of Philipsburg have had a weird reaction to this trade. They are happy that Adams is getting a chance to play everyday, but they also seem to be angry at the Cardinals. I just do not understand it. First of all, I hate both teams, so I am sorry Matt, but when you play the Pirates, I hope for strikeouts. At least with the Braves, you are out of the division. Ideally you will end up with an American League team.
I guess some people feel that Adams was screwed over because of Matt Carpenter, who has been one of the most consistent hitters over the past few years. Adams was injured for much of the season last year (with trips to the DL the previous two seasons as well). I am not trying to say anything against Adams, but come on, do you really think the Cardinals are going to dump Carpenter for him? Get real. I should probably mention that I followed his ascent to the majors closesly and rooted for him along the way. I am sure some people from my town will accuse of me being a hater or something.
Mike Matheny has been in a weird position with Adams. Teams took away a good bit of his power by shifting against him (Adams did counter a bit by hitting the ball the other way). The problem for Adams is that he does not have much versatility in the field (although, he did lose weight and could possibly play the outfield when Freeman comes back). I guess what I am trying to say is what should Matheny have done differently with Matt Adams? Start him at first and move Carpenter to second or third? I honestly do not know.
Now, there are some fans who should probably be mad…Cardinals fans. Not because they lost Adams, but because of the shitty return. They had leverage in the negotiations with the Braves. What options were out there? James Loney? Fuck that, the Braves signed him and realized quickly he was not going to cut it. What other first basemen are out there and available? None. And the Braves think they are still in it (they are in second, but already seven behind the Nationals, so not sure what chances they think they have…maybe a wild card, with Dickey and Colon). I think the Cardinals could have pushed for a little more (unless they were very high on Yepez, which is always possible.
The Pirates
Ugh, the Pirates are…well I am not sure. I feel like my prediction about the team was pretty spot on. Except I was worried more about starting pitching and less about the offense. I was a bit wrong. The big question seems to be, can this team contend for a wild card spot. I generally think that they are just not good enough for a full season run, but then I see some spark and get excited.
Personally, I think the Pirates should probably consider selling. I know people will say that no one is selling his early, but I think they could make a big trade and actually not be that much worse of a team. Tony Watson has been almost perfect this year in save opportunities. The Nationals and Rangers need relief help (specifically closer help). If you can get them into a trade war, who knows what prospects the Pirates could end up with. Think about it, if they wait until closer to the deadline, other teams will be offering their players as well.
I also loved the idea of Gerrit Cole and Watson heading to the Astros. I like Cole and would hate to see him go, but I do not see him signing with the Pirates (not with how they treated him a few years ago when he won 19 games and they would not give him a raise). If I were the GM for the Pirates, I would be calling the Astros and saying something like "look, for this much of the season, we would want Alex Bregman." If they laughed at me, then I would push for Yuli Gurriel and perhaps a minor league prospect like Francis Martes. If they agree to that, then you might as well shop Ivan Nova (I would target the Twins—and yes, that pun was intentional). In fact, you could probably try a package of Nova and Cutch for maybe Gonsalves (a pretty good left-handed prospect) and see if they would throw in Buxton. Maybe he just needs a change of scenary. I doubt the Twins would go for it (they cannot be ready to give up on him), but you never know.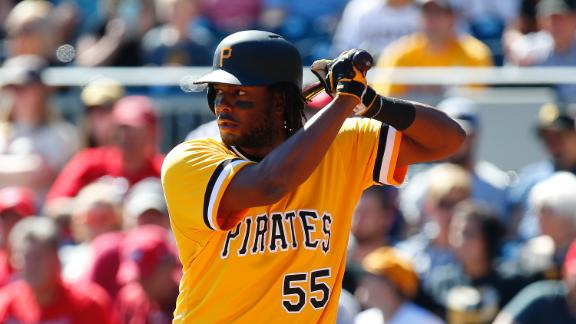 Wishful thinking though, the Pirates will play just good enough to stay like four games out of the WC all season. And that is what annoys me. Either say screw it and being the rebuild (nowadays a rebuild can be pretty fast…look at the White Sox–they will be competing again in a year or two) OR make some trades for help in the areas the team is lacking. If the Tigers become sellers in June, push hard for Verlander. The division is not that unattainable at the moment, so if you are not selling, then start buying. This is what frustrates me.
Swanson vs. Bell
When we wrote the preview piece for this season, Offord and I thought that Dansby Swanson would win Rookie of the Year, while Ryan picked Josh Bell. In the comments, I mentioned that I thought Bell would get a bunch of ROY votes and Offord agreed saying that it may actually be close. As the season rolls on, Offord sent a text to us saying that it looks like Bell is winning that battle. So I thought it might be fun to have a little comparison and check in them from time to time.

At the moment, Bell definitely has the edge. Swanson is weighted down by his horrible start to the season. He has come alive a bit though and could make it a bit interesting. As of now though, the NL award looks to be between Cody Bellinger and Antonio Senzatela. The AL may actually have a better race between Judge and Benintendi (clearly Judge is leading now, but if he hits a dry spell, it could easily become closer).
Well hey, look at that…I wrote about baseball and the Pirates without mentioning Glasnow and Cutch (okay I mentioned him once in regards to a trade, but not about his struggles, so that is something, right?).