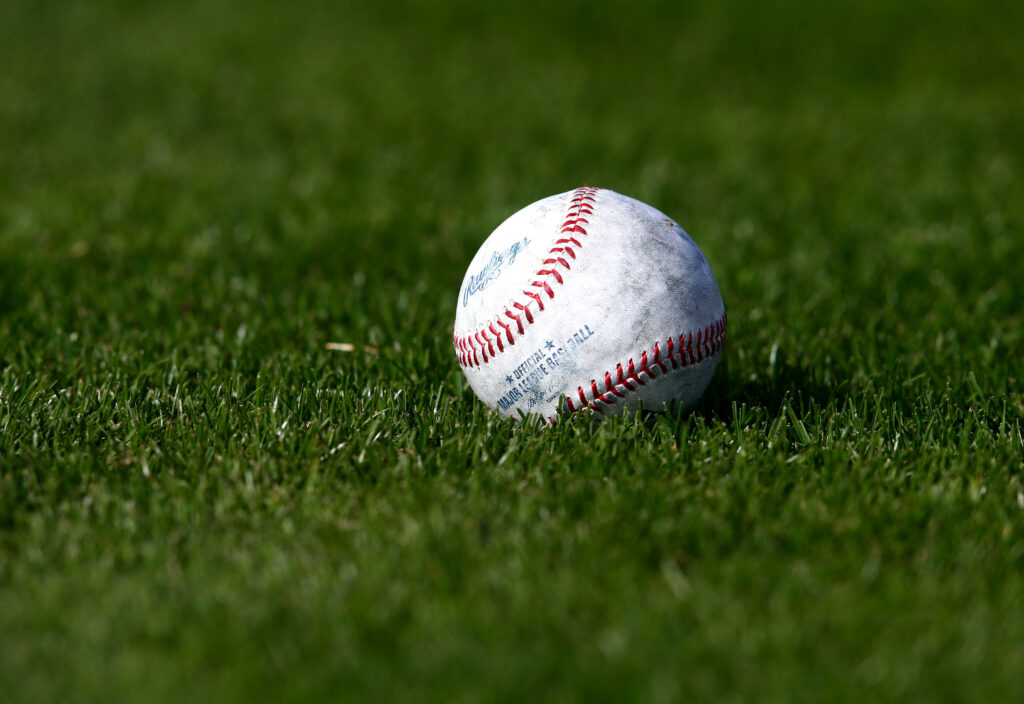 I had so much fun making my predictions with Ryan & Offord last year, that I decided to give it a try again this year!
American League East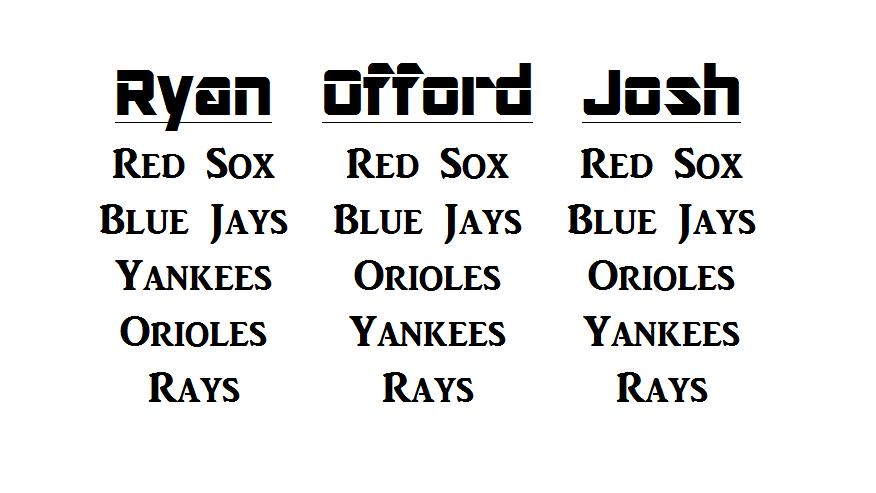 Josh:  I think the addition of Chris Sale puts the Red Sox at the top of the division. My big concern was how would Sale fare with pitching in the AL East, well I looked at his career numbers and he does just fine against those teams. I do not foresee a huge drop or anything. I think the loss of Ortiz is overcome with Moreland and maturity from the younger players. The loss of Encarnacion really hurts the Blue Jays, although Morales will provide enough offense that if Bautista stays healthy, the Jays can stay competitive with the Sox all season. The Orioles need an ace. They will hit home runs (and strike out a bunch) and have the bullpen to close out games, but they are missing that dominant number one starter. Chris Tillman is not it. He is a #2 (or maybe a solid #3). The Yankees are just not quite ready to make their move in this division. they have some great pieces and they could be the team that I am most wrong about. The Rays…well yeah, they still play baseball in St. Petersburg or Tampa, wherever the stadium is located. I am just not sure if you can call it good baseball.
Offord:  I feel the same way about this division as I did last year – a lot can change and a lot of teams have the capability to win it. There is a lot of talent and a lot of money so anything could happen. I have it the same as Josh, but I am more bullish on the Orioles' pitching. I think Bundy and Gausman will pass up Tillman this year, and one of the two will emerge as an all-star. With their bullpen, offense, and average starting pitching the Orioles should be good enough for… third. This is a tough division.  The Red Sox have everything going for them right now – youth, depth, talent, money… I see them going far, especially because they could easily survive injuries to some of their more injury prone vets. Maybe this will be the year Price finally wins a game in the playoffs? Toronto is solid, but they don't really have the ace that the Red Sox have. They do have four #2's and that is pretty damn good. If Liriano bounces back they could have a full rotation of potential aces. Not bad. However, in the playoffs it doesn't matter how many number 2's you have (there has to be a poop joke here somewhere…), because the team you are playing probably has one or two aces. I think their offense is getting too old to win the division. Morales had an up and down season last year, and I think his downs will get longer than the ups as he gets older. Tulo.. who knows? Bautista is a sure bet to miss a month or two with injuries, and with no real offensive depth they are walking on very thin ice. They have the pitching, but without more offensive talent their window is quickly closing. We might see a Blue Jays firesale if they miss the playoffs this year. If things go wrong for Toronto, the Orioles could easily sneak into second and a wild card spot. The Yankees are close, but they still don't have quite enough. I think next year is their year. Tampa.. I dunno. Good pitching and decent offense I guess, but the other teams just seem better. They could probably come in second in the Central.
Ryan:  I do not see how you can't pick the Red Sox for the overall favorites this year in the AL. Even having typed this up much later than anticipated, and with full knowledge of what could be happening with David Price-the Red Sox, have 3 legit Cy Young Candidates. For the next, How Many Frickin Years?! I also believe that Big Papi retiring, only made them better overall. Boston may have the best outfield in baseball, yes even better than the Pirates (I know you think I'm a homer..because I am). Mookie Betts is again, my pick for the MVP in AL. The Blue Jays have Papa Francisco listed as their 5th starter, if he pitches how he was capable in those first 3 seasons in Pittsburgh, Toronto is going to be scary this year. The Yankees have to depend on too many very young position players with high ceilings and too many old pitchers with not enough left in the tank. Otherwise, I would have them above the Blue Jays. The Orioles I just do not believe have the pitching. Tillman pitched above his pay grade, he will not do that again. The rest of the staff leaves much to be desired, and I am not sure how much their bullpen will be able to take on this year. Offensively, they live at Camden Yard, so of course they are going to hit homeruns, but the line up just does not scare me. The Rays, to be honest, I have not been paying attention to baseball as closely as I used to these days. Too many priority shifts. So, the Rays I have no clue on. I know they have some position players with huge potential i.e. Souza, but other than that I am out of the loop. I hope they get another huge return for a pitcher when they trade Archer later in the year.
American League Central

Josh:  The Indians still have a crazy good rotation and even though they lost a few key outfielders (RAJAI DAVIS!!!), the addition of Encarnacion will more than make up for that lost production. I feel like this is the Tigers last chance with some of these guys. Age is a terrible thing. The Royals are confusing. They should be contending with the Indians, but it seems like they are preparing for a rebuild. I have them behind the Tigers because I could see them making some midseason trades and just punt the last part of the year. The White Sox are definitely rebuilding and they are doing it very quickly. They will contend for the division in 2018. And finally we have the Twins. So much depends on their young stars, Buxton and Sano. If those guys can figure it out and if perhaps the Twins find someone willing take Mauer's remaining contract, they could probably make a run for third or fourth place. Having no starting pitching is pretty rough.
Offord:  Cleveland is very solid and if they can avoid major injury problems they should take this easily. IF they do have catastrophic injuries, that could open the door for the middling teams to step up. The Royals didn't do enough in the offseason to improve from where they were last year, and they are returning like everyone, but a year older. The White Sox are rebuilding so count them out. I like the Twins to start slowly climbing out of the basement, but they just never make any moves. They are worse than the Pirates about pulling the trigger on trades. I think it would have been smart to trade Dozier at his max value for a starting pitcher, but they just couldn't do it. Until they upgrade their pitching, or the young guys reach their peak, they will not be better than average. Like the Royals, what you see is what you get with the Tigers. They had amazing seasons from Verlander and Fulmer and I think it will be hard to expect the same this year. The offense is a year older with no upgrades. I see them around .500 with a slim shot if the Indians falter.
Ryan:  As much as this seems ridiculous to say: "I think Miggy is going to have a career year." To piggy back on that thought, Verlander is back to form. I also believe, of the top 3 teams, Detroit has the better defense up the middle. The Tigers biggest threat to their success is Victor Martinez. As long as he just hits doubles and home runs, or knocks people in with 2 outs so him clogging the bases doesn't matter anymore, he will be fine. It is the fact that he has too good of an eye, combined with the fact that he is the worst baserunner in baseball, that concerns me. Their pitching is also solid 2-4, and they have 2 other 4 or 5 guys to push for their rotation. I like Detroit this year. The Indians are going to be awesome, they should be, at least on paper. I think they are going to have too much a world series hang over. I also do not believe Lindor duplicates this past season. They have too many question marks in their outfield in terms of long term success and/or health, especially between Brantley and Naquin. The only reason I do not have them sitting third in this division, is because they probably have the best bullpen in the American League. The Royals are going to be Royals. They are going to compete all season, but it will still be too up and down to be able to make a legit call on them being contenders or pretenders. It is going to be interesting to see what Soler does with an every day job, especially since he is going to have to pick up the slack of Gordon's contract that he will never live up to. Also, their pitching bothers me. Hammel is not going to be as good in the AL as he was with the Cubs…he has already proven that with his short stint with the A's, and I do not trust their bullpen anymore. The White Sox are what the Twins should have been doing for the last 2 years. The White Sox are pushing all of the right buttons in my opinion. They are not going to be great this year, but they are going to be fun to watch. All of that good young talent, mixed in with some of the veteran moves they had made over the last year or two. They will be fun at least. Plus there will be the whole Quintana watch, and where he will land. I hope it's the Pirates! The Twins should have been doing the past 2 years what the White Sox have done this past season. Sell! Sell! Sell! Find a way to dump Mauer's contract, and trade Dozier while the iron was hot. They have too many young players who were hot prospects that just were not ready for the big leagues in Buxton and Sano. Their staff ace is Ervin freakin Santana and they have 2 listed closers on the depth chart. This team is a mess.
American League West

Josh:  I think the Astros added enough veteran talent and matured enough to see them surpass the Rangers. Can their pitching be consistently good? If so, I honestly think they could end up being on par with the Red Sox & Indians. The Rangers will be right there in the conversation all season. If Cashner & Tyson Ross have bounce-back seasons, they will have a strong rotation and they already have plenty of great hitters. The Mariners are probably another team I put into that category of "could shock everyone and win the division." They have a very good team, it just all depends on whether or not they can put it all together for the season. The Angels have Mike Trout, who as Ryan predicted decided to start stealing bases again. Maybe Trout will start pitching this year and give them a chance to not suck. It is crazy to think that Trout is only like 10 years old (25, which is just as crazy). I feel like he has been dominating the majors for like fifty years. The question will be, as it is just about every year, should the Angels float him out in the trade market and see what kind of insane return they could get. You saw what the White Sox did with Sale. Imagine what teams would give up for Trout. Or maybe no one would try for him since giving up like eight prospects is crazy. The A's brought in Rajai Davis & Matt Joyce, they can battle the Angels for the basement all year long.
Offord:  Texas had a great season last year and they did nothing really to make us think they will be worse this year. They exchanged Colby Lewis for Cashner, and Moreland for Napoli. Seems like fair trades. Choo could have a bounce back and a full season of Darvish.. I think they win the division easily again. I like Houston, but if Charlie Morton is their biggest pitching acquisition they are in trouble. The offense is very young and good, but I like the Mariners' pitching. I also trust that if the Mariners are close to a wild card/division they will go for it at the deadline. Pencil them in for the last spot and a surprise run at the AL Crown. Not really anything to say about the cellar dwellers.  LAA dropped Weaver so that could help? With as much money as they have out there it is hard to believe how dreadful the state of that organization is. At least Oakland has an excuse.
Josh:  I guess my lack of faith in Texas comes from their run differential. They were only like a +8 (puts their expected record at 82-80), and they came from behind almost fifty times. That is hard to duplicate in a season. Yes, Yu Darvish being healthy should help them be in the lead a little more often, but I think back to that season when the Pirates had that awful record in 1-run games and then the next year they had a great record in those situations. I feel like these things even out over time.
Ryan:  The Rangers are the clear favorites in this division. They added some needed pop at first base with Napoli and they retained a Carlos Gomez looking for redemption. They also happen to add to a rotation that already was good enough to ease their way into the playoff in 2016, a finally healthy Yu Darvish-giving them a 1-2 punch to rival any in baseball.  Their bullpen will get the job done. Their bullpen is their biggest weakness IMO, but they won't blow too many games. They have all-stars all around the field, a hall of famer at third base who is still one of the most productive at his position in the league, and another year or 2 of Jonathan Lucroy. They also just so happen to have a former MVP looking for an opportunity, if he can stay healthy and break camp with the team in Josh Hamilton. The Angels need to stay healthy. IF they do that, they can compete with anybody. They have the best defense up in the middle in all of baseball, a future hall of famer and still prolific power threat at first base in Pujols; their pitching is young and talented, and oh yeah…they have a fish flying around in the outfield, who just happens to be the best player in generations, Mike Trout. Their biggest problem is their bullpen and their lack of depth, not only with a professional roster standpoint, I mean their entire farm system kind of sucks. But, barring injury, they will compete this year. What did the Astros do to improve? Add an aging Beltran. Add another aging former Yankee for catching duties. Add an unpredictable JJ Reddick. Add a Charlie Mother F'in Morton?! Seriously?! The Astros just did not do enough in my opinion. I know they have Altuve, and some pitchers who decide when they want to be Cy Young Caliber players, but I just do not see them staying competitive all year round. I would not be surprised if they finish last this year. Especially if Altuve gets injured in any way. I have liked what the Mariners have done in the offseasons the past 2 years. But I just do not have a good feeling for them this year. This team goes as Hernandez goes, and he is the opposite of a fine wine right now. He has gotten worse every year since his Cy Young season. He is losing velocity, and I think confidence. Cano will be Cano, but you will see a drop off from Cruz and the addition of Segura I do not believe to be enough for them offensively. I like the Smyly deal, but he has been highly touted for way too long with out much to show for it. Getting moved to Safeco will help his peripherals, but I do not believe he is as great as scouts have been saying for the last few years. The Athletics did a nice job on the scrap heap this year. Giving average players who had shined more than usual in 2016, just a little more money than anyone else was willing to give them, and a chance to produce for an entire season. But, what else do they have? Like the Rays, I hope they can get a nice return for Sonny Gray so they can continue to compete in the future.
National League East

Josh:  The Nationals tried to trade for Andrew McCutchen and failed, so they went out and got Adam Eaton. It seems like they gave up a ton for Eaton, but maybe it will work for them. They did not really address their big weakness, relief pitching, so that could come back to bite them in the ass. The Mets pitching needs to be healthy all year, if it is, they can be the most dominant team in this division, if it isn't, then they could have some problems. The hitting is good, but everything rides on the pitching. The Phillies are not as bad as some people think. They have some solid young talent, who should be better this year than last and that might be enough to get them to the .500 mark. The Marlins have an incredibly talented, young outfield (if Stanton stays healthy). The pitching staff has Jeff Locke, who was an All-Star, so they should be okay in that department. The Marlins always befuddle me. They somehow win, despite not being that good. The Braves suck. They signed a bunch of really old veteran pitchers (I mean really really really old Bartolo Colon and really really old R.A. Dickey). They recently traded for Brandon Phillips. Their plan is pretty obvious, be competitive enough that people come out and enjoy games at the new stadium and then most likely, flip a bunch of these older guys for younger talent.
Offord:  I agree with you about the Phillies, and I am not sure who these people are that think they will be terrible. I think they will be a .500 team and compete for the division soon enough. However, the other two (maybe three) teams are better than them. I wanted to put the Marlins higher, but I just don't trust their rotation at all. They will relying heavily on their offense and with some injury prone guys, that might be what does them in.  Mets and Nationals seem to be safely at the top and both have great pitching, but the Nats have the better offense which will put them over the top. I agree about their relief pitching though.. I think Shawn Kelley is projected to be their closer? He is at BEST a seventh inning guy, so if he's the best they got that means they are short a quality set up man and closer, and in a lot of trouble should they have injuries. They might be best served to move one of their starters to the back end of the bullpen. Bring up AJ Cole and let him work it out as the fifth starter, and make Ross or Roark the closer. They will win enough games that they could mess around with things and still be fine. The Braves, I couldn't have said it better myself. In fact, I think I did say those words. (We had a text discussion the other day where I asked these guys about the Braves strategy)
Josh:  Yeah, when I asked that the other day about the Braves, I really wanted to discuss the strategy. I don't know why I worded my text that way. The Braves are an intriguing organization. They have a good farm system (almost entirely external players brought in via trade) and I do think this gamble could pay off. Just hard to imagine the fans putting up with a bunch of terrible years. Especially if they end up trading Freddie Freeman. I think fans are getting a little smarter and seeing that rebuilding can be a fairly quick process.  On the Phillies, I actually have a few friends who are casual Phillies fans and they are very pessimistic, but that is just Philadelphia folks in general.
Ryan:  This division is hard to predict. If the Mets have all of their young aces for an entire season, how can you not pick them to be the favorites in this division? They definitely have the most question marks on their roster, but that is only on the health side of the things, not the talent level. If it works out in real life as it looks on paper, the Mets are the best in East. I know I look crazy for the Braves prediction, but I have loved the moves they have made over the last few years to try to get competitive for Freddie Freeman as soon as possible. I think the veteran bridge will work with the additions of Phillips, Colon and Dickey. I also believe in Kemp's come back to relevance this season. They have speed up the middle and their pitching is solid in the rotation and in the pen. For whatever reason, I never like the Nationals at the beginning of the year and then they always end up proving me wrong by the end of the season. But, what I want to know is, when Bryce Harper's style of play finally gets him hurt this season, what will they do? I am not in love with their pitching outside of the Scherzer and Strasburg, and their bullpen is something to be left desired. Matt Weiters is not going to be as big of a help as they think and I am not sold on Trea Turner. I just feel bad about the Marlins. They have a great outfield, but they are team in grieving. There is no way they are going to be able to focus on this season. The Phillies are still in rebuilding mode. They will be great in 2019 between the prospects they have right around the corner and their decent level payroll. But, Jeanmar Gomez is still their closer for Christ's Sake! (it's lent, I can say this.)
Josh:  It looks like Ryan is one of those anti-Phillies people…
National League Central

Josh:  The Cubs are still the team to beat. Their offense is still insane: Bryant & Rizzo, ugh, who wants to face that duo? But top to bottom, they have talent (minus Heyward and Jon Jay). And they have enough bench talent that they can move players around. Oh, you want Schwarber to catch today? Zobrist to LF and Baez to second. The pitching is still great, even without Chapman since they traded for Wade Davis. I hate them. The Cardinals brought in Dexter Fowler. Quick rant about Fowler…I never think of him as a great player. Or even that good. Why? Because he is always on the waiver wire in fantasy baseball. Look at his stats from last year: .276 AVG, 13 HRs, 13 SBs, 84 Runs…none of that is superstar worthy in fantasy, hence why he is always available. And yet the Cardinals spent decent money to sign him. Why? Well look at the other stats, 25 doubles, 7 triples, .393 OBP, plus he is a pretty good defender. Sometimes we forget that fantasy stats are not the only things that teams look at when evaluating players (or am I the only one who forgets that?). Anyways, the Cardinals are always good and I do not think the rest of the division did enough to overcome their second place crown. Despite losing Reyes for the year, they will still win 88 games or something. Next we come to the Pirates. I don't honestly know what to make of them at this point. If the McCutchen trade stuff affected his mental state, he could have another rough year. OR it could spur him on to have a great year in the hopes of getting the hell out of Pittsburgh. I try to keep my thoughts to the analytical when it comes to making baseball decisions, but you cannot discount emotion. This move to RF could be great for the team, or it could backfire and all three players could have terrible years. Baseball players are weird at times. I do not feel like they did enough in the pitching department to be a contending team. I will be shocked if they finish above .500. The Brewers suck. The Reds suck. They should both trade their top stars (Braun and Votto) and just fully commit to rebuilding. Watch, I say this and they will both finish ahead of the Pirates.
Offord:  Bronson Arroyo has a legitimate chance to crack the Reds rotation… Enough said. I do think the Phillips trade actually upgraded their team though, because Pereza will get shot at being a full-time player and I think he is going to be pretty good. Not Trea Turner good, but along those lines. The Brewers have some intriguing young players but with Eric Thames potentially starting and relying on another overachieving season from Guerra is just too much. That's all I'll say about those teams, and that I wish nothing but the worst for Ryan Braun. I am not usually a Pirates homer, but I think they snag a wild card (and maybe win the game!!). The Cardinals incredible depth is starting to get chipped away, and the pitchers they rely on all have had significant injuries recently, except for Carlos Martinez. Maybe Luke Weaver steps up and becomes rookie of the year (if he qualifies), and Piscotty wins MVP while the vets avoid injuries, but I just think there's too much risk to pick them above the Pirates. The Buccos have decent depth, quality players at every position, and potentially two aces. The bullpen is above average, and Cutch can't do much worse. They won't catch the Cubs, but I think they do better than last year. Not nearly enough to catch the Cubs though, who seem to just get better every year. Look for them to top their win total from last year.. and continue to win 100+ games every year until Kris Bryant retires.
Ryan:  I think the Cardinals had a nice Addition by Subtraction when Holliday signed with the Yankees. They also became stronger in the outfield, in their line up, and on the bases, while making a rival weaker in their signing of Fowler. Speaking of speed, it kills, and they have that up the middle as well (you know how much I like defense up the middle). I think Carlos Martinez could end up being a front runner at the beginning of the season for the Cy Young, and I really like the idea of Oh being their closer. That would make their bullpen that much more powerful after the 6th inning. I like the cardinals this year. The Cubs are still the early year favorites, but I think they are going to find it hard to replace the production of Fowler. He was their top of the line up guy and did a decent job the last 2 seasons. Schwarber is going to be playing quite a bit this year in the outfield, which will hurt them defensively and it is going to add quite a few strike outs that weren't their last year. I think I may actually hate their outfield defensively, except for Heyward obviously. I do not even like their backups all that much. Their starting pitching will take a step back from last season, even though Arrieta is going to be singing for his supper this season as he plays for that mega deal after 2017; Hendricks is not going to be as good this year; Lester and Lackey are getting older, I think that will play into things quite a bit this year-Expect a DL stint from at least one of the 2. Their bullpen is the only reason I am keeping them in 2nd place in this division. They have strong late game options. I think 2017 is going to end up being a lot like 2015. The wild card game is going to be played between 2 NL Central teams. I like the Pirates moves in the outfield. I am nervous about their starting pitching and our bullpen (the closer mostly), but I am excited about its depth. I like our depth all around the diamond and believe that is going to be the Pirates saving grace. I do not believe there is going to be too much pressure on Bell to produce because the outfield will be full of all stars this year. My crazy prediction for the Pirates is that all 3 outfielders put up 20/20 seaons this year. Once the bullpen shakes itself out (Watson will not be our closer at seasons end), I think the rest of the season will take care of itself. I would not be surprised from any kind of alternating any of these top 3 in the division at seasons end. It was a toss up between the Brewers and Reds. I like Joey Votto more than Braun. That is really what made up my mind in the end. I do not care about either of these teams, except for the fact that the Brewers were able to pry Feliz away from the Pirates. Watch them finish first and second in all of baseball because I am an ass. They are both rebuilding. Lets see how they look in 2019.
National League West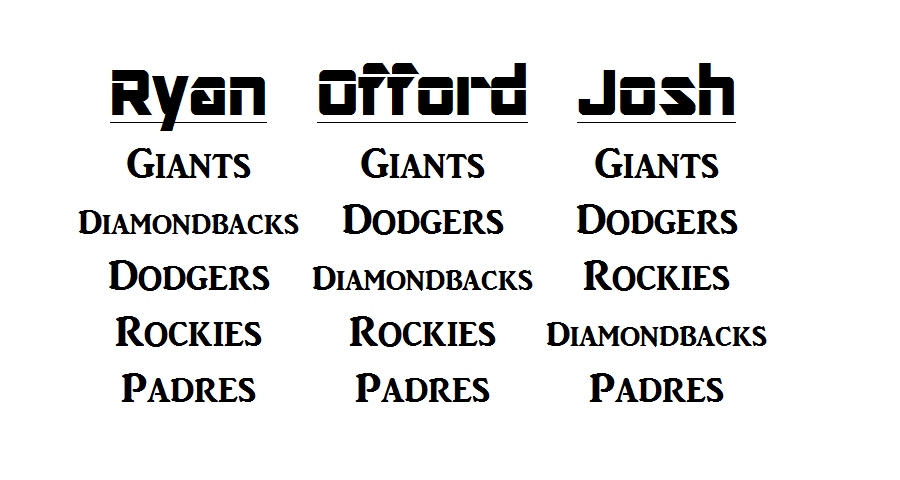 Josh:  The Giants addressed their biggest need: relief pitching. They signed Mark Melancon. They have a great starting rotation and a good lineup. I think they are the team to beat in the west this year. The Dodgers will be right there with them all year. They needed some help on offense and did not go out and get it (they did try for Dozier and supposedly McCutchen). How good do the Rockies pitchers have to be in order for the Rockies to contend? I mean, they are going to put up runs (especially at Coors Field), so it is more about minimizing the damage. The Diamondbacks brought in Taijuan Walker and Ketel Marte from the Mariners. I actually liked that move for both teams.If Walker can turn into the pitcher he was touted to be and Zack Greinke starts off a little better than he did last year, the D-backs could be a bit better. Still not ready to move up or anything. It does not seem like the Padres even have a strategy at this point. I had to look up who was even on their team. They should probably just use the team from Pitch, they would probably be just as bad and at least they would have a girl starter and Zack Morris!
Offord:  Is there a more boring division in baseball? I like the Giants as well, with the same old story from the other guys. DBacks can't be as bad as they were last year, but still probably don't have enough to pass the Dodgers who are still loaded with pitching. The Rockies will probably be decent if their young pitchers step up finally, and all the teams will benefit from playing the Padres, who might have Clayton Richard AND Trevor Cahill in their rotation. Good luck with that..
Ryan:  Pitching! Pitching! Pitching! For the Giants. They have the best rotation in baseball, and their bullpen isn't too shabby either. They make just enough offense to get by and play solid defense. This is the team in the West. I really like the Diamondbacks. They have the best first basemen in the league IMO and they are going to have a full season from an all star center fielder. Their starting pitching is pretty decent, especially if Greinke can pull it together to go right along with the addition of Walker who has ridiculous stuff. He just needs to get out of his own way. This prediction is really just a pipe dream. I do not hate the dodgers like I have ever hated the Yankees. But, when a team with a payroll of over $200 million does not make the playoffs, it makes my heart sing! They have the greatest pitcher on the planet, which counts for something, but people forget that he can only pitch for a fifth of the season (which is why I never understand how a pitcher can be a teams MVP). Rich Hill is old, Maeda is good, but everyone else is a huge question mark. I like their offense around the diamond, which is another reason why they will at least finish second, but I am feeling bold and hopeful. No Pitching! No Pitching! No Pitching! They can rake with the best of them…that is great. But good pitching can stop good hitting any day, and the Rockies have zero. Zero pitching. They could end up having a strong bullpen, but what is the point when your average starter is only going to be getting 4 innings a game and you start with a 4 run deficit every day? The Padres are building around Wil Myers, which is smart. They are rebuilding though. Just like the Phillies, Reds, and Brewers. See you in 2019.
Josh:  I love that Ryan uses the same opening for the Giants as he did for the Mets last season…
Playoffs and Awards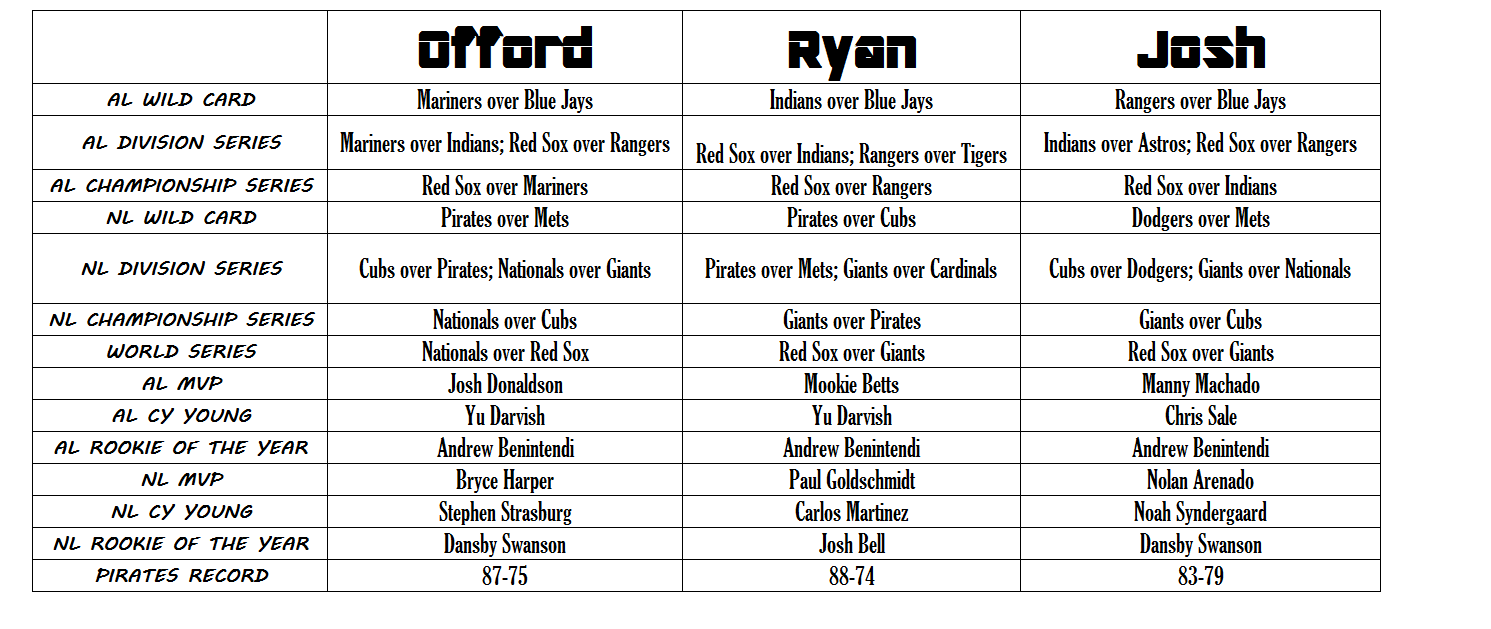 Josh: 
Talk about an exciting World Series. Sale & Price versus Bumgarner & Cueto. Kimbrel vs. Melancon. Mookie Betts vs. Hunter Pence. Mitch Moreland vs. Brandon Belt. Buster Posey vs. OK, the Red Sox catcher is not even close to Posey level. But the game will come down to Hunter Strickland and Brock Holt. Key situation, game seven. Game is tied. Holt is brought in to pinch hit for Sale, Strickland comes in to relieve a tiring Bumgarner in the 8th inning. Bases are loaded. Two former Pirates prospects that the organization never put much stock into…
Three Crazy Predictions:
1.  Clayton Kershaw wins less than 16 games
2.  Josh Bell finishes second in ROY voting
3.  Chris Carter hits 50 HRs, meaning it costs $70,000 per homer, which is a great value
Offord:  Gerrit Cole has the playoff start of his life and the Pirates top the Mets, in New York, in a low scoring game. I think being on the road in the WC would take some pressure off, and we have owned the Mets the last few seasons, so this seems like an ideal matchup. The Nats seem like the team to beat in the NL every year then disappoint, but I think they will finally break through with a healthy 1-2 punch of Scherzer and Strasburg. They don't need a strong bullpen in the first half to build up a lead in the division, but to win it all they will need to make some moves at the deadline. They definitely have the system to do it, so look for Chapman to lead them to the WS while the Yankees continue to stockpile prospects. I can't wait to watch Chapman shut down the Cubs in Game 7, especially since he was unhappy with his usage last year. That would be a fun series to watch.
I think your most crazy prediction is picking two MVPs from teams that don't make the playoffs. If your name is not Mike Trout there is no chance of that happening. In fact, I think Trout will have a down year with everything going wrong with the Angels. He is great, but even Cutch had a down year and the pressure on him gets worse every year. He'll bounce back though. He is only 12 right?
Three Crazy Predictions:
1.  Not only does Nolan Arenado never win an MVP, he never finishes in the top 3. Coors Effect. In 2015 he hit 42 HRs and had 130 RBIs and finished 8th
2.  Michael Brantley plays a game in 2017
3.  After a slow start to the season, the Dodgers begin to worry about Puig's contract and if anyone will take him. In a desperate move, they sign Jonathan Papelbon with the stipulation that he and Puig fight to the death gladiator style. Puig 2-1 favorite.
Ryan:  I like the Red Sox even if Price does go on the shelf for a little while. If the Pirates make the Wild Card game this year, they have a legit shot at a decent playoff run, I truly believe that. The Giants pitching is just too good, all the way through to think that they can't make it to the world series to represent the National League. The only team that can compete with the Red Sox, I believe to be the Blue Jays, but they are not built for a one game playoff; like the Pirates 2 and 3 years ago.
Three Crazy Predictions:
1. McCutchen, Marte and Polanco all have 20/20 seasons
2. Mike Trout will get the 40/40 mark
3. Matt Kemp will finish in the top 5 for MVP
Josh:  I decided to look up whether or not both MVPs came from teams that did not make the playoffs. I figured I would look from 1994-2016, since that was the expansion of the playoffs. Well technically 1994's winners (Bagwell and Thomas did not make the playoffs since the season was canceled due to the strike, but we will not count that). During that era, there have never been two players to win in the same season from non-playoff teams. In fact, during that time, it has only been won without making the playoffs seven times, by just six players (Bonds did it twice). You may be wondering when was the last team two players from non-playoff teams won the MVP in the same season? 1987. Andre Dawson and George Bell. Dawson played for the Cubs and they were dead last in their division. Bell came from the Blue Jays, who finished second in the AL East, with the second best record in the American League. This is the 30th anniversary, which means…absolutely nothing.
Well that concludes our baseball predictions for 2017! Thanks Offord and Ryan for taking the time to do this. I look forward to checking at the end of the season to see how we fared (hopefully we can do
better than Offord
this season)…